Altuve exits, day to day after HBP on forearm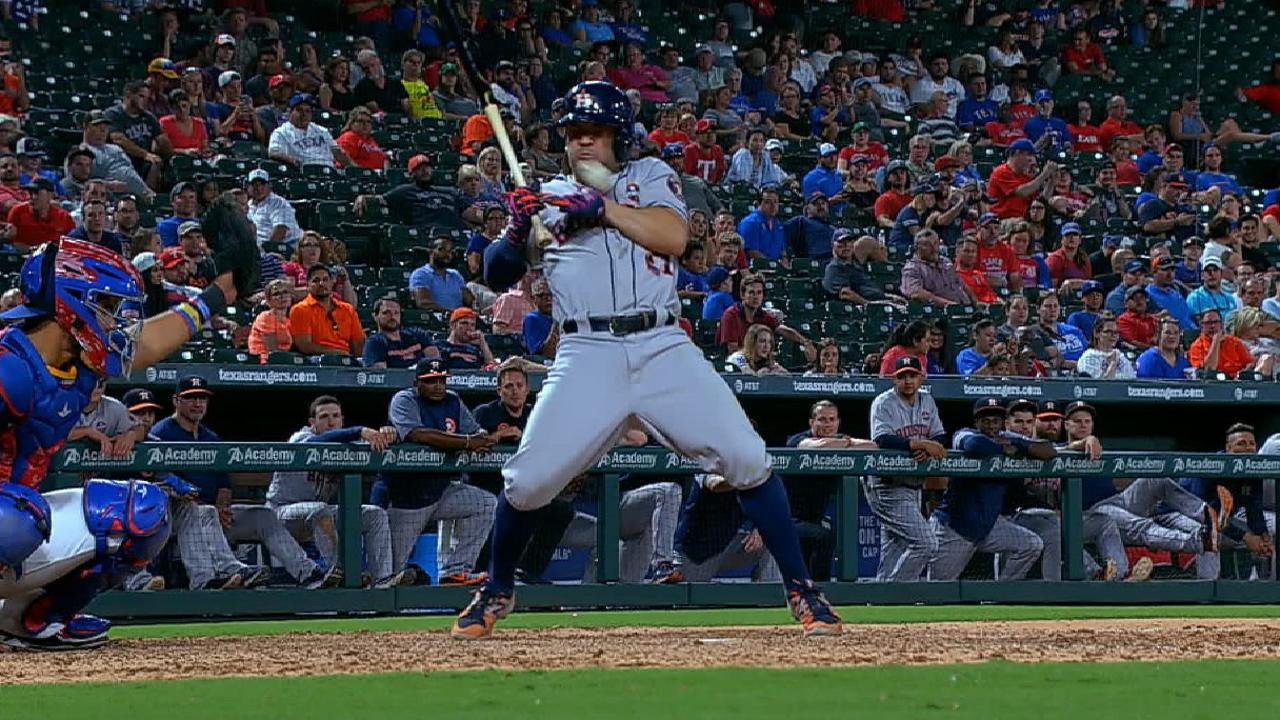 ARLINGTON -- The Astros avoided what could have been a devastating blow when All-Star second baseman Jose Altuve exited after getting hit on the left forearm by a 94-mph fastball from Rangers relief pitcher Jose Leclerc in the seventh inning of Monday's 11-2 win with nothing more than a bruise.
Altuve, who notched his 199th hit of the season in the first inning, was taken for X-rays, which were negative. He's listed as day to day. Astros manager A.J. Hinch said he was going to take Altuve out of the game at that point had he reached a base anyway, which is why Tony Kemp was ready to pinch-run.
"I'm doing good," said Altuve, who leads the Majors with a .348 batting average. "When I got hit, I thought it was something really, really bad, but thank God it was just a hard hit and I feel good."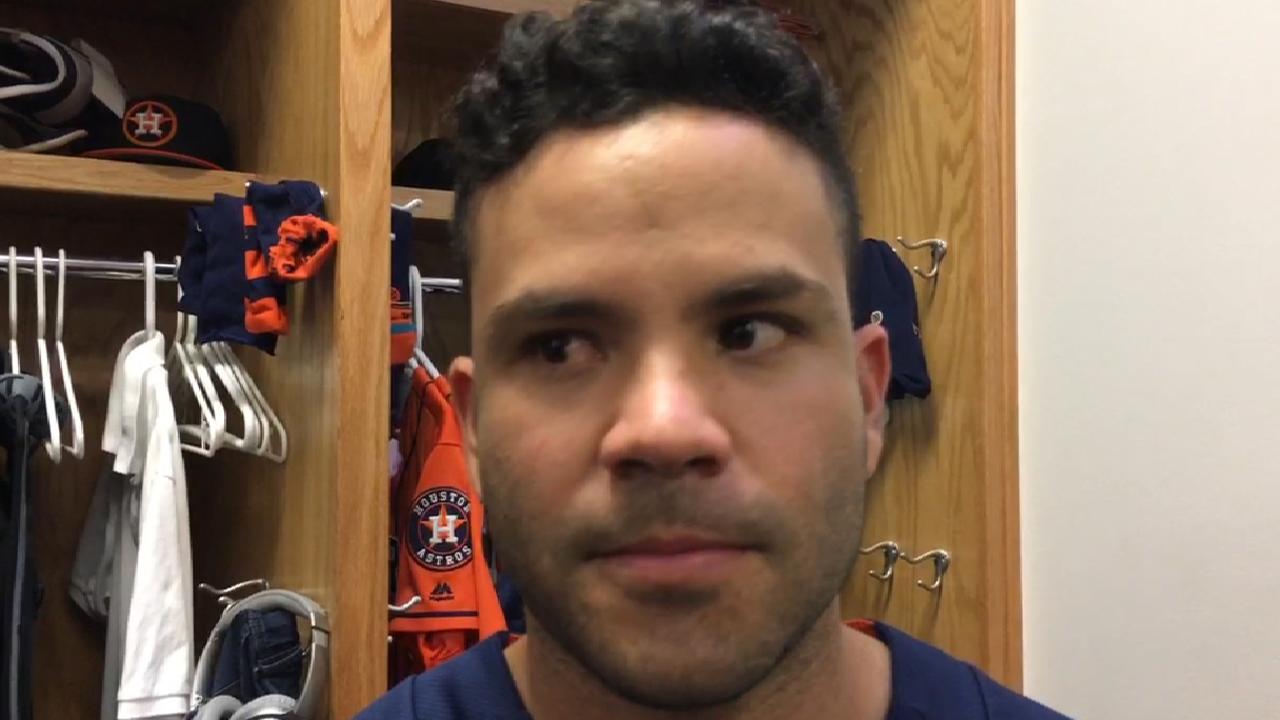 With six games remaining and the Astros trailing the Indians by two games for the best record and top seed in the American League, Hinch is going to keep pushing forward with his best lineup. The Altuve scare served as a reminder what can happen, but he said that's part of the game.
"There's a lot that goes on that we try to make sure we play every day," Hinch said. "We play every day for a reason and we're in a routine. Obviously, I don't want our guys to get hurt. I don't want guys to get hit. I don't want our guys to hurt their guys. It's just an unfortunate incident that happens sometimes when a ball gets away from a guy. I can't sit these guys for two weeks and expect to be good in the playoffs. They're going to keep playing."
Hinch hadn't ruled out playing Altuve on Tuesday, but said he was going to give him a day off at some point soon.
"A.J. said he's going to wait until I wake up tomorrow, and you know how he is," Altuve said. "He always wants to take care of his players, and in the end it's his decision. I don't know if we're going to agree on what he decides, but everything depends on how I feel tomorrow."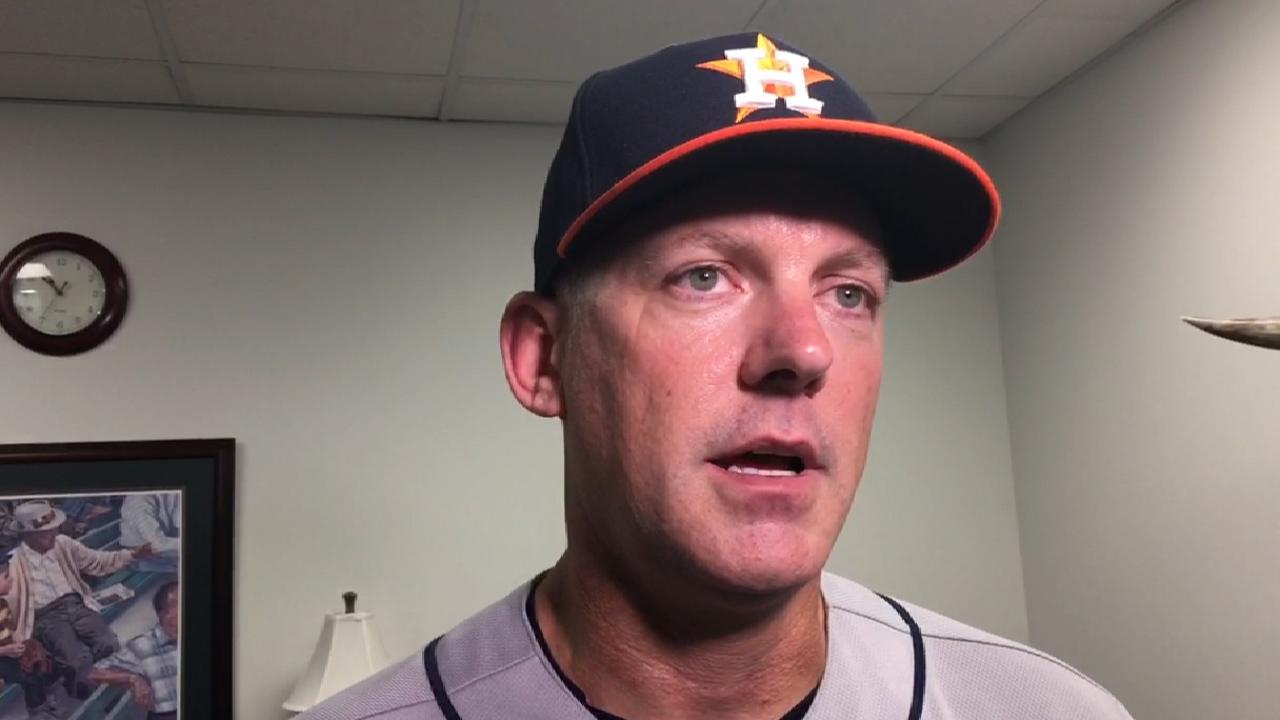 The five-time All-Star singled in his first at-bat in the first inning for his 199th hit of the season, putting him one hit shy of reaching 200 for the fourth year in a row. Altuve nearly singled in the third, but Rangers second baseman Rougned Odor made a nice play to run down a pop fly in shallow center to rob him of a hit.
"I thought I got it, but Odor made a really good play and I have to give credit," Altuve said.
Altuve is trying to become the fifth player since integration (since 1947) with at least four consecutive 200-hit seasons, joining Ichiro Suzuki (2001-10), Michael Young (2003-07), Wade Boggs (1983-89) and Kirby Puckett (1986-89). Only three right-handed hitters have had 200 hits in at least four years in a row -- Al Simmons (1929-33), Puckett and Young.
Brian McTaggart has covered the Astros since 2004, and for MLB.com since 2009. Follow @brianmctaggart on Twitter. This story was not subject to the approval of Major League Baseball or its clubs.