Lester, Maddon encouraged by lefty's outing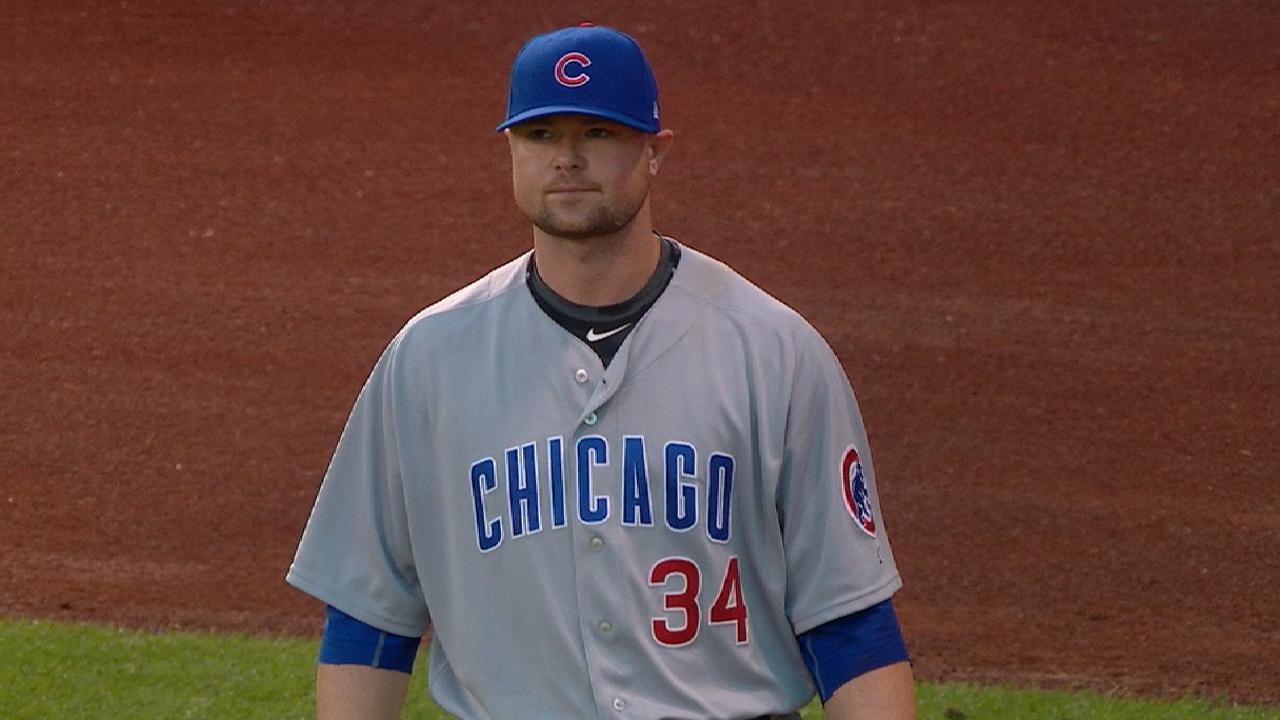 ST. LOUIS -- With the National League Central title nearly secured, the Cubs' next order of business will be sorting out the pitching for the postseason. Jon Lester reminded the Cubs he can still be a key piece for the team.
Lester got the win Monday night in the Cubs' 10-2 romp over the Cardinals. With a win on Tuesday, the Cubs will be headed to the postseason for the third straight season.
"Jon Lester was good, he kept getting better game in progress," Cubs manager Joe Maddon said.
Lester had struggled with his command in his previous outing against the Rays, giving up seven runs on eight hits and three wlaks over 4 1/3 innings. St. Louis' only run off Lester on Monday came on Jedd Gyorko's homer with one out in the second.
"He's been searching, command-wise," Maddon said of Lester. "About the fifth inning, it kicked in. ... I can't give you an exact reason why. They hit a couple balls well early that we caught and he settles in. We just need to get him out of the gate a little more on top of his game. He's well and the numbers on the gun are good. It's just a matter of executing his pitches and finishing them."
Lester was encouraged.
"I felt better," he said. "Command could've been a little bit better. I'll take the good right now with that game. The ball was coming out better. Everything was a little sharper today than it has been in a little while. That's good. Moving in the right direction."
As of now, Lester is scheduled to make his final regular-season start on Saturday against the Reds. The Cubs will then think about which four starters they want to open the NL Division Series, most likely against the Nationals. Maddon wasn't worried about Lester, who was an NL Cy Young Award contender last season, posting a 19-5 record and 2.44 ERA in 32 starts. This year, he's 12-8 with a 4.46 ERA.
"I anticipated good tonight," Maddon said. "He's coming. You'll see that [efficiency] occur earlier in the game as opposed to later in the game."
The Cubs opened an 8-1 lead after three innings, and that cushion made it tough on the Cardinals, manager Mike Matheny said.
"He was good," Matheny said of Lester. "He seems to throw like that against us. Regardless of how his previous starts go, he seems to have a lot of confidence against us. He threw the ball well and had a lot to work with."
Cubs outfielder Jason Heyward isn't worried about Lester.
"The one thing he's showed me is he knows what he's doing and he's a competitor and he wants the ball every time out," Heyward said. "He's a guy who's been around for a long time, thrown a lot of innings and he's had to manipulate and find different ways to get things done."
Lester still sounded as if he has a lot of work to do.
"I got to get back to being me, I got to get back to putting the hitters on a defensive mode, as opposed to trying to pitch to a scouting report from pitch one," he said. "That was a conscious effort going into tonight. I felt better with everything."
On Tuesday night, the Cubs could clinch the Central division for the second straight year. Lester will be watching from the dugout.
"We're excited," Lester said. "We've been playing good baseball since the break. Everybody in here is excited, everyone is playing well, everyone feels good about themselves. This game is such an up-and-down game, you think you're going good one day and the next day you can be brought back down. Everybody's feeling good now, riding that wave. Hopefully, we can continue to play good baseball as we move toward the postseason."
Carrie Muskat has covered the Cubs since 1987, and for MLB.com since 2001. She writes a blog, Muskat Ramblings, and you can follow her on Twitter @CarrieMuskat. This story was not subject to the approval of Major League Baseball or its clubs.