Archer unruffled, ready to finish season strong
Rays starter exits Sunday after 3 2/3 IP and 5 ER en route to fifth consecutive loss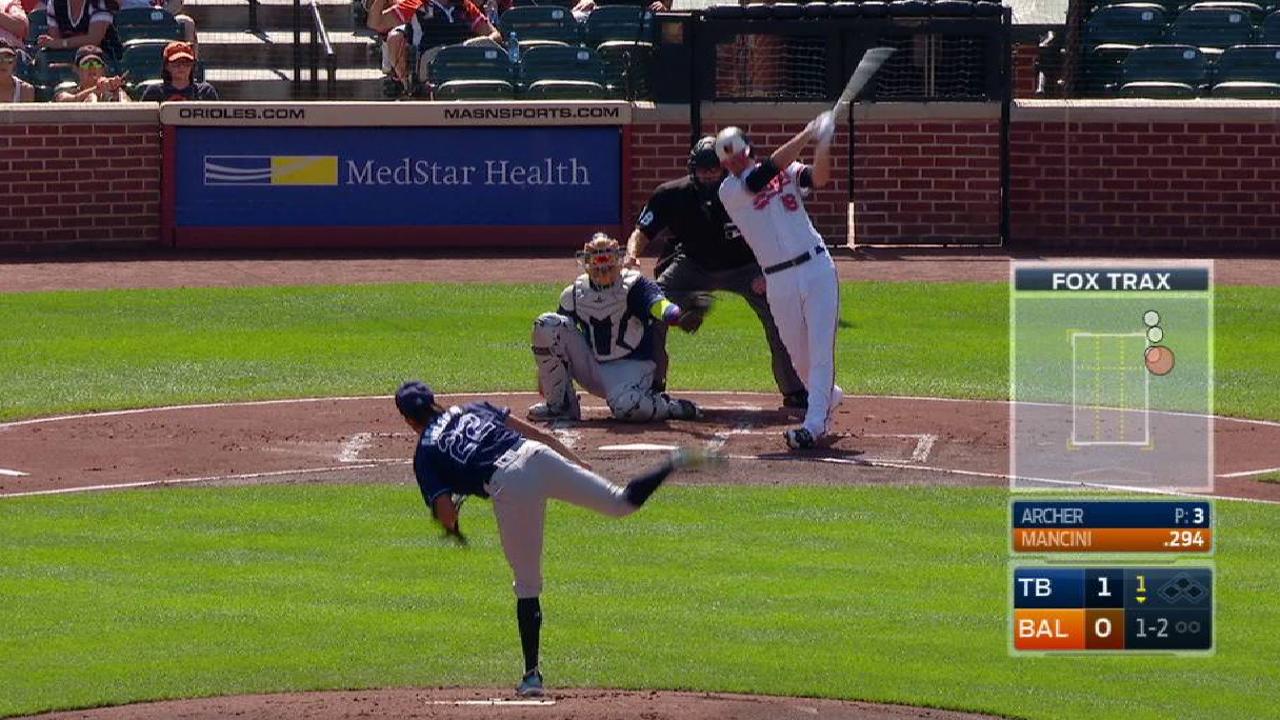 BALTIMORE -- Chris Archer's September struggles continued Sunday afternoon as the right-hander lasted just 3 2/3 innings in the Rays' 9-4 loss to the Orioles, handing the starter his fifth consecutive loss. With just one start left in 2017, Archer has limited time to salvage what had been a strong season.
Since being pulled in the first inning of his outing against the White Sox on Sept. 2 with right lateral forearm tightness, Archer has not been able to find his groove. The righty has posted a 9.72 ERA in five September starts, raising his season ERA from 3.66 at the end of August to 4.18.
"I just haven't been executing at a high enough level. Period," Archer said. "Some games it's been my heater, today in particular it was my breaking ball. And no matter if you throw 95-plus [mph], if you have nothing to go with it, you're not gonna last very long. I think that's what happened today."
Prior to September, the Rays posted a 16-12 record with Archer on the mound. But since the month began, the team has lost each of his starts, which has contributed to the Rays' recent skid of 10 losses in their last 16 games, and put the postseason essentially out of reach.
Tampa Bay is currently six games out of the second American League Wild Card spot, with six games remaining. Any Twins win or Rays loss will result in the Rays being eliminated from playoff contention.
"Honestly, if I remove maybe three starts, I had a terrific year. But, you put in three starts where I gave up about 18 runs, it's very mediocre for me," Archer said. "But, for me personally, I still feel good about the overall body of work. But, statistically, if you're looking strictly at my ERA and my win-loss, they don't look that great and I think that's been mainly from three outings."
Archer is projected to make his final start of the season against the Orioles in the last series in Tampa Bay next week. With the righty attempting to end the on a high note, he will have a difficult task ahead of him. In 16 career appearances (15 starts) against Baltimore, Archer is just 4-8 with a 5.08 ERA.
"I don't think it's too mental," Rays manager Kevin Cash said. "Obviously, the AL East and the Baltimore Orioles, they see him quite a bit. But, they have a good approach. It seems like every time we face them, whether he beats them or performs well or doesn't, we're always finding ourselves complimenting the Orioles' approach against him."
"[With] two rough outings in the month of September, I have a pretty bad taste in my mouth right now considering what I did leading up to the month of September," Archer said. "But, you know what? Fortunately, I have one more start and, you know, regardless of how it goes, I'm going to give it everything I have, just like I always do."
Mandy Bell is a reporter for MLB.com based in Baltimore. This story was not subject to the approval of Major League Baseball or its clubs.