Confident Cotton finishing strong for A's
Rookie tosses five scoreless innings to top Rangers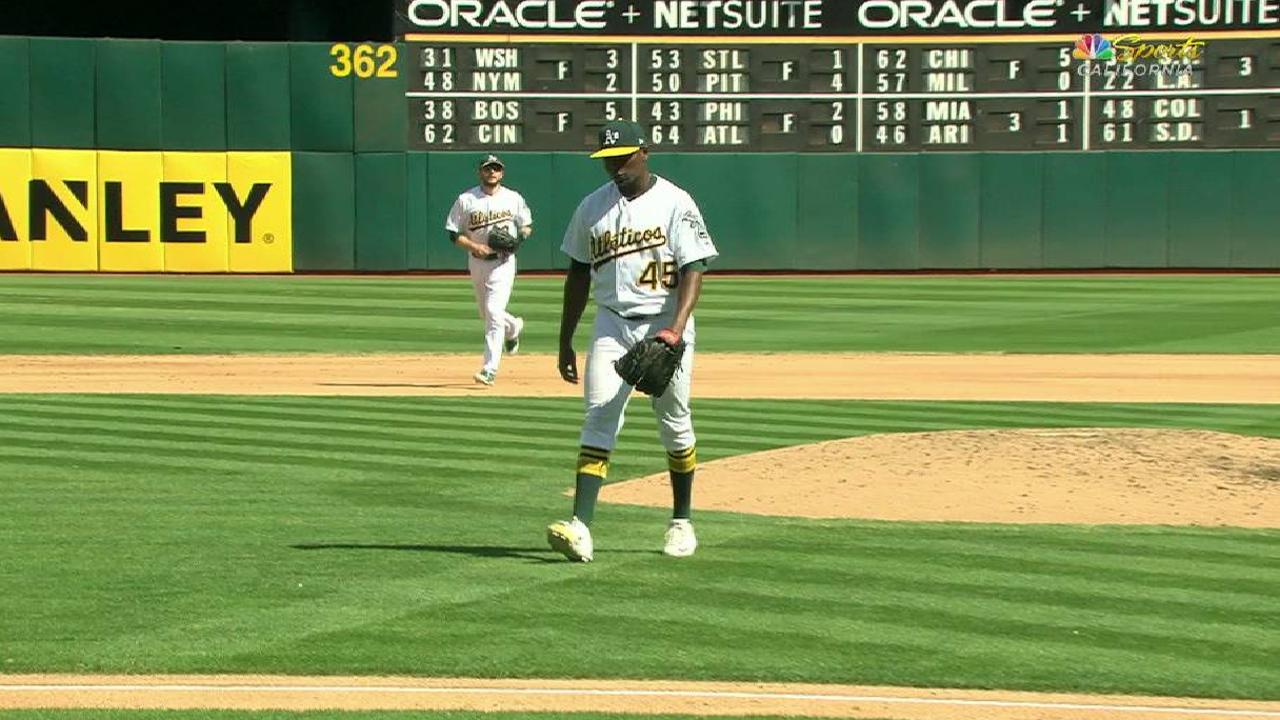 OAKLAND -- After missing a start he was highly anticipating, A's right-hander Jharel Cotton made good use of his return to the mound.
Cotton threw five scoreless innings on Sunday, allowing one hit and one walk while striking out six as the A's finished off a sweep of the Rangers with an 8-1 win.
The right-hander was scratched with a right groin strain right before his last scheduled start on Monday in Detroit, which would've been in front of family and friends from his hometown of nearby Commerce Township, Mich.
While there were no issues against the Rangers, even as the A's elected to pull Cotton after the fifth with his pitch count at 77 because he was felt some tightness in his right elbow.
"Just precautionary stuff," Cotton said. "I felt good, the groin's good. Body feels good."
Cotton finished his afternoon by retiring the last 11 batters he faced, including striking out the final four hitters of his day. In the fifth, he fell behind leadoff hitter Joey Gallo, 2-1, but got Gallo to swing through a changeup and stuck with it, throwing a 10 consecutive changeups to mow through Gallo, Robinson Chirinos and Rougned Odor.
"When you have a changeup with at least a 15 mph gap to it, he can make you look pretty silly with the changeup," manager Bob Melvin said. "He had it all working today."
Cotton is 9-10 with a 5.58 ERA on the season. In each of his nine wins, Cotton has allowed three or fewer runs, while he's allowed four or more runs in all but one of his other 14 starts. Melvin has frequently discussed Cotton's up-and-down season, but sees a lot of positives to build on for 2018.
"It's about throwing early-count strikes," Melvin said. "It's about getting ahead so he can use his whole arsenal. When he gets behind, he's more predictable [and] they can sit on pitches. When he's ahead in the count, he can be a tough guy to deal with.
"He's had some of the most impressive games we've seen here the past couple of years. He definitely has the ability, he just needs to string it together."
Alex Simon is a reporter for MLB.com based in the Bay Area. Follow him on Twitter at @alexsimon99. This story was not subject to the approval of Major League Baseball or its clubs.