Hill honored as top infield coach by Network
PHOENIX -- As the regular season winds down, talk picks up regarding which players and managers will receive the top annual awards. But what about the other coaches?
For the most part, the staff works behind the scenes and isn't singled out. That changed the other day when MLB Network had a segment in which they honored the "Men Behind the Curtain," and Marlins infield coach Perry Hill was one of the winners.
Hill, also Miami's first-base coach, has been with the organization for 10 seasons. A stickler for details and fundamentals, he's helped groom three former Marlins Gold Glove Award-winning infielders -- second baseman Luis Castillo, third baseman Mike Lowell and first baseman Derrek Lee.
"He's been in the game an awful long time," said Billy Ripken of MLB Network. "He understands the fundamentals of infield play. This is about team errors, in my opinion."
MLB Network singled out the top pitching, hitting, bench and infield coaches, as well as video coordinators.
The Marlins entered Sunday with 69 errors, the fewest in the Majors. From the first-base, second-base, third-base and shortstop positions, they've committed just 45 errors.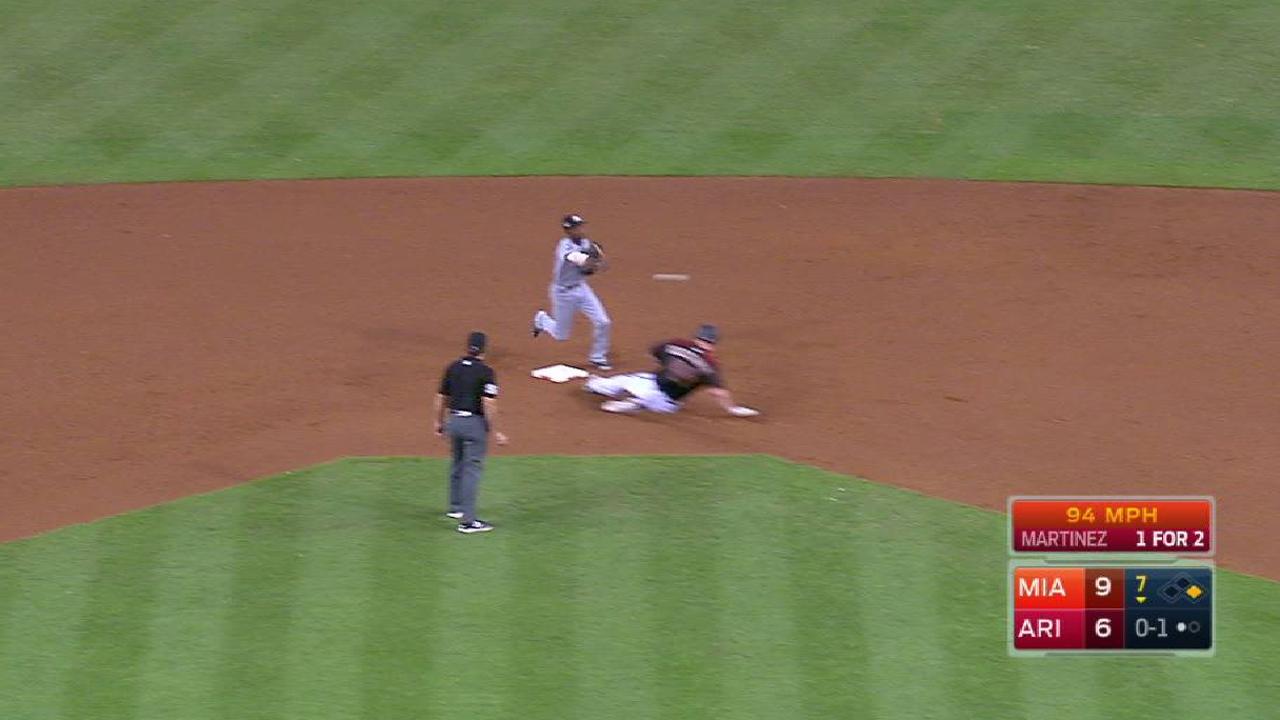 "He's as good as I've seen," Marlins manager Don Mattingly said. "As far as infield guys, teaching positions and giving guys confidence, he's as good as I've seen."
This season has been especially rewarding for the Marlins' infielders, considering third baseman Martin Prado has missed most of the season with injuries. Shortstop Adeiny Hechavarria, the starter at the beginning of the year, was traded in July to Tampa Bay. First baseman Justin Bour missed about two months due to injury.
JT Riddle, who replaced Hechavarria and is a frontrunner to be the starting shortstop next season, has missed much of the season's second half after undergoing left shoulder surgery. And Miguel Rojas, the regular shortstop since Riddle has been out, also missed a couple of months due to a fractured thumb.
"There's no one better than him," said Dee Gordon, the National League Gold Glove Award winner at second base in 2015. "A guy like [Hill] should definitely get recognized for his great coaching abilities. I think people overlook him because he's done it so long. People want the new tricks. His are just true. You can go around this room and ask any of us in the infield -- he's the best."
Joe Frisaro has covered the Marlins for MLB.com since 2002. Follow him on Twitter @JoeFrisaro and listen to his podcast. This story was not subject to the approval of Major League Baseball or its clubs.