Brewers lament lost series, but not giving up
Milwaukee's Central chances slim, but NL Wild Card remains in reach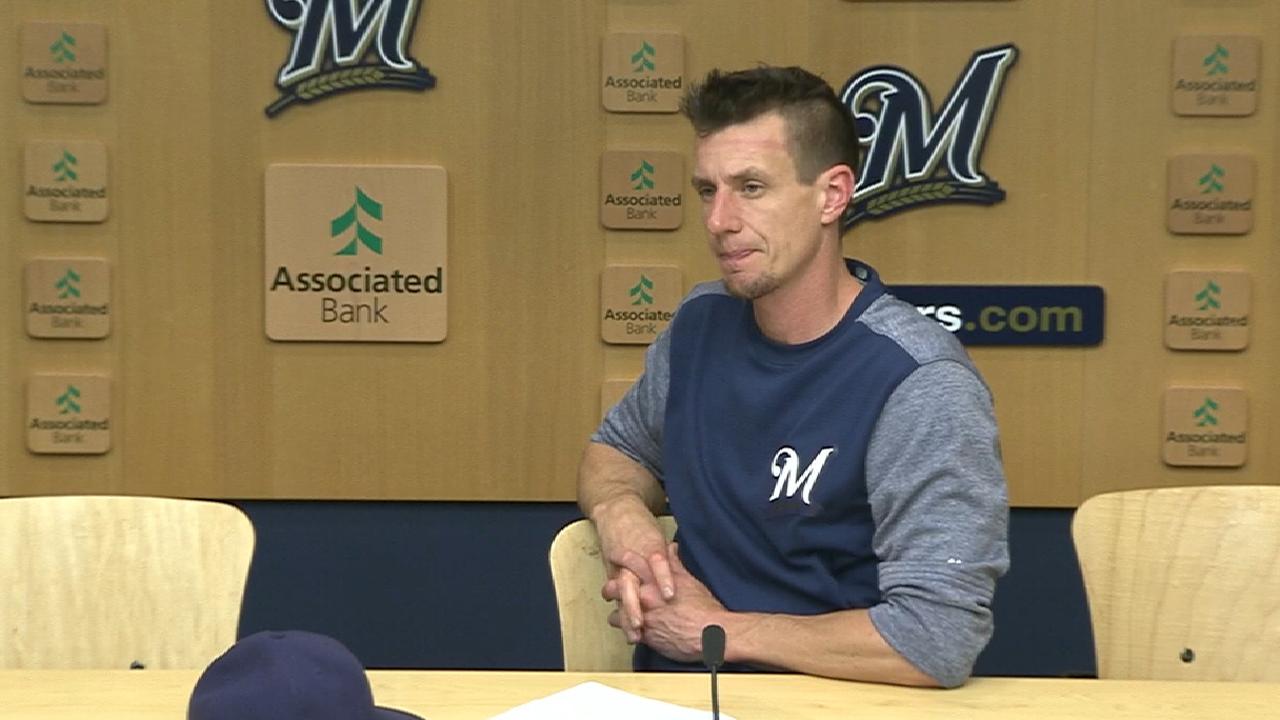 MILWAUKEE -- Keon Broxton might have offered the best description of the Brewers' extended weekend against the Cubs when he called it "draining on our hearts." But after three losses in four charged games all but dashed Milwaukee's division hopes and forced their focus toward the National League Wild Card race, manager Craig Counsell refused to hang his head.
"I couldn't be prouder of the way we played. One-hundred percent," Counsell said after Sunday's 5-0 loss to Chicago left-hander Jose Quintana. "It was a good baseball series, man.
"Obviously, the first three games were incredible. In the end, we would have liked to have grabbed one of those first two games."
The first three games of the series all went 10 innings, the Cubs eking out victories on Thursday and Friday before the Brewers twice took a lead from Chicago closer Wade Davis on Saturday to win on Travis Shaw's two-run home run.
Until Ben Zobrist crushed a two-run home run off Brewers starter Chase Anderson in the seventh inning on Sunday that gave the Cubs a 3-0 lead, there was only one brief moment in the entire series in which one of the teams led by more than two runs. It was between the second and third innings on Friday, when Stephen Vogt and Brett Phillips hit back-to-back homers for a 3-0 Brewers lead, only to see the Cubs score twice in the fourth against Brandon Woodruff.
After three drama-filled nights, Quintana controlled all nine innings Sunday. A trade target of the Brewers' before the July 31 non-waiver Trade Deadline, he scattered three singles and struck out 10 batters in his second career shutout. It was a 1-0 game until the seventh, when Zobrist and the Cubs started pulling away.
The loss left the Brewers, who have six games left against the Reds and Cardinals in the regular season, facing a 5 1/2-game deficit in the NL Central standings. That meant their only real path to the postseason is the second NL Wild Card. They trail the Rockies by two games.
"It's been a tough week for us," said Broxton, who had one of the Brewers' three singles on Sunday. "We had a lot of close ballgames where we just couldn't come up with the W. It's been really draining on our hearts. But as far as coming back and playing well, I don't think that's going to be a problem."
Eric Thames, who didn't start Sunday against the left-handed Quintana, said of the Brewers' remaining games, "we have to win them all."
"This was a really bad series. Not bad performance-wise, just heartbreaking," Thames said. "The first two losses were definitely gut-wrenching. But we have to move forward."
They will get a welcome day off Monday before beginning the final push. Zach Davies will be on the mound when the Brewers open a three-game series against the Reds at Miller Park on Tuesday.
"Coming into this series, in order to take the lead in the division, more or less we would have to win all four. To be in position to take it, we would have to win three of four. Neither of those things happened," said reliever Carlos Torres, who was on the mound when Anthony Rizzo delivered Sunday's dagger with a two-run double in the eighth. "But the Wild Card is still there. That's the way it is. Nobody here is quitting."
Adam McCalvy has covered the Brewers for MLB.com since 2001. Follow him on Twitter @AdamMcCalvy, like him on Facebook and listen to his podcast. This story was not subject to the approval of Major League Baseball or its clubs.