Thumbs up! Yankees all rise, clinch berth
Playoff spot secured, Yankees not giving up hope of catching Red Sox in AL East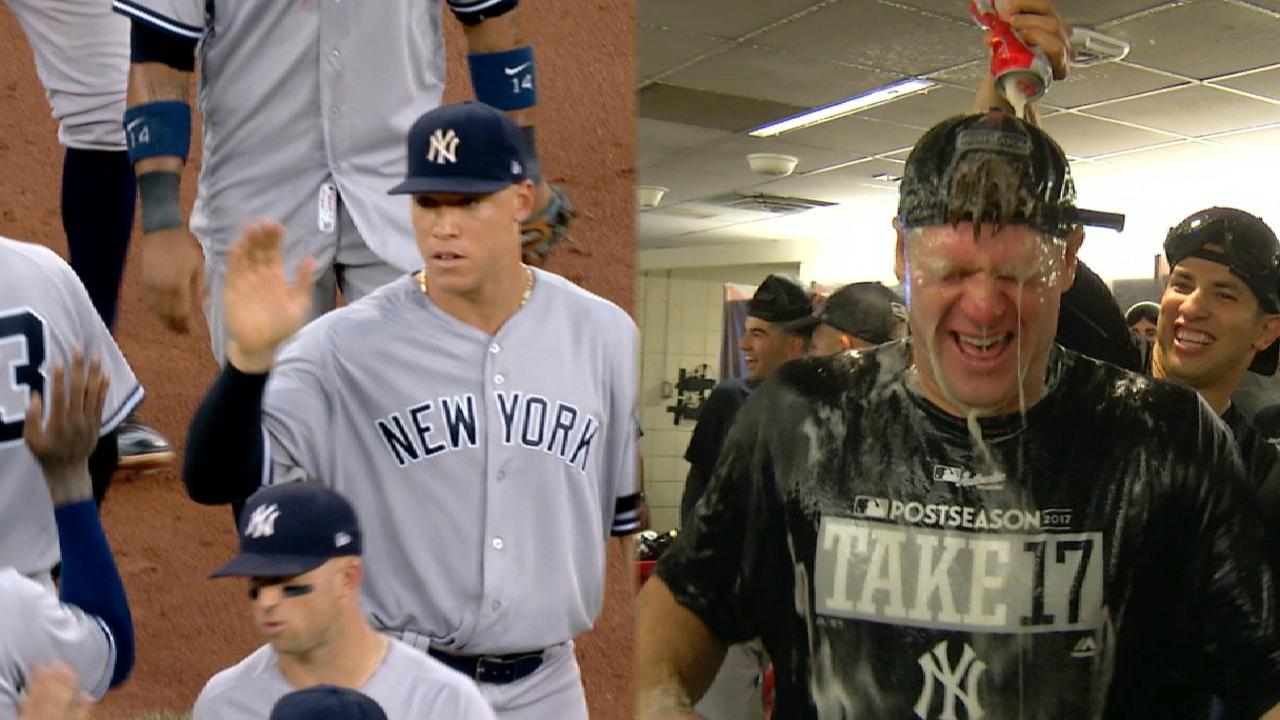 TORONTO -- This was the kind of celebration that the Yankees dreamed about on those sun-drenched afternoons at George M. Steinbrenner Field in Tampa, Fla., when the glasses were more than half-filled with optimism about what "Baby Bombers" Greg Bird, Aaron Judge, Gary Sanchez and Luis Severino might be able to accomplish over a full big league campaign.
• Shop for Yankees postseason gear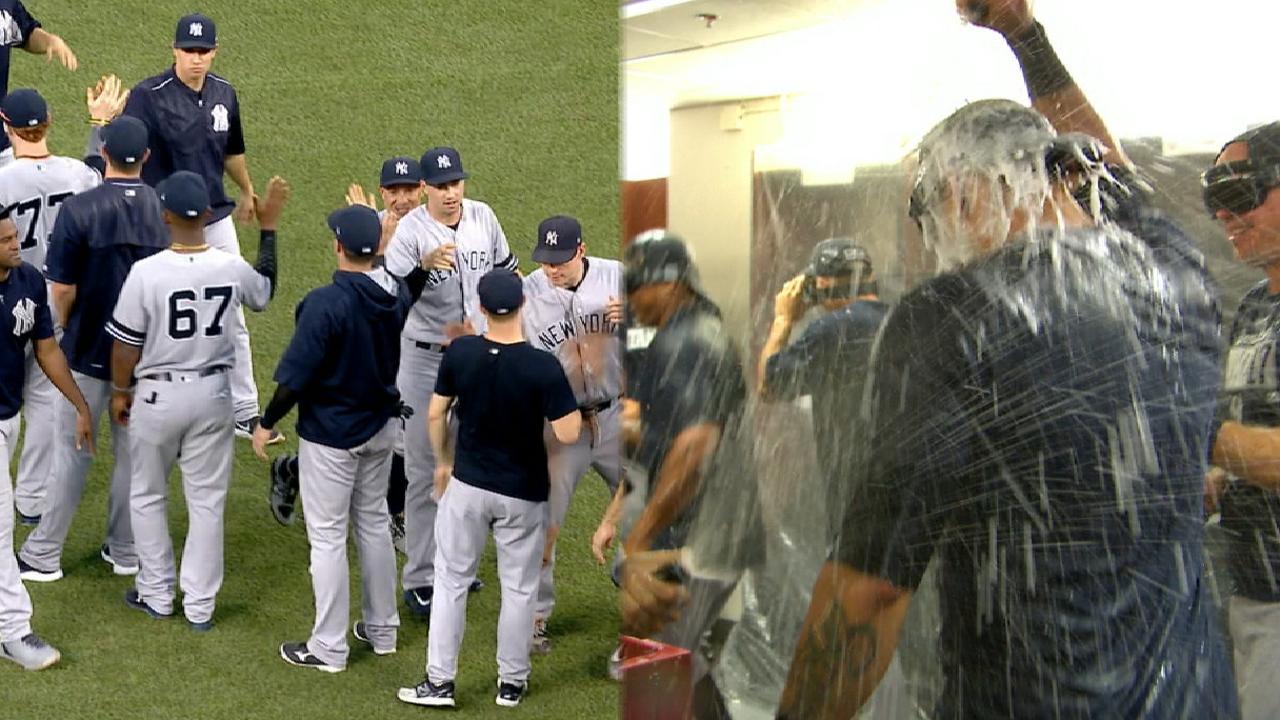 With some luck, general manager Brian Cashman had said then, the group should contend for an American League Wild Card spot -- and perhaps more. That expectation had been met with outside skepticism, but as the Yankees gleefully doused each other with champagne after Saturday's 5-1 victory over the Blue Jays, they insisted that this was only the first objective.
"It's great, but it's just the beginning for this team," Judge said. "We've just got to keep working. We're not done yet. This is just the beginning. We've got a lot of goals for this team, a lot of stuff that we want to do. This is just the beginning, getting a chance to be in the postseason. Now we've got to keep it rolling and finish out strong."
The Yankees' current roll began around the time a fan at Citi Field gave a thumbs down to a Todd Frazier home run in a game between the Yankees and Rays last week. The Yankees have embraced the gesture and are riding it into the postseason.
At the very least, the Yankees are assured of participating in the AL Wild Card Game on Oct. 3, their first playoff appearance since 2015. Their magic number to secure home-field advantage in the Wild Card Game is two over the Twins, but they aren't giving up hope of erasing the four-game gap between themselves and the Red Sox in the AL East.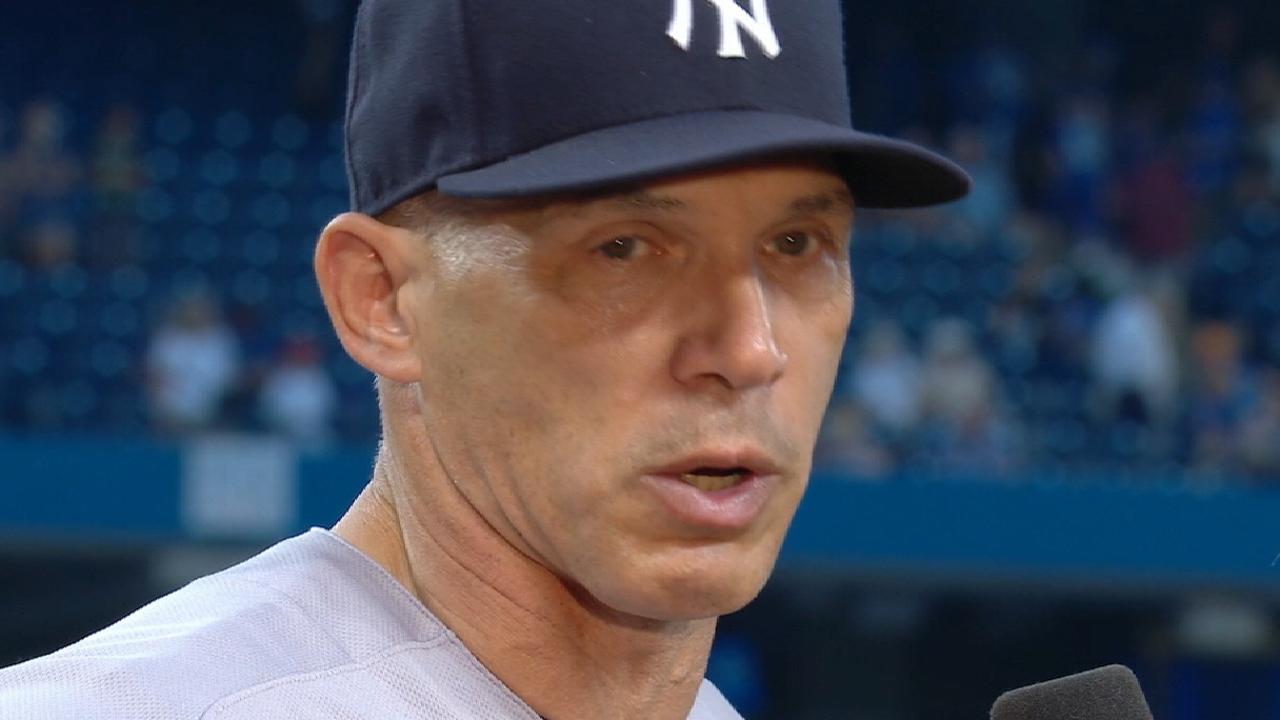 "I think it's important that we keep our foot on the gas and see where we lie," Yankees manager Joe Girardi said. "Our fate may not be determined until the last weekend, what exactly is going to happen, but the one thing is that you don't want guys to lose that edge that they've had for so long."
With Saturday's victory, the Yankees matched their season high of 18 games over .500 at 86-68, and they will try on Sunday to win their seventh consecutive series. Girardi said that he thought a turning point came after the Yanks were swept in three games by the Indians, Aug. 28-30; after that, New York took three out of four from Boston, and then -- on little sleep -- it beat up on the Orioles in a Labor Day contest at Camden Yards.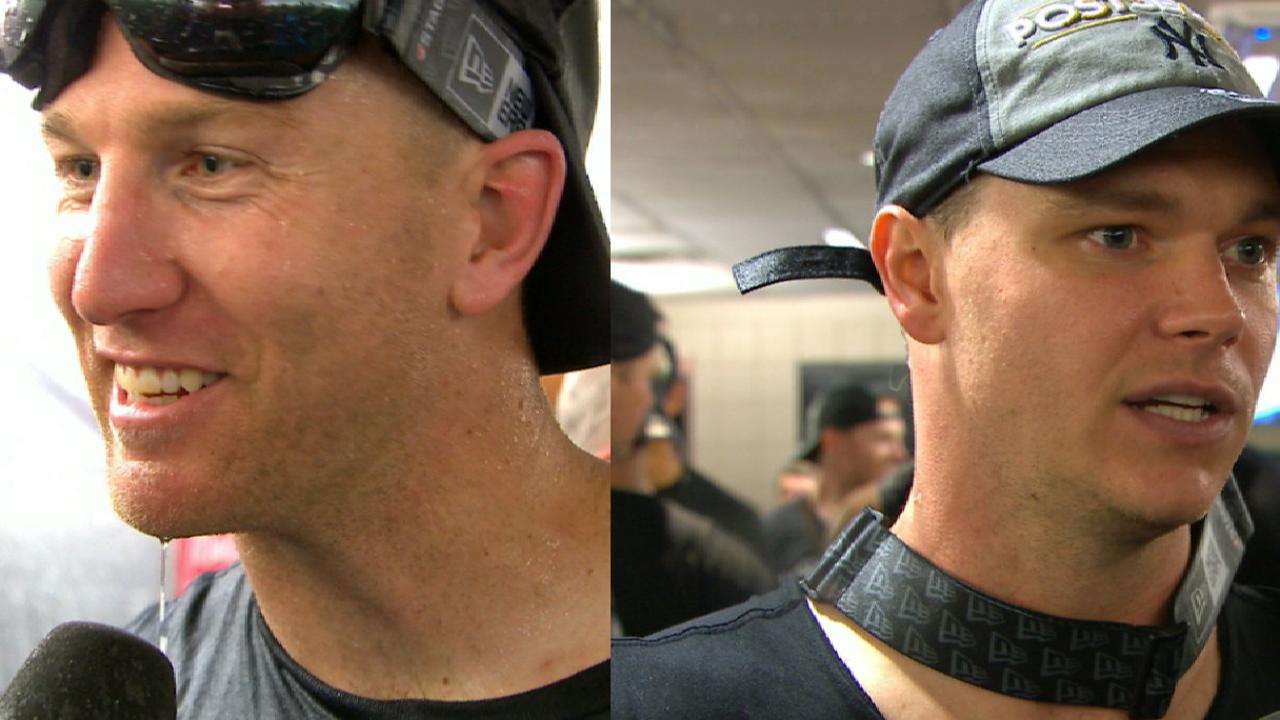 "We're just taking everything one pitch at a time, one game at a time, and if we do that, this is what happens," Judge said. "It's the type of team we've got. We've got one of the best bullpens in all of baseball. We've got a stacked lineup. We like to have some fun. We go out there and just compete. We compete our butts off every single pitch."
With plastic sheets covering their lockers, the players hooted and hollered. Shortstop Didi Gregorius carried an expensive camera through the droplets, shooting video, while reliever Tommy Kahnle rolled on the soaked carpet, literally soaking up the experience. It was a night the youngest Yankees hoped never to forget, while some of the veterans seemed to be holding something back for the next parties to come.
"I told some of these guys, 'It's a lot more fun to celebrate at home than it is here in Toronto,'" Brett Gardner said. "Our clubhouse is a lot bigger, and there's a lot more room. I think we realize that there's a lot more work to do, but I think it's important for us to celebrate and to realize that it's a big accomplishment to make it back into the playoffs. There's only 10 teams that get to play in the postseason, and we're going to be one of them."
Bryan Hoch has covered the Yankees for MLB.com since 2007. Follow him on Twitter @bryanhoch and on Facebook. This story was not subject to the approval of Major League Baseball or its clubs.