Bronx Play Ball event a celebration of stickball
Local youth learn basics of game as NYESL partners with MLB, Yankees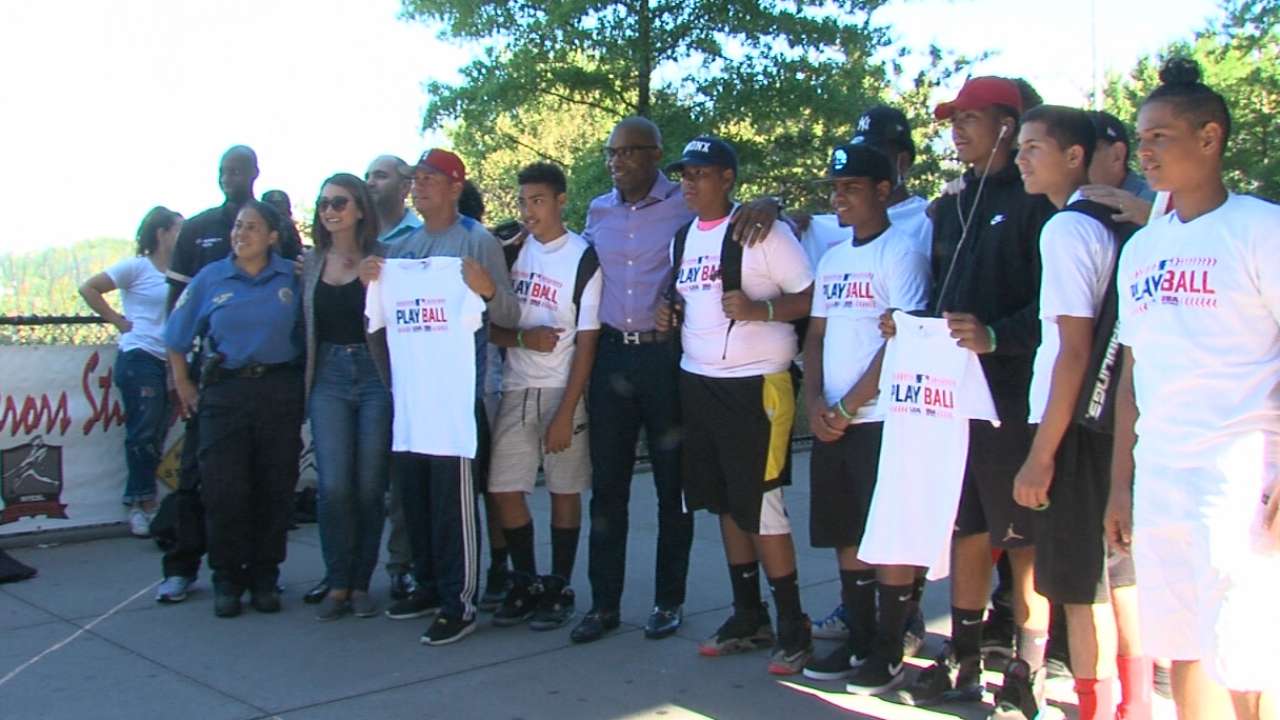 NEW YORK -- Slowly, the blacktop field came together, one chalk baseline at a time. By the time the lines were drawn, River Avenue had been transformed.
Draped with murals and soaked in history, this South Bronx street has flanked the eastern edge of the Yankees experience for nearly 100 years. On game day it becomes a block party, with fans spilling out of Yankee Stadium -- from the first-base gate at the old version, the right-field gate at the new -- onto the neighborhood's main strip of bars and souvenir shops.
Saturday morning it took a more communal vibe, as local youngsters took to a blocked-off section of River Avenue to learn an enduring urban game: stickball. The Play Ball event, hosted by Major League Baseball and the Yankees, in partnership with the New York Emperors Stickball League (NYESL) and the 161st Street Business Improvement District, ran approximately 60 kids through stickball-centered stations. Children learned bat wrapping, hitting and fielding as it pertains to stickball, a pickup version of baseball originally played with a broomstick for a bat.
The event was hosted in recognition of Hispanic Heritage Month.
"The history of stickball in New York City and Latin America is a rich one," MLB senior vice president Tony Reagins said. "You don't need 18 players, a chalk field and umpires to play our game."
Embryonic versions of stickball date back centuries, but the modern game, played in the street with a narrow, modified wood bat and a spaldeen, was fiercely popular in New York through much of the 20th century. It's mostly gone from schoolyards now, but it is still played competitively in the Bronx, notably in the 10-team NYESL, which features players as young as teens and as old as retirees.
The league plays every Sunday from April to October, on Stickball Boulevard in the east Bronx neighborhood of Castle Hill. There generations of players compete in the version of the game (called fungo style, where the batters toss themselves a pitch) taught Saturday. Kids self-pitched and ran to makeshift bases sketched under the shadow of the 4 train, which frequented play with roaring interludes and gave the game a cheerfully pinball-ish feel.
"A lot of our younger generation players are hardball players as well. For them, stickball enhances their skills," said Tony Nazario, a NYESL board member and 17-year stickball veteran. "We don't use any gloves. You have one swing with a thin bat and a ball. The skillset you will get from this game will make your hardball skills that much better."
Many current Major Leaguers from Caribbean islands grew up playing some version of stickball. It's cheap to play and promotes outdoor teamwork, making it a perfect remedy for issues like childhood diabetes and obesity, said Yankees senior vice president Brian Smith.
"It's important for kids to be active," Smith said. "In our community, we lead the nation in a number of health-related issues that it's not cool to be in first place for. Today, kids are running around, smiling, socializing. This is great. This is community. This is what it's all about."
Joe Trezza is a reporter for MLB.com based in New York. Follow him on Twitter at @joetrezz. This story was not subject to the approval of Major League Baseball or its clubs.