Shaw thriving on field amid tough year off it
Brewers outfielder's baby daughter battling congenital heart defect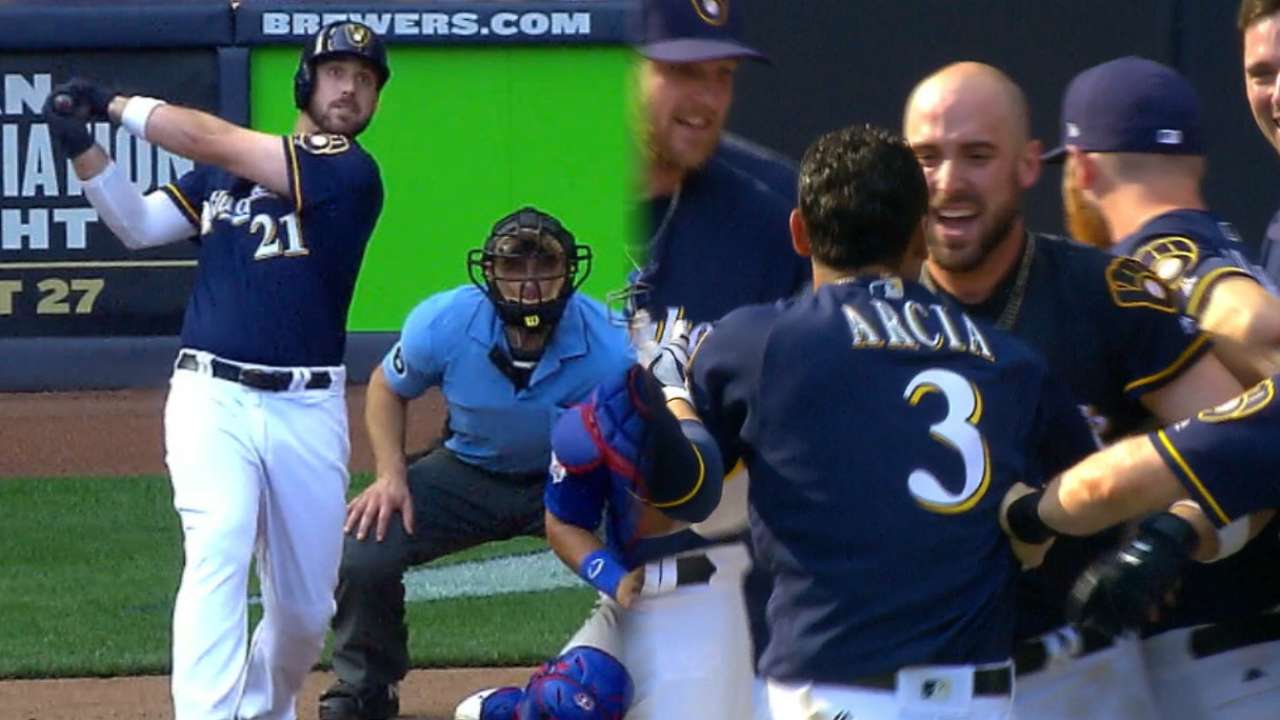 MILWAUKEE -- It's not easy playing a game that often can create stress when every moment away from the field is thick with it. That is the challenge Travis Shaw has confronted during a sleep-deprived debut season with the Brewers, splitting time between a newborn daughter in the hospital and anchoring the lineup for a team that finds itself in a pennant race.
On Saturday, Shaw had a good story for baby Ryann. His first career walk-off home run was a two-run shot off Cubs closer Wade Davis, and capped the Brewers' desperately-needed 4-3 win that featured a pair of comebacks against one of baseball's most reliable relievers.
"Travis has just been a rock through this whole thing," Brewers manager Craig Counsell said. "We don't talk about it a lot to respect what he's going through, but he's been able to put together a wonderful season under very difficult circumstances."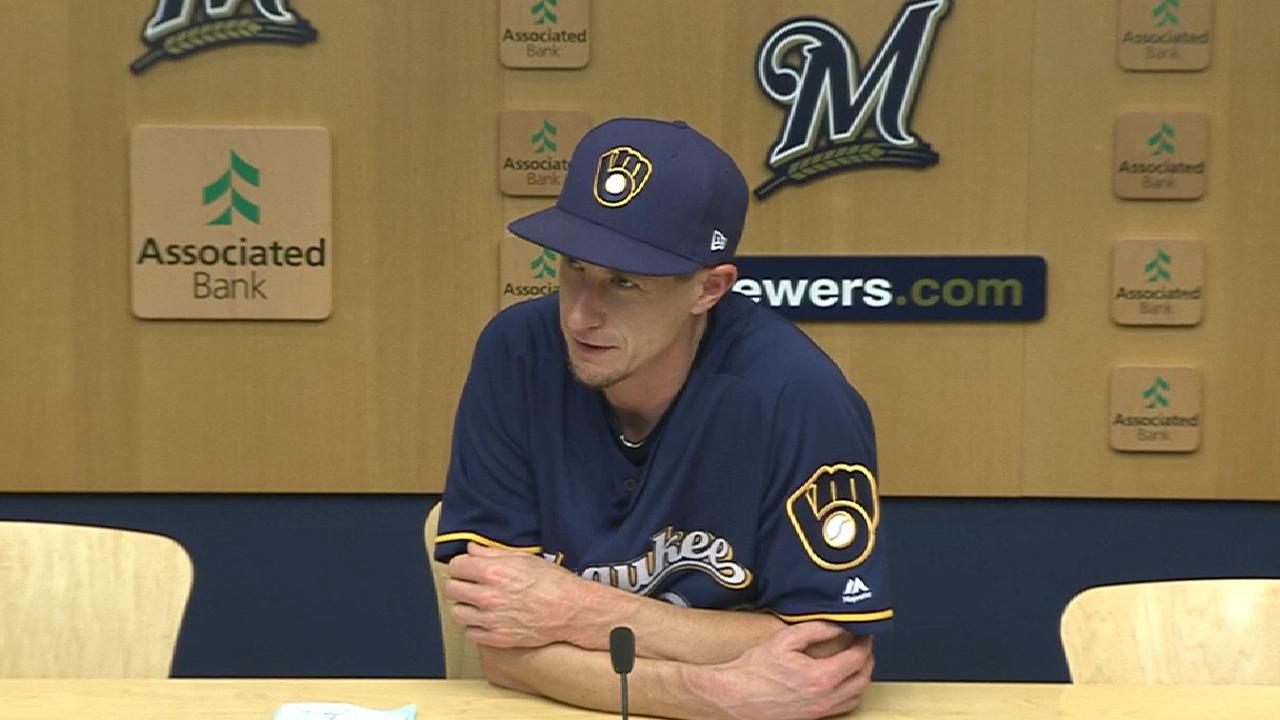 Thanks to homers for Orlando Arcia off Davis in the ninth inning and Shaw in the 10th, the Brewers pulled back to with 4 1/2 games of the Cubs in the NL Central and one game of the Rockies for the second NL Wild Card, pending Colorado's late game.
In a breakthrough campaign, the soft-spoken 27-year-old Shaw is hitting .276 with 31 home runs and 99 RBIs while batting fourth in the Brewers' lineup. His RBIs lead the team, and his home run count is tied with Eric Thames, all while Shaw has bounced between being a ballplayer and being a dad.
It was about the time the Red Sox traded Shaw -- with two top prospects (shortstop Mauricio Dubon and pitcher Josh Pennington, each of whom rank among MLBPipeline.com's Top 30 Brewers prospects) plus a player to be named -- to the Brewers for reliever Tyler Thornburg that Shaw and wife Lindy learned their baby would be born with a congenital heart defect.
The trade to Milwaukee was fortuitous, because Children's Hospital of Wisconsin happened to be a leader in caring for the condition -- hypoplastic left heart syndrome -- that required multiple open-heart surgeries immediately after Ryann was born in June. In August, he was briefly away from the team again for a follow-up procedure.
Each day the Brewers are home, Shaw rises and visits Ryann in the hospital. He makes the short drive to Miller Park, plays the game, then returns to the hospital until it is time for bed.
Then home, rest a bit, and repeat.
"I don't know how he's been able to keep his head on straight and stay focused with everything he's been dealing with at home," said Ryan Braun, a father of two. "It's pretty remarkable, the success he's had. And beyond that, he has been far better on the field than we could have possibly hoped for.
"To know what he's dealing with personally, it's pretty amazing."
These days, Ryann remains hospitalized, but connected to far fewer devices, allowing dad to hold her. A handful of times this summer, he was able to take her outside into the sunshine.
She remains stable, Shaw said, but there is no timetable for her release from the hospital.
Shaw is proud of the way he has found a work-life balance.
"Yeah, I am," he said. "There's a lot going on, still, outside the field. It's a nice getaway coming here."
It had not felt like a nice getaway lately. The Brewers had lost three straight games in the opponent's final at-bat before narrowly avoiding another on Saturday.
"The resiliency of this team has just shown itself time after time this year," Shaw said. "When our guys are against the wall like today was -- I mean, this is as must-win as you get, and we were able to come through."
Adam McCalvy has covered the Brewers for MLB.com since 2001. Follow him on Twitter @AdamMcCalvy, like him on Facebook and listen to his podcast. This story was not subject to the approval of Major League Baseball or its clubs.