Crew to decide Hader's future role in offseason
MILWAUKEE -- As Brewers left-hander Josh Hader slings his way to dominant numbers as a multi-inning relief weapon, the Brewers' public stance on his future has evolved from a firm, "We still view him as a starter long-term," to "Let us get back to you on that."
Where is Hader most valuable to the Brewers as they evolve into contenders? Starting rotation or bullpen? Twice as many innings as a starter, or impact twice as many games in relief?
"That's a discussion we are going to have in the offseason," Brewers GM David Stearns said Saturday, after Hader added 2 1/3 more clean innings to his resume in Friday's loss to the Cubs. "Josh has been an impressive member of our bullpen since we called him up, and as we get into the offseason, we'll discuss how he best can impact our team going forward. By the time we get to Spring Training, we will have a plan."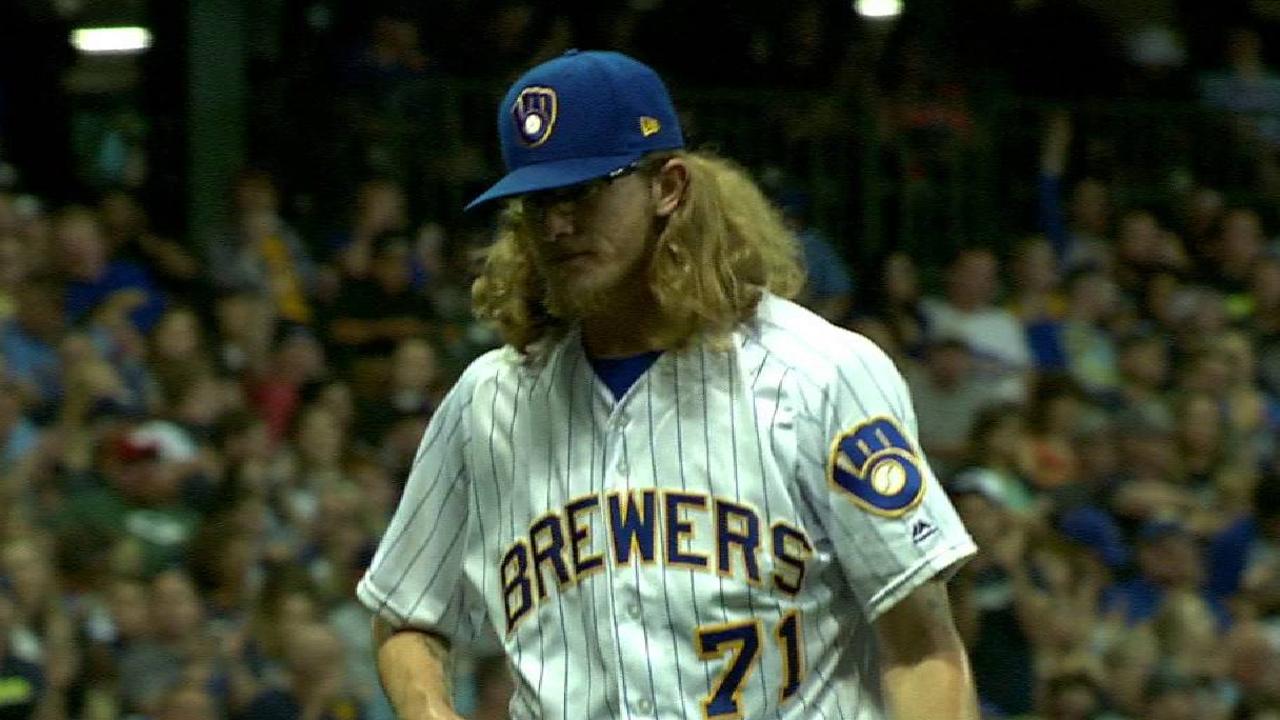 A number of factors will impact the decision:
• Where is the greatest need?
Before Jimmy Nelson went down with a shoulder injury, the Brewers' 2018 rotation projected to include Nelson, Chase Anderson, Zach Davies and Brandon Woodruff, plus someone from a group that includes Hader, Brent Suter, Junior Guerra and, perhaps later in the year, prospect Corbin Burnes. Now that the Brewers know Nelson will miss time -- potentially significant time -- at the start of next season, Hader and the rest of that last group bumped up in the pecking order. Any other injuries would further thin that group.
In other words, will the Brewers find themselves in a position where they don't have the luxury of choosing, but need Hader in the rotation?
• Offseason moves.
Only two current Brewers are under contract for next season: Ryan Braun and Eric Thames, who are due about $24 million. At the same time, the organization is rich with shortstop and center-field prospects. That combination puts Stearns in solid position to acquire players via free agency or trades
Stearns has a good feel for the starting-pitching market after unsuccessful bids to acquire Jose Quintana, Sonny Gray and others at the July 31 non-waiver Trade Deadline. Although he came up empty, Stearms' groundwork could help him make a splash this winter.
• Hader's own development.
Hader's numbers jump off the screen. Among relievers with at least 40 innings, he is sixth with a 1.64 ERA, seventh with a .150 average against and 15th with 12.48 strikeouts per nine innings. He has allowed only two of 10 inherited runners to score. He has held left-handed batters to 6-for-53 (.113) with 29 strikeouts.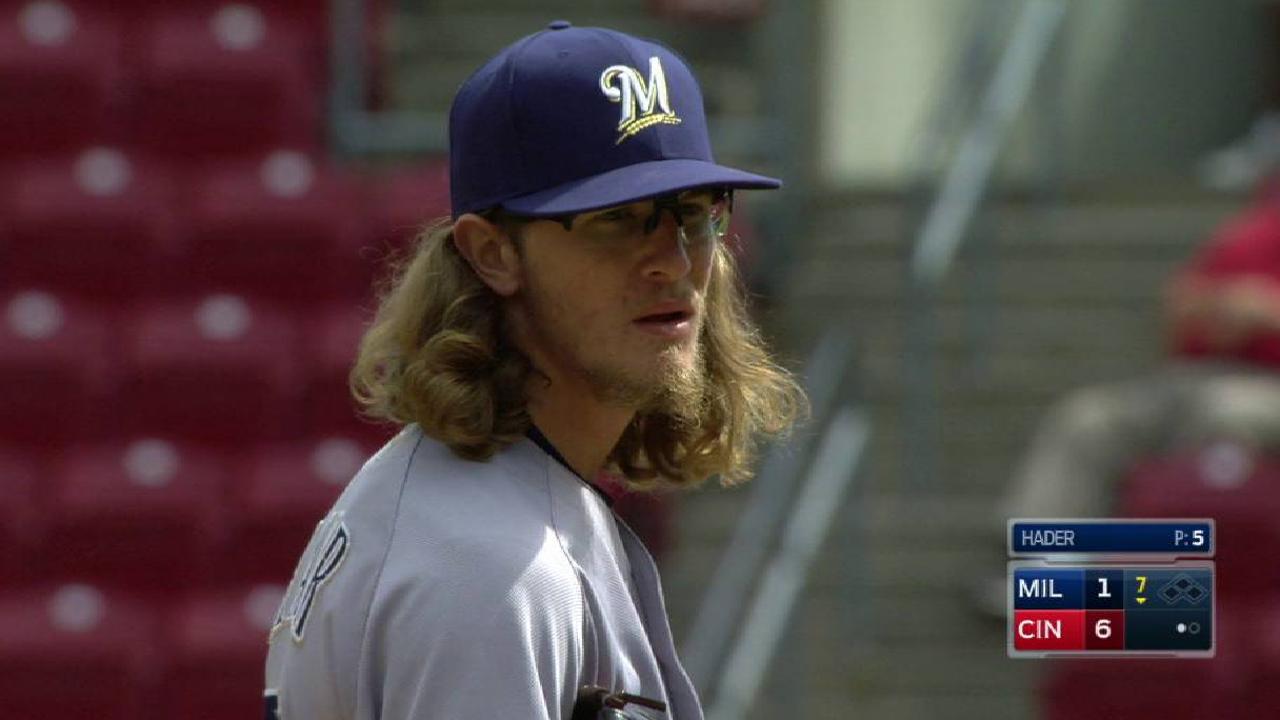 But he has done it with essentially one pitch: A four-seam fastball that has averaged 94.8 mph this season, according to Statcast™, and has been Hader's offering 82 percent of the time. Only four Major League relievers have navigated more than 40 innings with a higher percentage of fastballs: The Rockies' Jake McGee, the Royals' Scott Alexander, the Dodgers' Kenley Jansen and the Nationals' Sean Doolittle.
Throwing 82-percent fastballs would probably not work for Hader as a starting pitcher. He does throw a slider and a changeup, offspeed offerings he has sprinkled in more often since a two-outing stretch in early September in which the Nationals' Michael A. Taylor and the Reds' Billy Hamilton ambushed fastballs for home runs.
Since Hamilton's walk-off homer on Sept. 4, Hader has pitched 10 2/3 scoreless innings over seven games, allowing three hits and one walk compared to 16 strikeouts.
With starting pitchers working fewer and fewer innings, and multi-inning relievers rising to prominence throughout Major League Baseball, perhaps Hader has found a home in the bullpen.
The Brewers will kick that idea around this winter.
"He's doing a heck of a job," Brewers manager Craig Counsell said after Hader gave him seven outs on Friday night. "He's become a weapon in the middle innings. The trick for us is to keep him going and use him in the best spots and get multiple innings. That's the challenge. I'm trying to put him in those spots, and he keeps answering."
Adam McCalvy has covered the Brewers for MLB.com since 2001. Follow him on Twitter @AdamMcCalvy, like him on Facebook and listen to his podcast. This story was not subject to the approval of Major League Baseball or its clubs.