Maddon: Jay not bothered by two-strike counts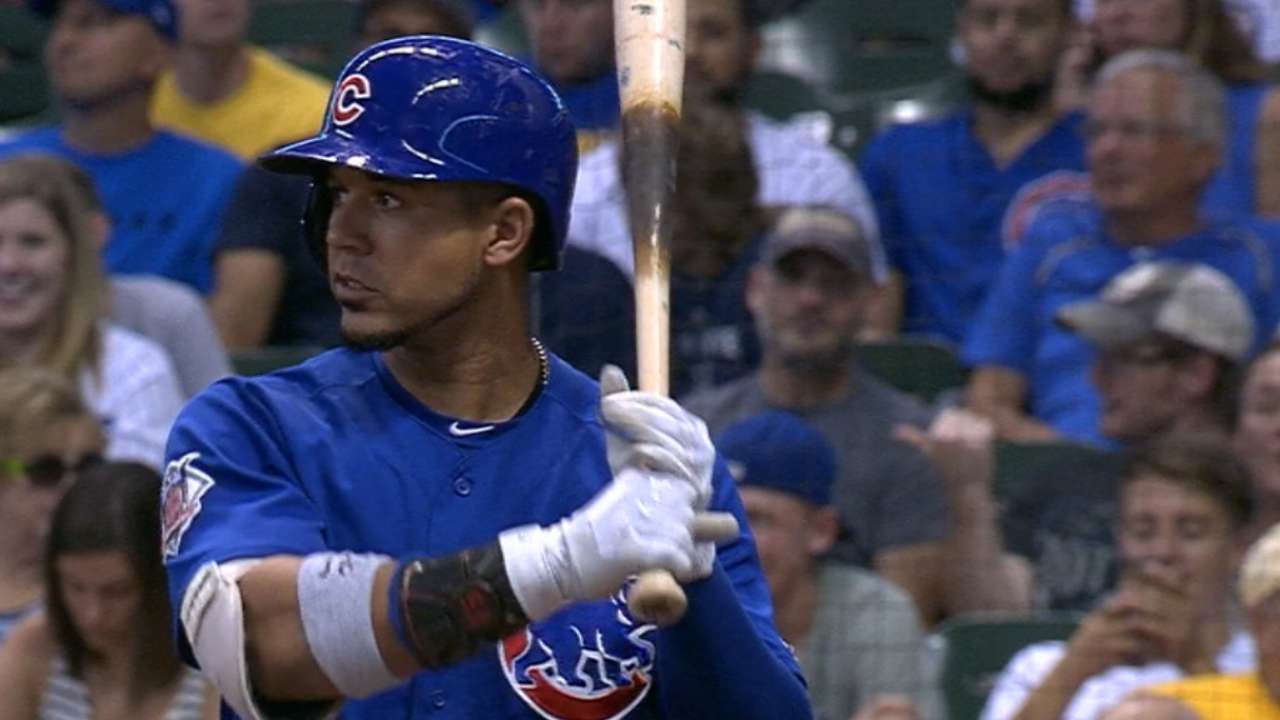 MILWAUKEE -- When Jon Jay fell behind, 0-2, against the Brewers' Brandon Woodruff to open the fifth inning on Friday, he wasn't fazed. The veteran outfielder took two pitches, then fouled off 10 in a row before he singled and eventually scored in the Cubs' 5-4, 10-inning win.
"Two strikes does not bother him," Cubs manager Joe Maddon said. "He'll be 0-2, 1-2 a lot and the at-bat is not over. He does not cave in, he's able to move the ball. That's the throwback component of him that I really appreciate, which is how he works at-bats."
The 15-pitch at-bat was the longest plate appearance of Jay's career, and the longest by a Cubs player that resulted in a hit.
"I was just trying to battle and go out there and have a good at-bat," Jay said. "Every at-bat is our biggest at-bat. I'm just trying to put something together."
Woodruff did his part to mix up the pitches, throwing six sliders, five four-seam fastballs and four changeups. Jay eventually connected on an 84.9-mph changeup.
"He was on everything," Maddon said of Jay. "I saw the variety of pitches thrown at him."
It was a professional at-bat.
"It's something I take a lot of pride in," Jay said. "I'm just trying to be consistent out there and stay in my lane and do what I can."
Jay's at-bat was tied for the longest plate appearance resulting in a hit this season, done twice before. J.D. Martinez, then with the Tigers, also singled after a 15-pitch at-bat on June 29 and the Rays' Shane Peterson doubled on July 1.
Worth noting
• Carl Edwards Jr. has said he's learned a lot watching closer Wade Davis. Maddon can see the veteran Davis having an influence on Edwards, too.
"I think having Wade around is good for him," Maddon said. "Wade demonstrates how not to get over-amped in a situation. As [Edwards] learns to become a total flat-liner, he'll become a good closer."
And how does Davis help?
"We sit in the room and play video games and he'll talk your head off," Edwards said.
• Looking ahead, the Cubs will keep their rotation in order and start Jon Lester, Jake Arrieta, John Lackey and Kyle Hendricks in the upcoming four-game series against the Cardinals, which starts Monday.
Lester struggled with his command in his last outing but Maddon said Saturday he isn't worried about the left-hander.
"There's nothing wrong with him, ailment-wise," Maddon said. "If there was, I'd be concerned. But I'm not getting that at all."
Carrie Muskat has covered the Cubs since 1987, and for MLB.com since 2001. She writes a blog, Muskat Ramblings, and you can follow her on Twitter @CarrieMuskat. This story was not subject to the approval of Major League Baseball or its clubs.