Before they were postseason bound: Dodgers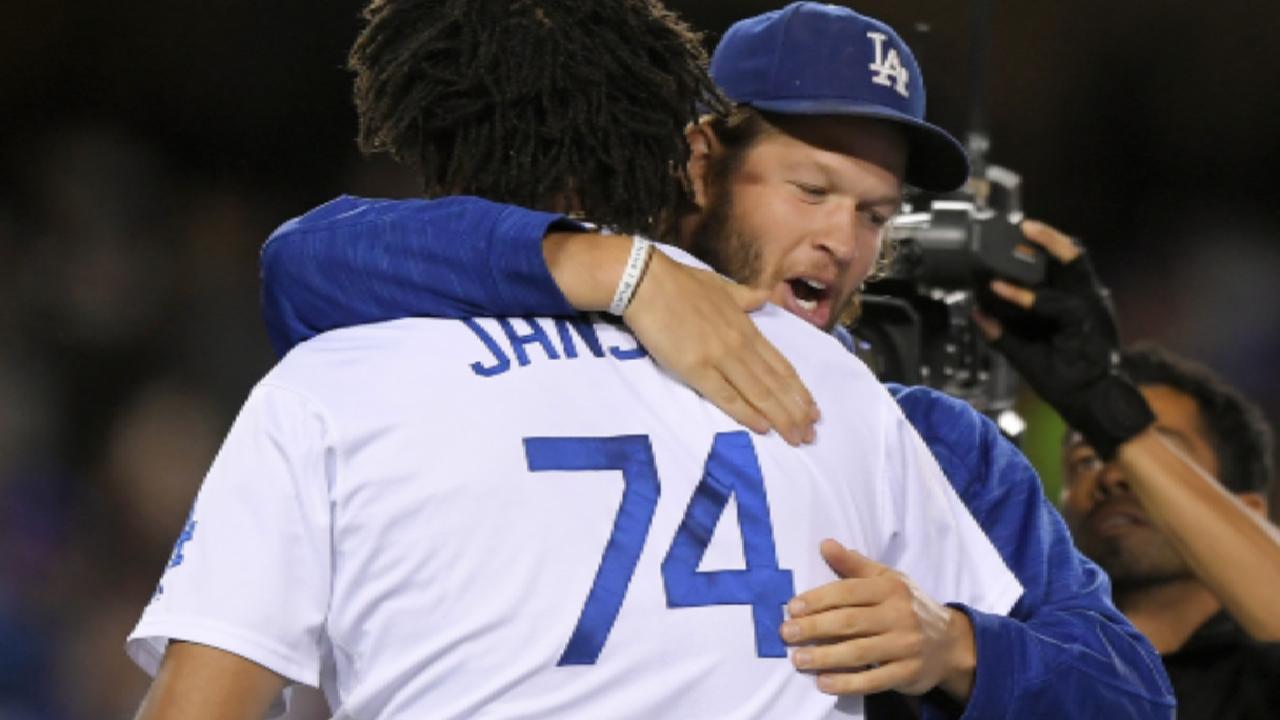 Here is everything you need to know about the Dodgers, who are heading to the postseason for the fifth straight season.
Luis Avilan, LHP
Born: Caracas, Distrito Federal, Venezuela
DOB: 7/19/89
Minors: Danville (R), Rome (A), Myrtle Beach (A+), Mississippi (AA)
• Avilan found himself on the Major League radar at a very young age, signing with the Braves at 15 in 2005. The Venezuelan-born hurler spent two seasons in the Dominican Summer League before making his United States debut with the GCL Braves in 2008. Avilan arrived in Los Angeles as part of the Alex Wood trade, a three-team 13-player deal with the Braves and Marlins in 2015. The trade turned out to be a major boon for the Dodgers as they acquired Wood, Avilan, Bronson Arroyo, Jim Johnson and Jose Peraza in exchange for three players who aren't currently in the big leagues.
• Dress for October: Get NL West champs gear
Austin Barnes, C
Born: Riverside, Calif.
DOB: 12/28/89
HS: Riverside Poly (Calif.) High School
College: Arizona State University
Minors: Jamestown (A-), Greensboro (A), Jupiter (A+), Jacksonville (AA), Oklahoma City (AAA)
• Major League Baseball runs in Barnes' family. His uncle Mike Gallego was an infielder for the A's, Yankees and Cardinals from 1985-97 and won a World Series with Oakland in '89. Gallego also previously served as the A's third-base coach and the Angels director of baseball development.
• NL Division Series Game 1: Friday, 10:30 p.m. ET on TBS
Cody Bellinger, 1B/OF
Born: Scottsdale, Ariz.
DOB: 7/13/95
HS: Hamilton (Chandler, Ariz.) High School
Minors: AL Dodgers (R), Ogden (R), Rancho Cucamonga (R+), Oklahoma City (AAA), Tulsa (AA)
• Cody Bellinger isn't the first in his family to reach the Major Leagues and he may not be the last. Cody's father, Clay, was a second-round Draft pick of the Giants in 1989 and went on to play in three seasons with the Yankees from 1999-2001 and appear in two games for the Angels in '02. Following behind Cody is Cole Bellinger, a right-handed pitcher, who was selected by the Padres in the 15th round of this June's Draft.
Tony Cingrani, LHP
Born: Evergreen, Ill.
DOB: 7/5/89
HS: Lincoln Way Central (New Lenox, Ill.) High School
College: Rice (Houston), South Suburban College (South Holland, Ill.)
Minors: Billings (R), Pensacola (AA), Bakersfield (A+), Louisville (AAA)
• Cingrani starred at Lincoln-Way Central High School before his baseball career led him to the big leagues. He tossed a no-hitter as a senior in 2007, striking out 20 batters against the state's top ranked team.
Yu Darvish, RHP
Born: Habikino, Japan
DOB: 8/16/86
HS: Tohoku (Sendai, Japan)
• Twelve years ago, Dodgers legend Tommy Lasorda traveled to Japan in an attempt to persuade Darvish, then a senior in high school, and his parents that Darvish should begin his professional career in Los Angeles, according to the LA Times. Darvish instead opted for seven season's in Japan's Nippon Professional Baseball, becoming one of the league's biggest stars, but eventually found his way to L.A., joining the Dodgers at this year's non-waiver Trade Deadline.
Andre Ethier, OF
Born: Phoenix
DOB: 4/10/82
HS: St. Marys (Ariz.) High School
College: Arizona State University, Chandler-Gilbert Community College
Minors: Vancouver (A-), Kane County (A), Modesto (A+), Midland (AA), Las Vegas (AAA)
• Ethier has spent 12 seasons in the Majors, but his athletic accomplishments may be rivaled in his own household. Ethier and his wife, Maggie, were the first husband-wife inductees into the Arizona State Sports Hall of Fame in 2014. Andre was a two-time All-Pac-10 selection in baseball, while Maggie was an All-American gymnast on vault in 2001 and on floor in 2003. She scored nine perfect 10.0s in her collegiate career -- two on the vault, one on the beam and six on the floor -- the most in school history.
Kyle Farmer, C
Born: Atlanta
DOB: 8/17/90
HS: Marist High School (Atlanta)
College: Georgia
Minors: Ogden (R), Rancho Cucamonga (A+), Great Lakes (A), Tulsa (AA), Oklahoma City (AAA)
• Fans seeing Kyle Farmer for the first time on the October stage may recognize the Dodgers rookie from 2009's The Blind Side. As a senior at Marist, Farmer played a high school quarterback in the Academy-Award-nominated film starring Sandra Bullock. His acting debut was unpaid, however, to preserve his college eligibility.
Josh Fields, RHP
Born: Athens, Ga.
DOB: 8/19/85
HS: Prince Avenue Christian (Bogart, Ga.)
College: Georgia
Minors: West Tennessee (AA), Tacoma (AAA), Portland (AA), Jackson (AA), Pawtucket (AAA), Portland (AA)
• Before Fields was pitching out of the Dodgers bullpen, he was one of the college game's top relievers for Georgia. He appeared in 36 games for the SEC-champion Bulldogs that advanced to the College World Series in 2008, going 3-2 with a 3.38 ERA with 18 saves, a school record. A consensus All-American, Fields was named SEC Pitcher of the Year and National Stopper of the Year, and he established a new Georgia and SEC record for career saves (41).
Logan Forsythe, INF
Born: Memphis
DOB: 1/14/87
HS: Christian Brothers (Memphis) High School
College: University of Arkansas
Minors: Eugene (A-), AZL Padres (R), San Antonio (AA), Lake Elsinore (A+), Tucson (AAA)
• As a junior at Arkansas, Forsythe starred for Team USA at the 2007 Pan Am Games in Rio De Janeiro. He hit .625 (10-for-16) in the tournament, helping the U.S. to a silver medal finish behind gold-medalist Cuba.
Adrian Gonzalez, 1B
Born: San Diego
DOB: 5/8/82
HS: Eastlake (Calif.) High School
Minors: GCL Marlins (R), Utica (A-), Kane County (A), Portland (AA), Frisco (AA), Carolina (AA), Albuquerque (AAA), Oklahoma (AAA)
• Gonzalez is very involved in his support for youth baseball, particularly in Tijuana, Mexico, where he spent much of his childhood. He helped renovate a Little League baseball field in the city and continues to fund two fields at Campo Adrian Gonzalez en la Liga Municipal de Tijuana. In 2014, he also established Liga de Beisbol TELMEX Adrian Gonzalez, a youth league in Mexico.
Yasmani Grandal, C
Born: La Habana, Cuba
DOB: 11/8/88
HS: Miami Springs (Fla.) High School
College: University of Miami
Minors: AZL Reds (R), Bakersfield (A+), Carolina (AA), Louisville (AAA), Tucson (AAA)
• As a junior at Miami, Grandal was one of five finalists for the 2010 USA Baseball Golden Spikes Award. He hit .401 with 15 home runs and 60 RBIs and was named 2010 ACC Player of the Year, but eventually lost out on the Golden Spikes Award to junior-college star Bryce Harper, the top pick in that year's MLB Draft.
Curtis Granderson, OF
Born: Blue Island, Ill.
DOB: 3/16/81
HS: Thornton Fractional South (Ill.) High School
College: University of Illinois at Chicago
Minors: Oneonta (A-), Lakeland (A+), Erie (AA), Toledo (AAA)
• The UIC baseball team plays every home game in a ballpark named after one of its most famous alumni. Granderson donated $5 million to help fund the $10 million Curtis Granderson Stadium, which opened in April 2014. According to Sports Illustrated, his contribution is the largest one-time gift from an athlete to their alma mater in history.
Enrique Hernandez, INF/OF
Born: San Juan, Puerto Rico
DOB: 8/24/91
HS: American Military Academy (Toa Baja, P.R.)
Minors: GCL Astros (R), Tri-City (A-), Lexington (A), Lancaster (A+), Corpus Christi (AA), Oklahoma City (AAA), New Orleans (AAA)
• Hernandez dabbled in a different profession last year, guest starring on an episode of The Bold and the Beautiful. Hernandez's fiancée, Mariana Vicente, is an actress and one of her first roles was on the long-running daytime series.
Rich Hill, LHP
Born: Boston
DOB: 3/11/80
HS: Milton (Mass.) High School
College: Michigan
Minors: Boise (A-), Lansing (A), Dayton (A+), Iowa (AAA), West Tennessee (AA), Peoria (A)
• It's been a winding road to Los Angeles for Hill, who's played for nine different Major League organizations since he was selected by the Cubs out of Michigan in the fourth round of the 2002 Draft. Injuries and inconsistency had Hill bouncing between teams on a number of Minor League deals before eventually landing with the independent Long Island Ducks in 2015. Hill made two starts with the Ducks before the Red Sox offered him a shot at a Major League comeback, and in the span of 16 months, he went from an independent league team to signing a three-year, $48 million contract with the Dodgers over the winter.
Kenley Jansen, RHP
Born: Willemstad, Curacao
DOB: 9/30/87
Minors: Inland Empire (A+), Chattanooga (AA)
• Jansen, now one of baseball's elite closers, didn't even begin his professional career as a pitcher. The Curacao native was signed by the Dodgers as an undrafted free-agent catcher in 2005, the position he remained at until the Dodgers converted him to a reliever in '09. Jansen credits his performance as primary catcher for the Netherlands in the 2009 World Baseball Classic, when he flashed his arm strength from behind the plate, for instigating the shift to the mound.
Clayton Kershaw, LHP
Born: Dallas
DOB: 3/19/88
HS: Highland Park (Texas) High School
Minors: GCL Dodgers (R), Great Lakes (A), Jacksonville (AA)
• Kershaw received a shoutout during the Lions' Week 2 matchup against the Giants by Lions quarterback Matthew Stafford, who used the Dodgers star's name as an audible call at the line of scrimmage. Kershaw and Stafford both grew up in the Dallas area, playing football, baseball, basketball and soccer together. At one point, Stafford was Kershaw's catcher and Kershaw was Stafford's center. Now, more than a decade after graduating together from Highland Park High School in 2006, Kershaw and Stafford are the highest paid players in both MLB and the NFL, respectively.
Kenta Maeda, RHP
Born: Senboku-gun, Japan
DOB: 4/11/88
HS: PL Gakuen (Japan) High School
• Maeda was well-decorated in his time with the Hiroshima Carp of the Japan Central League. He won two Sawamura Awards, given to the league's top pitcher, in 2010 and '14. Maeda also became the youngest pitcher in Japanese baseball history to achieve the pitching Triple Crown during his first Sawamura Award-winning campaign in 2010, going 15-8 with a 2.21 ERA and 174 strikeouts in 215 2/3 innings.
Brandon Morrow, RHP
Born: Santa Rosa, Calif.
DOB: 7/26/84
HS: Rancho Cotate (Rohnert Park, Calif.) High School
College: California Berkeley
Minors:Inland Empire (A+), AZL Mariners (R), Tacoma (AAA), West Tennessee (AA)
• After spending much of his time in the big leagues as a starting pitcher, Morrow has enjoyed a late-career re-emergence as a reliever, now as one of the most reliable arms in the Dodgers' bullpen. Signed to a modest Minor League deal this winter, Morrow turned out to be a steal for the Dodgers this season.
Yasiel Puig, OF
Born: Cienfuegos, Cuba
DOB: 12/7/90
Minors: AZL Dodgers (R), Rancho Cucamonga (A+), Chattanooga (AA)
• This offseason, Puig launched his Wild Horse Foundation, a non-profit organization that draws its title from the nickname given to Puig by legendary Dodgers broadcaster Vin Scully. Puig hosted one of his first charitable events in May, the inaugural Wild Horse Poker Tournament, drawing a star-studded guest list to Dodger Stadium, including teammates Clayton Kershaw, Kenley Jansen, Adrian Gonzalez and Justin Turner, former Dodgers greats Don Newcombe and Orel Hershiser, comedian George Lopez, TV and radio personality Larry King, former NBA forward Metta World Peace and former "The Bachelor" star Ben Higgins.
Corey Seager, SS
Born: Charlotte, N.C.
DOB: 4/27/94
HS: Northwest Cabarrus (Concord, N.C.) High School
Minors: Ogden (R), Rancho Cucamonga (A+), Great Lakes (A), Chattanooga (AA), Oklahoma City (AAA)
• Baseball runs in the Seager family. Kyle Seager, the oldest at 29, has played third base for the Mariners for seven seasons and was an All-Star in 2014. Justin, 25, was a 12th-round Draft pick of Seattle in 2013 and spent this year playing for Double-A Arkansas in the Mariners' farm system. And Corey, the youngest at 23, is in his third season with the Dodgers and coming off a National League Rookie of the Year campaign.
Chris Taylor, OF
Born: Virginia Beach, Va.
DOB: 8/29/90
HS: Frank W. Cox (Virginia Beach) High School
College: Virginia
Minors: Clinton (A), Everett (A-), Jackson (AA), High Desert (A+), Tacoma (AAA)
• Taylor's father and grandfather both competed on the wrestling team at Virginia Tech, and Taylor followed in their footsteps early, winning a Virginia Beach city wrestling championship in middle school. Once he got to high school, however, he bucked the family tradition to focus on baseball. And for good reason, as Taylor went on to play collegiately at Virginia and now finds himself a key piece on a playoff-bound Dodgers squad.
Justin Turner, 3B
Born: Long Beach, Calif.
DOB: 11/23/84
HS: Mayfair (Calif.) High School
College: California State University Fullerton
Minors: Billings (R), Dayton (A), Sarasota (A+), Chattanooga (AA), Norfolk (AAA), Buffalo (AAA)
• Turner played in three College World Series with Cal State Fullerton in 2003, '03 and '06. He was named to the all-tournament team in two of them, as a freshman shortstop and a senior second baseman, and helped the Titans defeat Texas for a national championship in '04.
Chase Utley, 2B
Born: Pasadena, Calif.
DOB: 12/17/78
HS: Polytechnic (Calif.) High School
College: UCLA
Minors: Batavia (A-), Clearwater (A+), Scranton/Wilkes-Barre (AAA)
• Utley fulfilled a childhood dream when he was acquired by the Dodgers in a trade with the Phillies in August 2015. The veteran second baseman grew up cheering on the Dodgers in Long Beach, Calif., and attended college at UCLA.
Tony Watson, LHP
Born: Sioux City, Iowa
DOB: 5/30/85
HS: Dallas Center Grimes (Iowa) High School
College: Nebraska
Minors: Hickory (A), State College (A-), Lynchburg (A+), Altoona (AA), Indianapolis (AAA)
• Watson was too young to remember his great uncle -- he was only a month old when he died -- but he's heard stories of Tom Offenburger's role in the Civil Rights movement. According to the Pittsburgh Post-Gazette, Offenburger left his job with U.S. News and World Report in 1966 to become director of information for the Southern Christian Leadership Conference led by Rev. Martin Luther King Jr. He also later worked as press secretary for activist and U.S. congressman Andrew Young.
Alex Wood, LHP
Born: Charlotte, N.C.
DOB: 1/12/91
HS: Ardrey Kell (N.C.) High School
College: University of Georgia
Minors: Rome (A), Mississippi (AA), Gwinnett (AAA)
• The University of Georgia is well-represented on the Dodgers. Wood is one of three players to play his college ball for Bulldogs, along with Josh Fields and Kyle Farmer. Wood's collegiate career got off to a delayed start as the left-hander tore the ulnar collateral ligament in his elbow in the playoffs his senior year of high school and had to redshirt his first season at Georgia after Tommy John surgery.
Chad Thornburg is a reporter for MLB.com based in Los Angeles. This story was not subject to the approval of Major League Baseball or its clubs.