MLB.com Columnist
Tracy Ringolsby
Q&A: O'Dowd reflects on '07 Rox, '97 Indians
Former executive came close to World Series title twice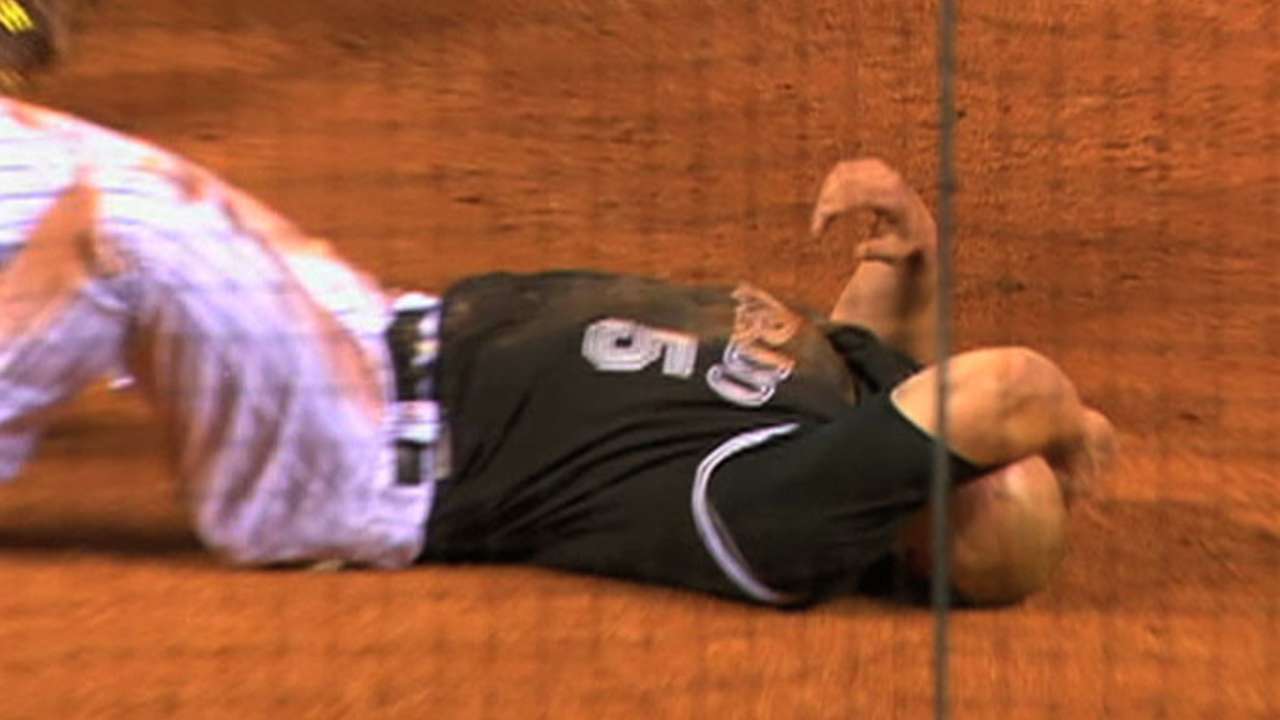 Twenty years ago, Dan O'Dowd was the director of baseball operations/assistant general manager for an Indians team that won its third consecutive American League Central title and advanced to the World Series for the second time in three years.
However, the Indians could not win their first World Series championship since 1948, losing a ninth-inning lead in Game 7 as the Marlins became the first expansion team to win a World Series title.
Ten years ago, O'Dowd was the general manager of a Rockies team that enjoyed one of the more stunning stretch runs in MLB history, winning 13 of its final 14 scheduled games and then stunning the Padres in a tiebreaking Game 163 -- which decided the National League Wild Card -- with a 9-8, 13-inning victory.
Those Rockies swept the Phillies in the NLDS and the D-backs in the NLCS, only to be swept by the Red Sox in the World Series. Colorado had waited nine days between the end of the NLCS and the start of the World Series, while the Red Sox rallied for a comeback series victory over the Indians in the ALCS.
O'Dowd talked about both of his former teams in this week's Q&A.
MLB.com: When you think back to that season-ending run for the 2007 Rockies, does anything stick out?
O'Dowd: Looking back at it now, I don't think that the team was ever given credit for how talented it was. As we went on an incredible run, people kept using the word "unique" and "fluke" and things like that. Look at the players on that team. Obviously the rotation had some issues, but Jeff Francis was darn good, and so were some of the other kids in that rotation. But we had really good position players and we had a good bullpen. I don't think it ever got its due to how good it was. What was neat was seeing a team come together and rather than this time of year where individuals are playing for themselves, that team played as one. They had one heartbeat.
MLB.com: Were there times you wondered what direction the team was going to go?
O'Dowd: Yeah, it was frustrating for the bulk of the year. I mean, we were competitive, and then we'd lose some games and we'd win some games. I kept feeling, and I know talking to [then-Rockies manager] Clint [Hurdle], that we were close. It goes to show, you just never know how close you are, and that's why you just try to keep moving forward as much as you possibly can. But it was a frustrating season at that point, because we did feel like we had a team that should have turned a corner that year.
MLB.com: When you get to the postseason, what's it like before the NLDS?
O'Dowd: Just how we got into that play-in game was completely surreal. The Padres really let us in the back door. Trevor Hoffman blowing two saves [in Games 161 and 163], how often is that going to happen? And then, Game 163, 13 innings, was a riveting game, one of the best games ever. I can't say it was aesthetically maybe as well played a game as some, but it was a fun baseball game to watch with ebb and flow. And I remember that we got on a plane and flew to Philadelphia. When we got there early in the morning, everybody was exhausted, yet there was an air of confidence about our club at that point in time, that we felt we were going to win.
MLB.com: A lot of times when something like that happens, a feeling of satisfaction sets in.
O'Dowd: There was that feeling, too, but I believed we were going to win. I believe that our players had the edge at that point in time, that they could overcome anything.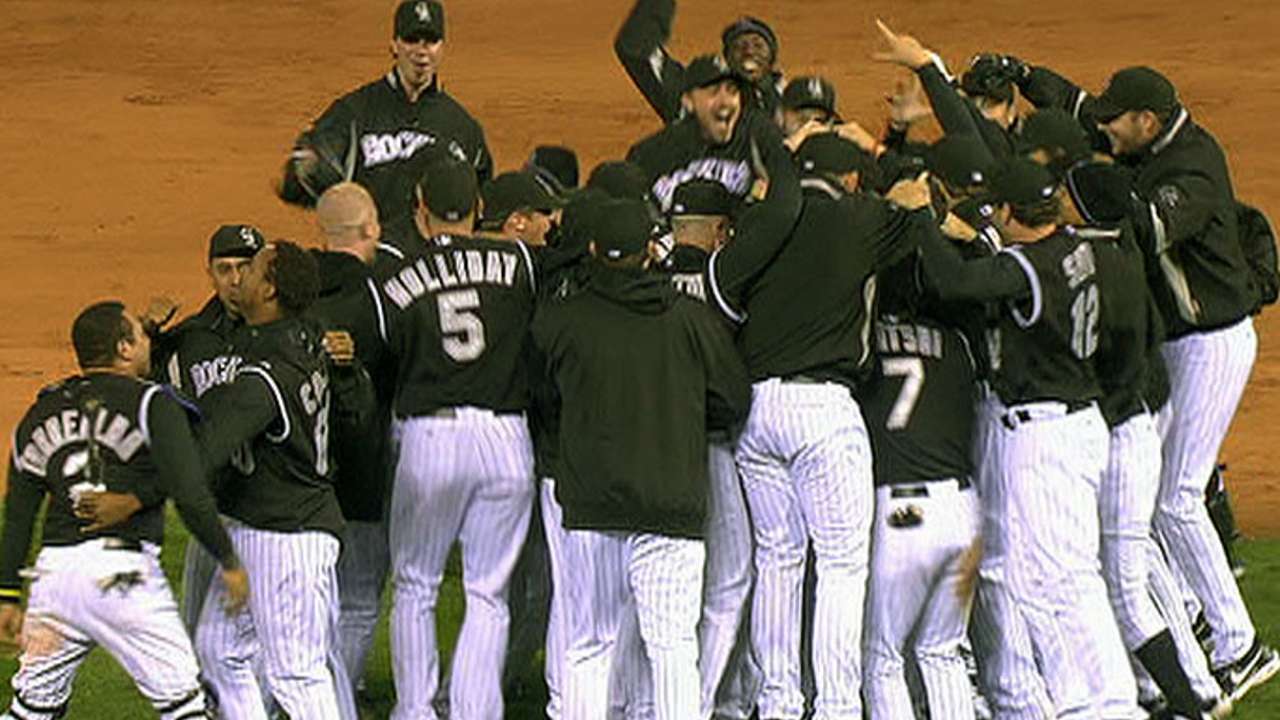 MLB.com: So, you sweep the Phillies and get ready to face the D-backs in the NLCS. Is the confidence still there?
O'Dowd: Winning that first game there was important. Like winning that first game in Philadelphia, and listening to the Phillies complain about the shadows after the game. They didn't give Francis any credit at all. All they did was complain about the shadows. So, that game in Arizona got really tight late, and us finding a way to win that game, I felt really good about our club at that point.
MLB.com: Then you wait for nine days for Game 1 of the World Series because the Red Sox came from behind to beat the Indians. Was that a problem?
O'Dowd: There's no doubt that the Red Sox, on paper, were a better team, but you could make an easy argument that both of the other teams that we beat were better on paper, too. I will say this: I have no idea how the series would have turned out, but it would have been much more competitive of a series if we had an opportunity to play them immediately, rather than waiting so long.
Baseball is a game of rhythm and timing, and you cannot take nine, 10 days off and play at the same level of execution that you would have playing right away. I'm not saying we would have won the series. That would be disrespectful to how great the Red Sox were. I just know that it would have been a good series. They would have earned it a lot harder.
MLB.com: Is it more internal than anything else that impacts you after the delay?
O'Dowd: We caught our breath. We decompressed, and when that happens, fatigue sets in. Emotional fatigue, and physical fatigue, sets in, I felt, and I know that our players felt it. They may not admit to it, but they felt it, and it's difficult to start your engine again.
MLB.com: During that season-ending stretch, before Game 163, was there a particular game where you said, "You know, if that's going to happen, we are going to win?"
O'Dowd: I had an unbelievable conversation with [then-Rockies president] Keli McGregor after [Todd] Helton hit the home run off [Takashi] Saito to beat the Dodgers in that doubleheader sweep [on Sept. 18]. The next morning, I was pulling into my parking spot at Coors Field and Keli called me on the phone and said -- I mean honest-to-God's truth, no exaggeration -- he said, "Dan, I've got this intuition. Buckle your seatbelt. We are about to go on an incredible run."
MLB.com: What stood out with that Helton home run was his first pump when he got to first base. The guy never showed emotion, and it was like he was telling the team it was OK to get excited.
O'Dowd: There's something to that. And when Brad Hawpe hit the home run in San Diego in the extra-inning game four days later, opposite field, when Petco [Park] was the original design with the deep fences and the midnight air that comes in off the bay there? And he absolutely just freaking crushed that thing. I said, "Something's going on here."
It just kept steamrolling. Yet, when we got beat by Arizona that last Friday night, I thought it was over. So many things had to happen on Saturday and Sunday for us to get in, but it did -- the Padres losing those final two games in Milwaukee. That's why, even this season, you play the game up to the last out of the last game, because you just never know what's going to happen. Brad Hawpe stepped up big time. Brad Hawpe was a good player, a really good player. He was a glue guy in our clubhouse. Great human being, very steady, unbelievably competitive and very confident of his ability. People don't realize that was a pretty complete team. It had speed. It had defense. It had a perfect lineup construction of guys that hit the ball out of the ballpark, but guys that were tough grinding outs. That was a good team.
MLB.com: Was the end of that World Series as disappointing as the end of '97?
O'Dowd: No. No, '97 was as tough a hit as you could take, because that was a long rebuild and we had grinded through so much to get there, and it was right in the palm of our hand. We had kind of reinvented ourselves that year. Albert Belle was gone. Kenny Lofton was gone. Carlos Baerga was gone. We brought in Matt Williams and Marquis Grissom and David Justice, so it was a different group.
MLB.com: But with what had happened in Cleveland, there was credibility to the franchise because of the success.
O'Dowd: No doubt. We were on a run where we had won an [AL Central] title a third year in a row.
MLB.com: And that team was a groun out in the bottom of the ninth of Game 7 away from a World Series championship. How hard a blow was that for the franchise?
O'Dowd: It was really hard. That should have been the year. That was not, by far, our most talented team there, but everything had come together, so you almost felt the sense of destiny with that club. We beat the Baltimore team that won 101 games [including the ALDS] to get to the World Series. And Tony Fernandez, who made the error in the ninth inning of Game 7 of the World Series, was the one who hit the winning home run in Game 6 of the ALCS to put us in the World Series. So, it was tough. That was a very difficult loss. That was tough getting up the next day, and the next, really for a whole week. It was hard.
MLB.com: Did you learn something from that?
O'Dowd: What you learn from it is that you try to enjoy every step of the way. For me, it was another indication of how little you control the outcomes of games. You can work your butt off and make a lot of good decisions, but at the end of the day, things like that, you ultimately have no control. That's why when you have an opportunity like what the Rockies are going through now, as frustrating as it is in some ways to be 10 games up in June and seven up in July, you enjoy each step. They are showing up every day at the ballpark competing for something, which is really hard to do in our game.
Tracy Ringolsby is a columnist for MLB.com. This story was not subject to the approval of Major League Baseball or its clubs.