Osich has strong showing against Dodgers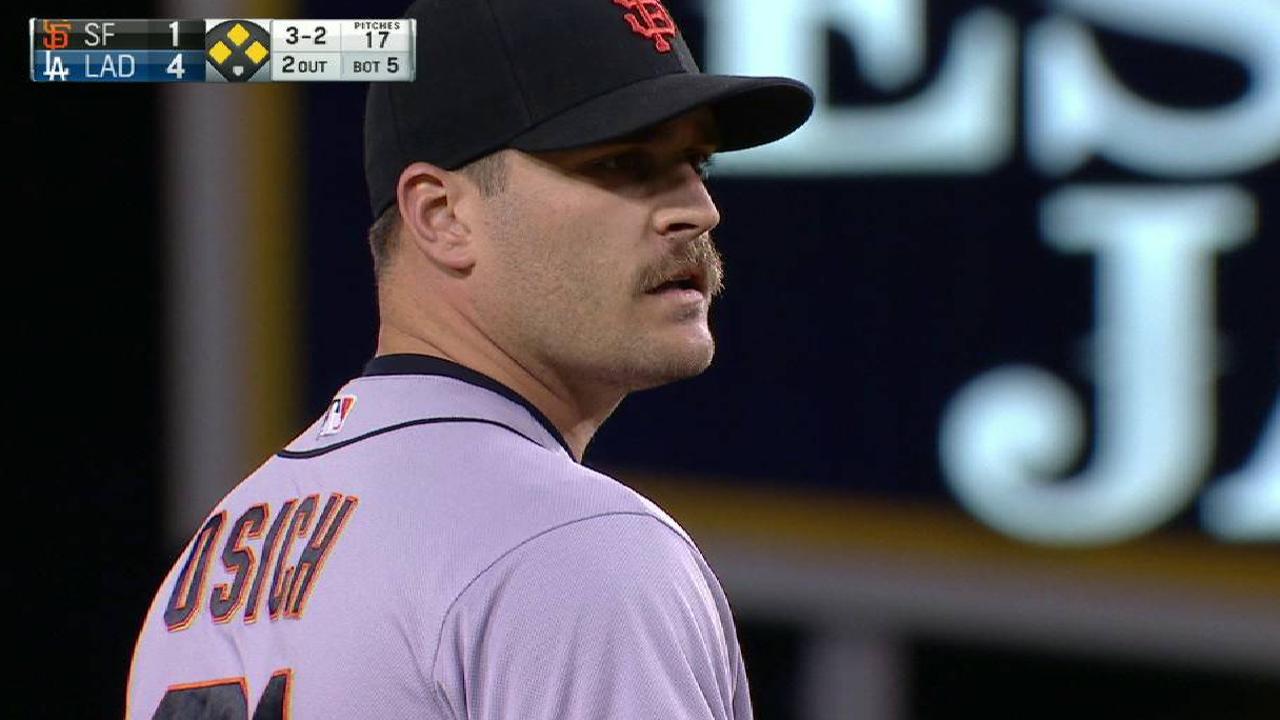 LOS ANGELES -- Josh Osich walked to the Dodger Stadium mound during the fifth inning of Friday night's 4-2 loss to relieve Jeff Samardzija and make his first appearance in 10 days.
Given his lengthy layoff, Osich could have been expected to stumble. In fact, he threw a wild pitch with one of his first pitches, advancing Dodgers baserunners to reach second and third.
Ultimately, however, Osich thrived. He retired five of the six batters he faced, striking out four of them. Overshadowed as Osich's performance was in the Dodgers' victory that sealed their fifth consecutive National League West title, the Giants' braintrust might ponder his outing and wonder whether he can sustain this effectiveness.
Osich has kept the Giants wondering since his 2015 rookie season. He recorded a 2.20 ERA in 35 appearances and struck out 27 batters in 28 2/3 innings. But his ERA more than doubled to 4.71 while his WHIP rose from 1.118 to 1.376.
Osich's frustration has continued this year. Allowing three runs or more in five appearances has helped inflate his ERA to 6.31 in 51 games.
"To be honest with you, it's been a struggle," Osich said. "I thought I was getting better and the results have been getting worse. So I've been trying to stay positive."
Osich could accomplish that if he continues to duplicate the variety he displayed against the Dodgers. According to baseballsavant.com, he threw 13 sliders, 11 four-seam fastballs and 10 cutters.
"I was trying to mix it up," he said. "Earlier this year, I threw a lot of fastballs. Last year I threw a lot of fastballs. So the scouting report is going to say, 'He throws a lot of fastballs.' I have to mix it up a little bit."
Chris Haft has covered the Giants since 2005, and for MLB.com since 2007. Follow him on Twitter at @sfgiantsbeat and listen to his podcast. This story was not subject to the approval of Major League Baseball or its clubs.