Edwards finishes strong night for Cubs' 'pen
Four relievers dispatch Brewers over 6 innings as Davis gets night off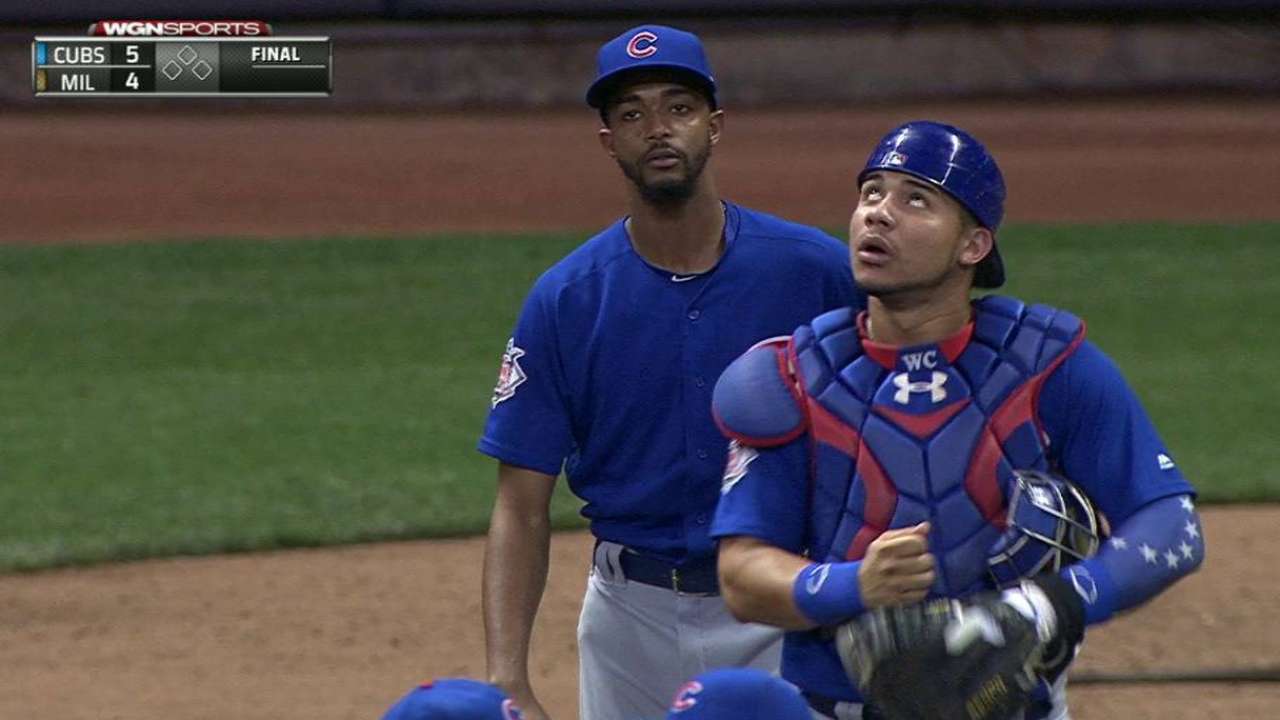 MILWAUKEE -- Carl Edwards Jr. did his best impression of Cubs closer Wade Davis and got that World Series feeling all over again on Friday night.
On Thursday night, Davis pitched 1 2/3 innings and picked up the win in the Cubs' 10-inning victory over the Brewers. The two teams needed extra innings again on Friday; only this time, manager Joe Maddon called on Edwards with one out in the ninth. The slender right-hander struck out the two batters he faced to end that inning, and pitched the 10th to notch the win in the Cubs' 5-4 victory.
"It was exactly what Wade did yesterday," Edwards said of his outing. "Go out and finish the inning, and we take the lead, and go back out there and try to get three outs. It's something to get used to."
It's not that Edwards is lobbying to replace Davis, who will be a free agent after this season. Edwards knows he has to be ready for anything, much like in Game 7 of the World Series last year when he was called upon to pitch the 10th after the Cubs had taken an 8-6 lead over the Indians. Edwards did give up a run in that game, and Mike Montgomery finished it, picking up his first career save.
"[Friday] felt like last year's World Series when I came out in the 10th inning," Edwards said. "This time I got out of it, and I didn't need relief."
"That was one of his better outings," Maddon said of Edwards' effort on Friday.
The Cubs' bullpen has been busy. Starter John Lackey was lifted after giving up a leadoff single in the fifth inning. The veteran would've liked to go longer but Maddon felt Lackey wasn't "trending well."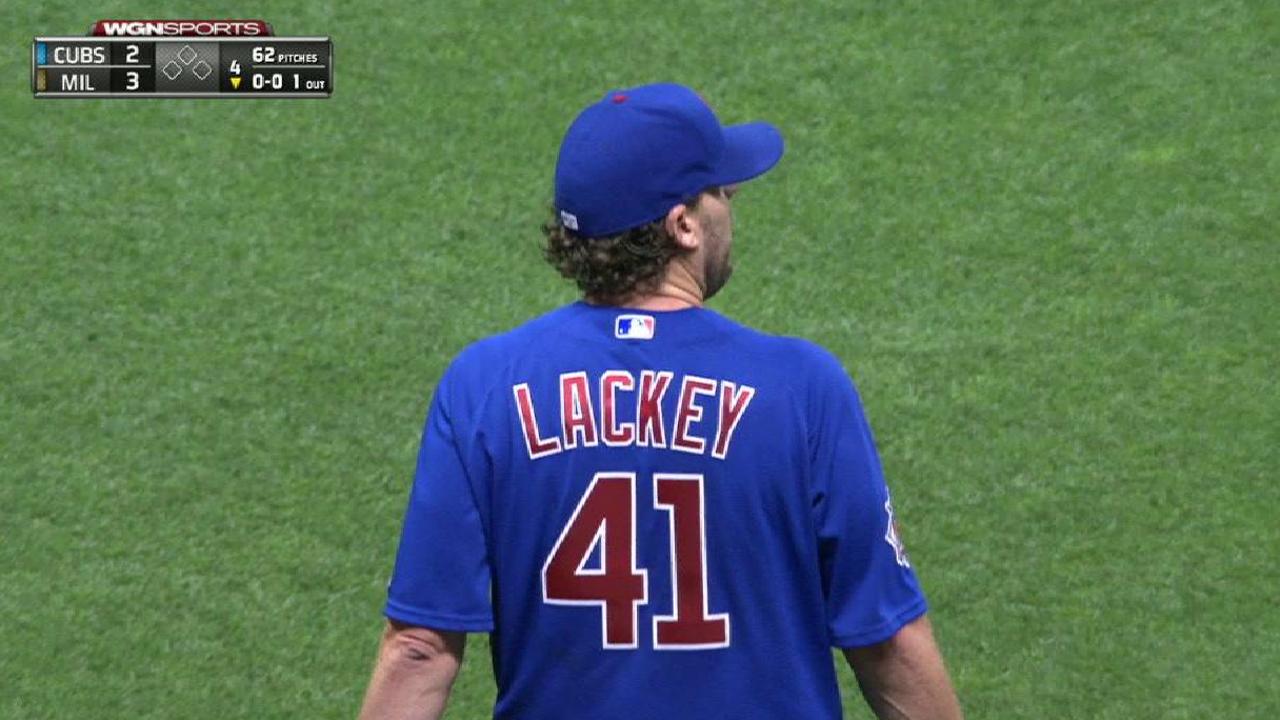 "I felt I was throwing the ball OK," Lackey said. "I gave up a couple homers. I felt it was going pretty good. ... The biggest thing is we won the game."
Brian Duensing replaced Lackey and got Neil Walker to ground into a double play, but the left-hander did give up an RBI double to Travis Shaw, which tied the game at 4. Duensing then started a stretch in which he, Hector Rondon and Montgomery retired 13 in a row.
"Their bullpen did a really nice job," Milwaukee manager Craig Counsell said. "They pitched well. It was a situation that we didn't get much going against their bullpen. We had some decent at-bats, we just couldn't get anything going."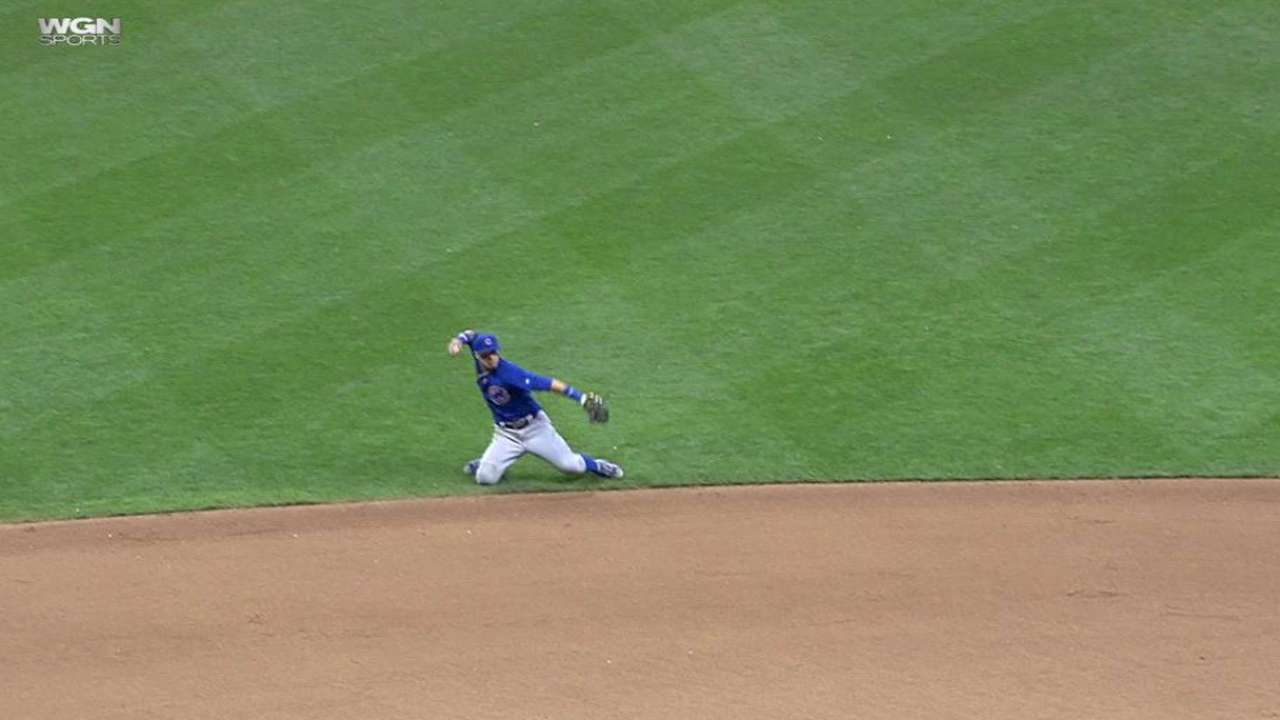 This was Rondon's first outing since Sept. 8 after being sidelined because of inflammation in his right elbow, and it was encouraging for the Cubs to see him retire the side in order. Montgomery has done everything -- start, relieve -- without a complaint.
"They've been asked to do a lot, and they've really stepped up and done a great job," Lackey said of the relief corps. "[Edwards], at the end, going more than an inning -- that's a big thing for him. It's cool to see those guys pitch well."
"That's what we have to do," Edwards said. "In order for us to all get what we want to get and do what we want to do in life, everybody has to step up, and the good thing is everybody is stepping up so we can go to anybody in the bullpen at any time to get us out of a big inning or just stop the bleeding."
That's what the Cubs did last year in the World Series. Edwards remembers that well.
Davis has been a mentor to Edwards and the other relievers. The closer wasn't available on Friday because he'd pitched in five of the Cubs' past six games. As far as Edwards was concerned, it was as if Davis was right there with him.
"Wade's Wade," Edwards said. "He's cool, calm and collected -- 'Triple C' is what I call him. Just watching him, it's like reading one book, 'Three Little Pigs,' over and over again. Sooner or later, you're going to know exactly how to do it and know exactly what the story is. Watching Wade numerous times now, it gave me some motivation and a lot more confidence to go out there and do what he did the night before."
Which is help the Cubs move one step closer to reaching the postseason for a third straight year.
Carrie Muskat has covered the Cubs since 1987, and for MLB.com since 2001. She writes a blog, Muskat Ramblings, and you can follow her on Twitter @CarrieMuskat. This story was not subject to the approval of Major League Baseball or its clubs.