Players appreciative for Ausmus' dedication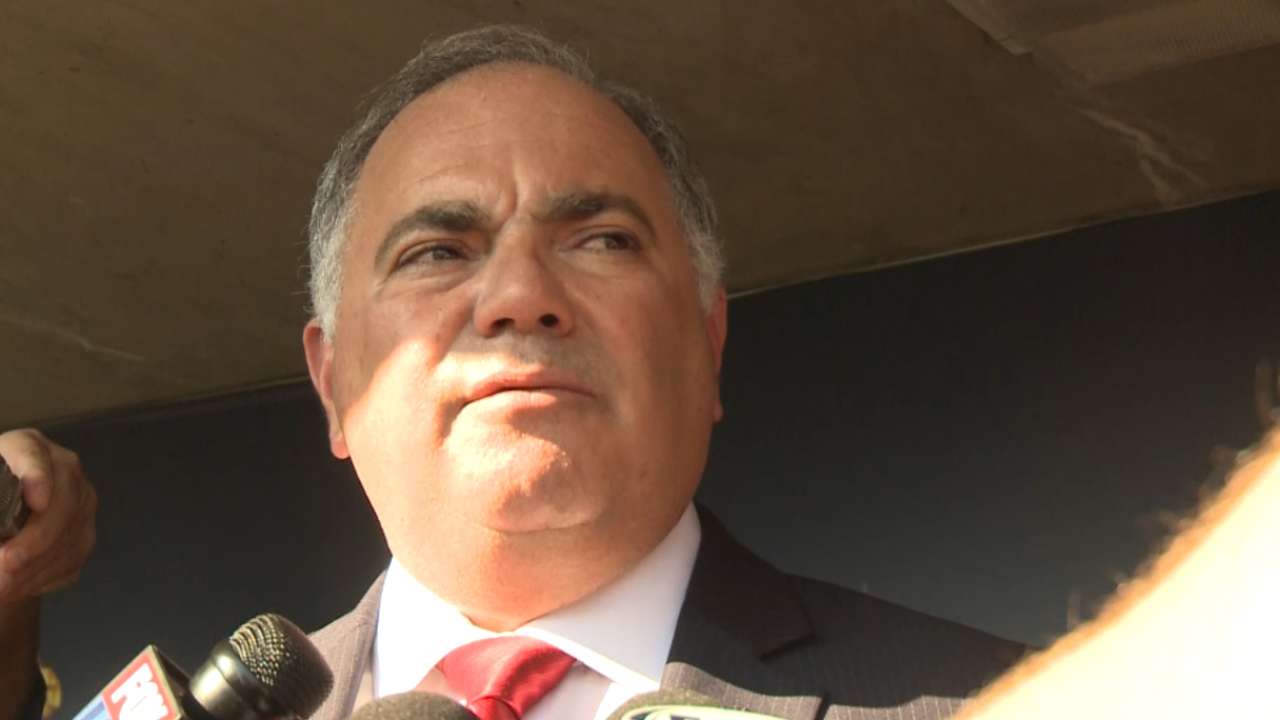 DETROIT -- Most Tigers players haven't had a chance to talk with Brad Ausmus about the news that he won't be back as Tigers manager. They heard the news from general manager Al Avila in a team meeting after they came back in the clubhouse from the annual team picture, then they went back out to the field for batting practice.
"Honestly, having the team picture and then walking back in, being told there's a team meeting and seeing the number of media standing in the dugout, you know that some sort of announcement's coming," catcher James McCann said.
Those who had a chance to talk about Ausmus after Friday's 7-3 loss to the Twins, however, expressed a range of emotions. They might not be surprised that Ausmus' Tigers tenure is about to end, but they expressed appreciation for what he has done while he's been here.
"It's hard to really evaluate the feelings," McCann said, "but Brad is the only manager I ever played for, and I have nothing but positive things to say for him."
Ausmus came in as a player's manager, hired just three years after he retired as a player. He didn't have any managerial experience, but his grasp for the game and ability to handle a clubhouse won over then-general manager Dave Dombrowski.
His combination of experience and disposition stood out to what was then a veteran clubhouse in Detroit.
"Every day he was the same guy. He never really changed," second baseman Ian Kinsler said. "He was very even-keel, and it's tough to be that way in this game. I think that he understands the game really well as far as the amount of innings that he caught when he was a player, and now being able to manage with that experience weighs a lot in this game."
At the same time, Ausmus' biggest influence might have been on younger players the Tigers worked into their roster as the four-time AL Central champions had to reload. He was learning as a manager, but also serving as a teacher.
McCann's first call to the Majors came during Ausmus' first season as manager. A year later, he was the everyday catcher, replacing an injured Alex Avila, and learning from somebody who caught 1,938 games in the Majors.
"One thing that I maybe took for granted, looking back, was being able to bounce stuff off of him," McCann said. "One of the special things that he had to offer as a manager was that he caught for 18 years in the big leagues. So for me, specifically, just being able to talk about pitch-calling, getting his backing meant a lot. But the other thing was he was so good with me, especially as a rookie. …
"I remember the play: We were in Chicago early in the year, and we were down by one in the ninth and I got a base hit. The runner goes first-to-third, I take a big turn around first and end up getting picked off. I feel like it's the end of the world. The tying run's on third now with two outs. He pulled me aside the next day and relayed a story to me about his playing career where he did it once, thought he had learned his lesson and then did it again the next week."
Mikie Mahtook played only one season for Ausmus, but it has been the season he became a regular.
"At the beginning of the year, Brad stuck with me through the early struggles and kept throwing me out there in certain situations," Mahtook said. "I'm forever thankful and grateful for that, and obviously he kept throwing me in there once I played. He rode that hot streak and gave me confidence and allowed me to play and allowed me to have the year that I had."
Now, much like Ausmus, his players are simply trying to focus on finishing out the season. Ausmus plans on talking with them on the final day of the season at Minnesota.
"We have a week and a half left," Kinsler said. "We're going to continue to play these games to the best of our ability. It's not that I didn't have emotion for Brad. Obviously I spent four years with the guy and went through a lot of situations with him as a manager. I definitely have emotions toward that. But it's not my decision. I basically just react to the situation, and right now we have eight games left."
Jason Beck has covered the Tigers for MLB.com since 2002. Read Beck's Blog, follow him on Twitter @beckjason and Facebook. This story was not subject to the approval of Major League Baseball or its clubs.