Odor in line to play in all 162 games
Rangers second baseman has started all but one contest this season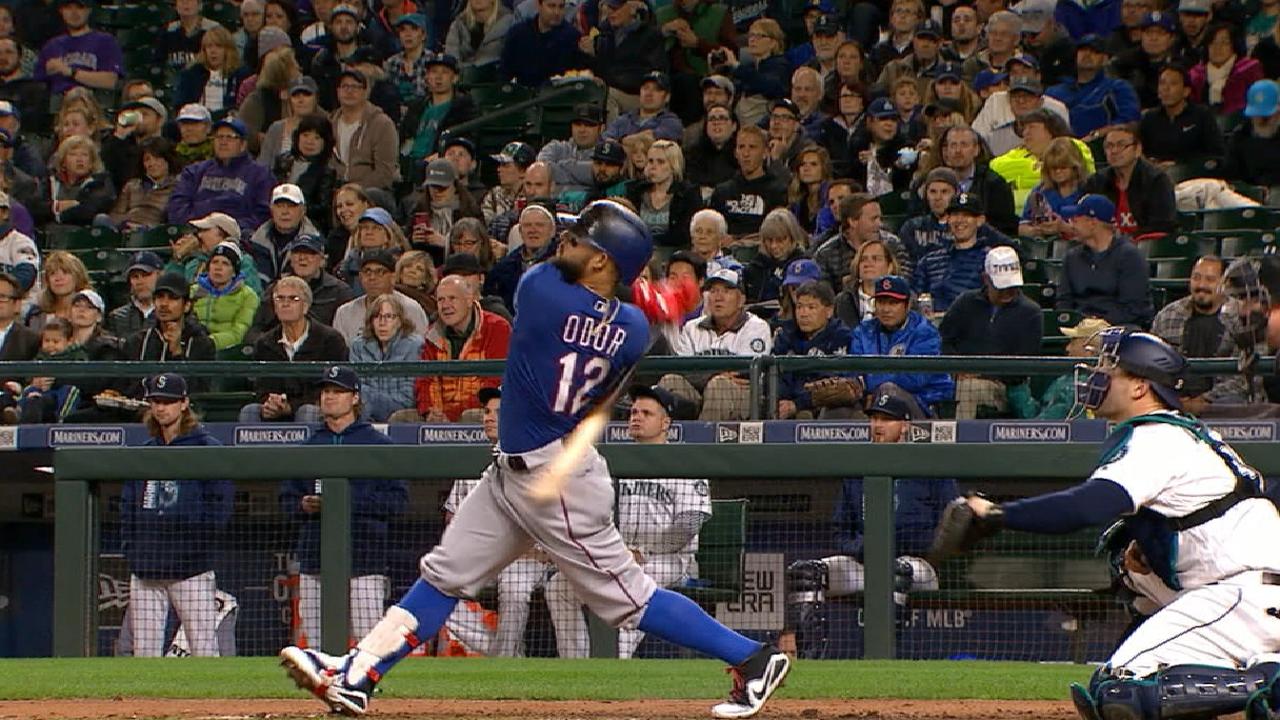 OAKLAND -- There are no days off in store for second baseman Rougned Odor. He is in line to be the eighth player in Rangers history to play in all 162 games.
"That's huge," manager Jeff Banister said. "That's something that is rare in modern baseball. The guy runs hard, plays hard, diving all over the place, sliding hard. There is a toughness, an attitude, an edge, that's mixed in with his love for his teammates."
The Rangers, going into Friday's game, had played 152 games and Odor started all but one. He was not in the lineup for the Rangers 5-1 win over the Mets on Aug. 9, but entered the game in the ninth inning as a defensive replacement.
Odor's iron-man status has not helped him finish strong. He went into Friday's game just 2-for-22 with nine strikeouts in the first six games on the current road trip and is hitting .137 in his last 29 games.
For the season, he is hitting .208 with a .251 on-base percentage that is the lowest in the league. It's also the lowest in Rangers history and the eighth lowest in the Major Leagues since 1972.
He does have 30 home runs and a .407 slugging percentage. But his .658 OPS is the lowest in Major League history among any hitter with at least 30 home runs in a season.
That last time a Rangers player appeared in 162 games was in 2006 when both Michael Young and Mark Teixeira did it. Teixeira did it twice, as did Alex Rodriguez. George Wright, Buddy Bell and Ruben Sierra did it once.
Al Oliver holds the record for most games played in a season by a Rangers player, He played in 163 games in 1980 because of a tie.
Rangers uphold tradition
The Rangers upheld tradition by having their rookies dress up in unusual costumes for their Thursday night flight from Seattle to Oakland. Adrian Beltre made sure the costumes were politically correct under baseball's new guidelines, which prohibit female attire. Instead there were dinosaurs, gypsies and a giant marshmallow suit worn by Austin Bibens-Dirkx.
"You want to have fun but not embarrass anybody or break any rules," Beltre said. "There is a line you can't cross."
Carlos Gomez is a 10-year veteran, but he dressed up too. Gomez said he never got the chance when he was a rookie with the Mets in 2007 and wanted to go through the experience.
Rangers beat
• The Athletics have announced that right-hander Jharel Cotton will start Sunday. He follows left-hander Sean Manaea, who pitches on Saturday.
• The Rangers are in line to face right-hander Collin McHugh, left-hander Dallas Keuchel and possibly right-hander Justin Verlander for their three-game series against the Astros that starts Monday in Arlington.
• The Rangers, going into Friday, had won four straight games by exactly two runs. That's the first time that has happened in club history.
T.R. Sullivan has covered the Rangers since 1989, and for MLB.com since 2006. Follow him on Twitter @Sullivan_Ranger and listen to his podcast. This story was not subject to the approval of Major League Baseball or its clubs.