Syndergaard to pitch 1 inning in Saturday start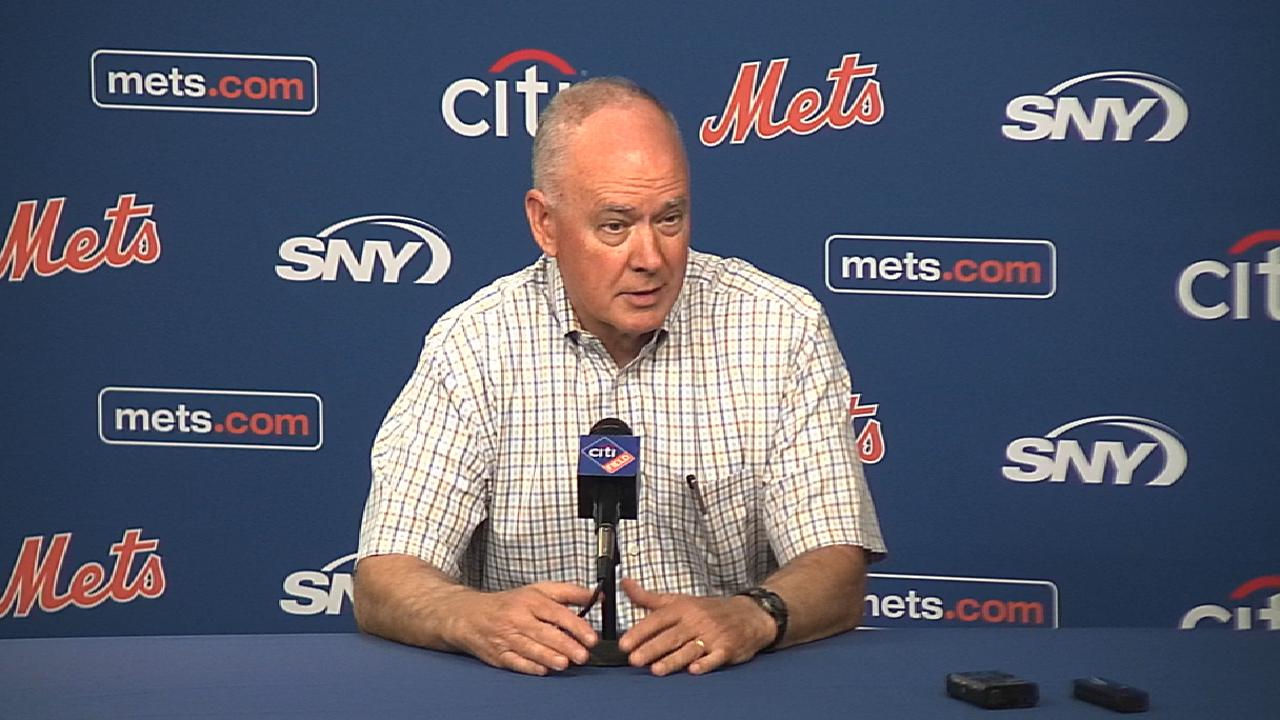 NEW YORK -- Throughout Noah Syndergaard's nearly five-month rehab process from a torn right lat muscle, he and the Mets emphasized the importance of his eventual return. Although the Mets have long since faded out of contention, Syndergaard wants to see his work pay off in a tangible way. And the Mets want to be certain of their ace's status heading into the winter.
Both parties will finally achieve their goals on Saturday, when Syndergaard comes off the disabled list to start against the Nationals. Syndergaard will throw one inning at Citi Field, with previously scheduled starter Matt Harvey entering to begin the second.
"I'm going to be really happy to see him, especially after he comes out and Sunday morning he comes in and says, 'Boy, I feel good,'" Mets manager Terry Collins said. "That will be a relief, and certainly what we're looking forward to."
If all goes well, Syndergaard may pitch once more during the final week of the regular season.
Syndergaard has not appeared in a big league game since tearing his right lat on April 30 in Washington, an injury that occurred after he declined an MRI on his sore right biceps. He was 1-2 with a 3.29 ERA in five starts prior to landing on the disabled list.
"This rehab process is both physical and mental," general manager Sandy Alderson said. "Our doctors have said that based on Noah's feedback, he feels good physically. We just want to get him back on the mound if for only a moment … so that he's back out there, he's re-familiarized with the circumstances … and he goes into the offseason with that little bit of additional confidence."
Initially, the Mets intended to start Robert Gsellman on Saturday and Harvey on Sunday, but Jacob deGrom's illness -- he'll now start Sunday -- prompted them to realign their rotation. The shift required the Mets to run their new plan by Harvey, who certainly doesn't need any disruptions as he attempts to improve on his 13.19 ERA since returning from the DL. But Harvey agreed to the change.
Limiting Syndergaard to a single inning prevents the Mets from having to worry much about his pitch count in his return. It also gives Harvey a solid idea of when he will enter, allowing him to prepare as if he is starting.
"I don't think it will affect him," Collins said.
To see Harvey and Syndergaard in the same game may ultimately be melancholic for the Mets, considering the significant roles their injuries played in the team's demise this summer. But the club also feels it can be uplifting.
"You try not to get caught up in what could have been, because it didn't," Collins said. "This whole process right now is making sure that these guys, starting into Oct. 2, can go into the wintertime knowing that they're healthy and that they can get themselves ready for Spring Training, and hopefully have a successful season."
Anthony DiComo has covered the Mets for MLB.com since 2008. Follow him on Twitter @AnthonyDiComo and Facebook. This story was not subject to the approval of Major League Baseball or its clubs.