LeMahieu's gritty at-bat inspires Rockies
Second straight shutout doesn't shake club's playoff focus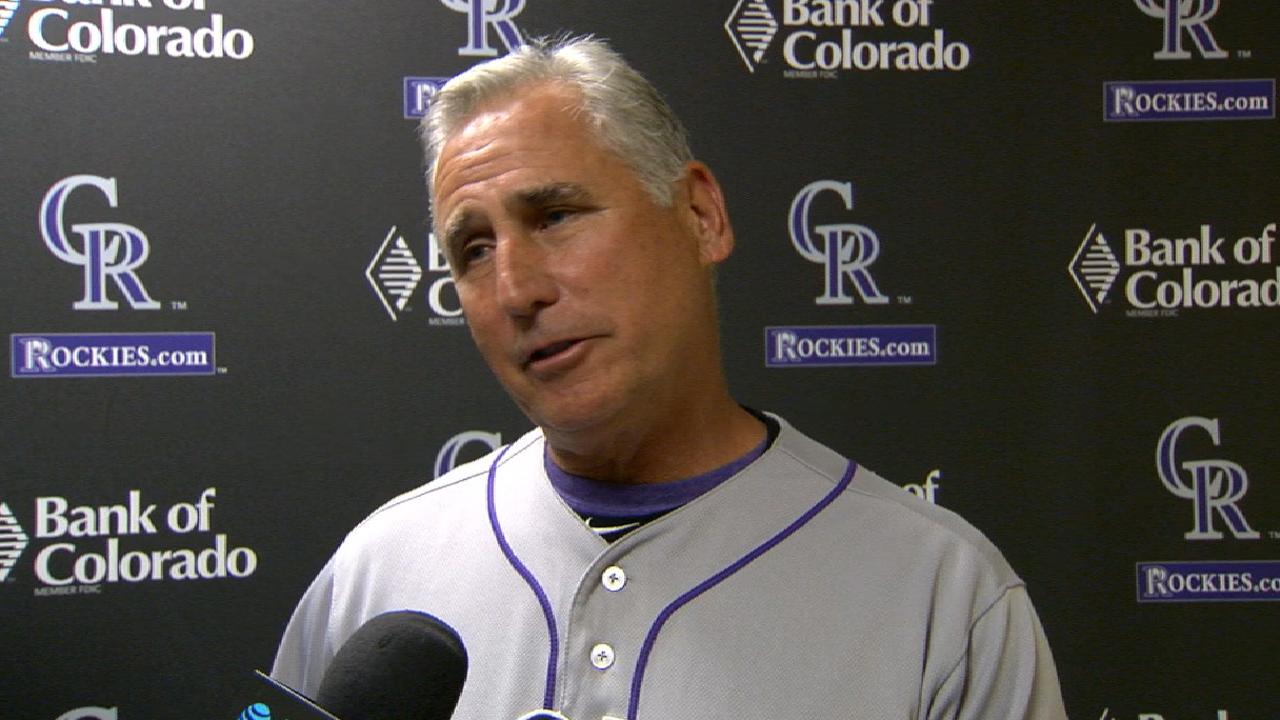 SAN DIEGO -- At a time when results matter most, the best the Rockies could do Thursday night was appreciate second baseman DJ LeMahieu's competitiveness with one out and two aboard in the eighth inning of a 3-0 loss to the Padres.
With the count already full, LeMahieu fouled off five straight fastballs from Padres reliever Kirby Yates. But on Yates' 12th pitch, LeMahieu struck out on a breaking ball. Nolan Arenado grounded out to end the threat, and an inning later, the Rockies -- their grip on the last National League Wild Card spot slipping -- quietly took their fourth straight loss and second straight shutout.
Nine games are left, and the Rockies find themselves one game ahead of the Brewers and 1 1/2 in front of the surging Cardinals. Going 0-for-3 with runners in scoring position Thursday left them 4-for-22 during the slide. But manager Bud Black took LeMahieu's process, hoping it would lead to a better result starting Friday.
"Wasn't that a good at-bat?" manager Bud Black said. "Man, Yates came in firing the fastball and DJ just missed a number of them. Then finally he mixed in the slider. Five or six foul balls on really good swings. That was a really good battle between Yates and DJ."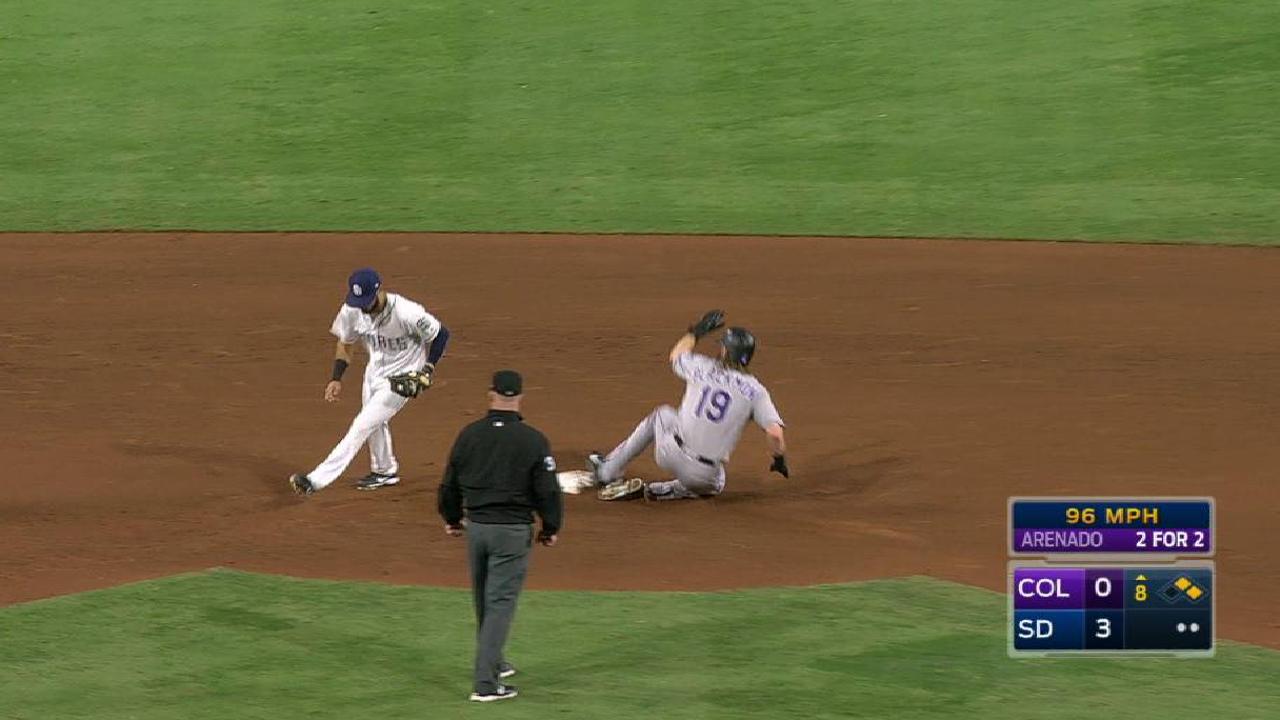 A Rockies team whose lineup Thursday featured three All-Stars this year -- Arenado, LeMahieu and leadoff hitter Charlie Blackmon -- and experienced hitters in former All-Stars Carlos Gonzalez and Ian Desmond, plus Mark Reynolds, managed seven hits and just two innings with runners in scoring position.
Trevor Story, Reynolds and Desmond all grounded into double plays against Padres lefty starter Clayton Richard, who struck out eight. Gonzalez fanned four times, three against Richard and one against closer Brad Hand.
It was the second straight game that a pitcher who had struggled against the Rockies turned the tables. On Wednesday, Giants starter Matt Moore held the Rox scoreless for six innings -- to lower his career ERA against them to 7.94. Richard had a 5.60 against the Rockies before Thursday.
"I just think these two veteran left-handers made their pitches; that's about it," Black said. "Our time is coming to swing the bats."
With nine games left, that time needs to be soon.
"This time of the season, with the pitching, you get the best -- anyone's best," said Desmond, who was part of playoffs three of the last five years. "You're not going to score 10 runs every game.
"Obviously, this offense is very potent and there's the ability to score runs. But we've got to manufacture runs -- I'm not saying bunt or anything like that -- but take advantage of our opportunities. DJ put up a phenomenal at-bat. We have more at-bats like that, it'll work for us."
The Rockies haven't scored since the eighth inning of Tuesday's 4-3 loss at San Francisco.
"I didn't realize it had been that long [since the last run]," Blackmon said. "I don't think we've had a lot of good at-bats, but then we'll hit a ball hard and it will be a double play. Or we'll strike out. We're not consistent all the way up and down right now. It happens, most of the time. Everybody's not going to be consistent.
"It's just hurting us right now. We were one or two pitches away form having a really exciting baseball game."
Thomas Harding has covered the Rockies since 2000, and for MLB.com since 2002. Follow him on Twitter @harding_at_mlb and like his Facebook page. This story was not subject to the approval of Major League Baseball or its clubs.