Slumping Schebler turns it around with 2 HRs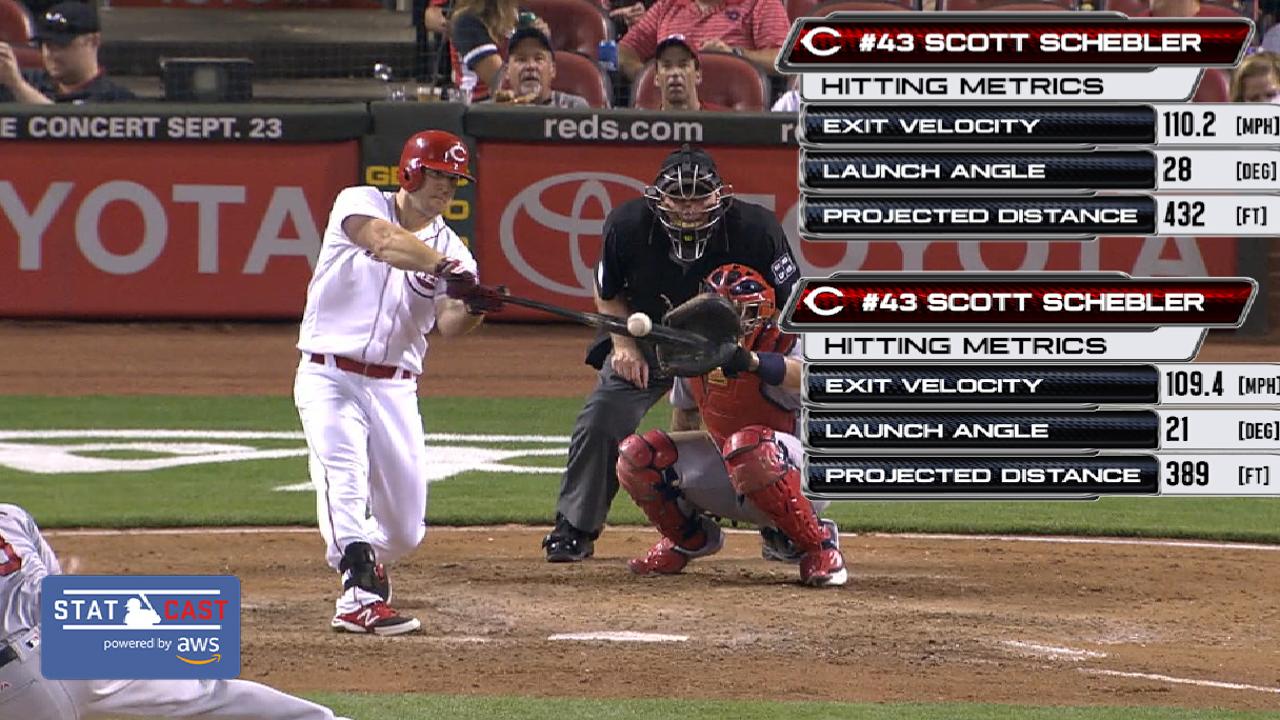 CINCINNATI -- Scott Schebler's second-half struggles haven't sat well with the Reds right fielder. Schebler has been streaky in his two seasons in Cincinnati, but his post-All-Star break results have been particularly dismal.
Schebler entered Thursday batting .193/.286/.393 with five home runs in the second half after he slugged 22 homers in the first half. There was only one homer in September. But in his final two at-bats in the Reds' 8-5 loss to the Cardinals, there was some big life with a pair of home runs.
A day earlier, Schebler was talking with hitting coaches Don Long and Tony Jaramillo about his hitting. What did they tell him?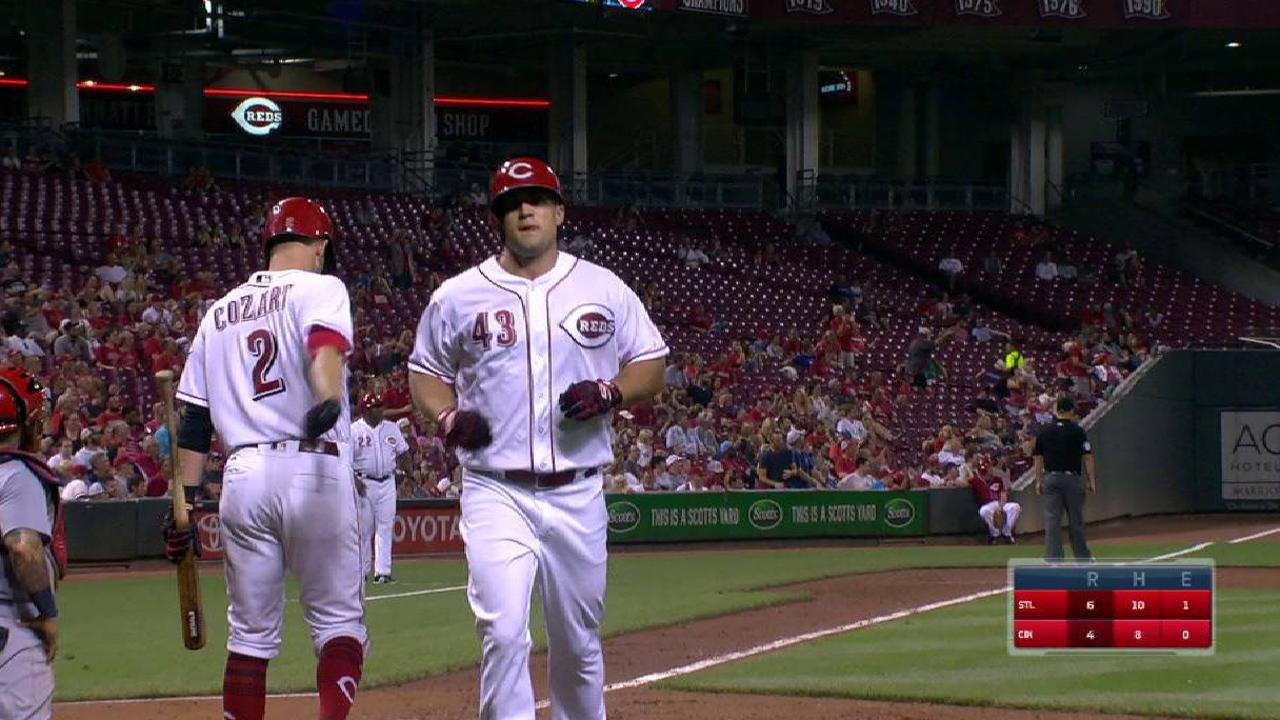 "If you look at it as a positive, this could be the moment that propels me to be really, really good in the big leagues, going through a moment where you're really struggling," Schebler said. "If I look at it the right way, it can become a positive."
In his seventh-inning at-bat vs. Carlos Martinez in a 1-0 count, Schebler attacked a 93-mph fastball and crushed a solo homer to right field that landed in the last few rows of seats. According to Statcast™, it traveled 432 feet and had an exit velocity of 110 mph.
"The fourth time around, you've seen him enough and you're waiting for a certain pitch in a certain location, and he threw it there," Schebler said.
Against left reliever Zach Duke in the ninth, Schebler made it a three-run game when he led off by hitting a 1-1 pitch into the right-field seats. The distance was 389 feet, but he zinged it at 109 mph.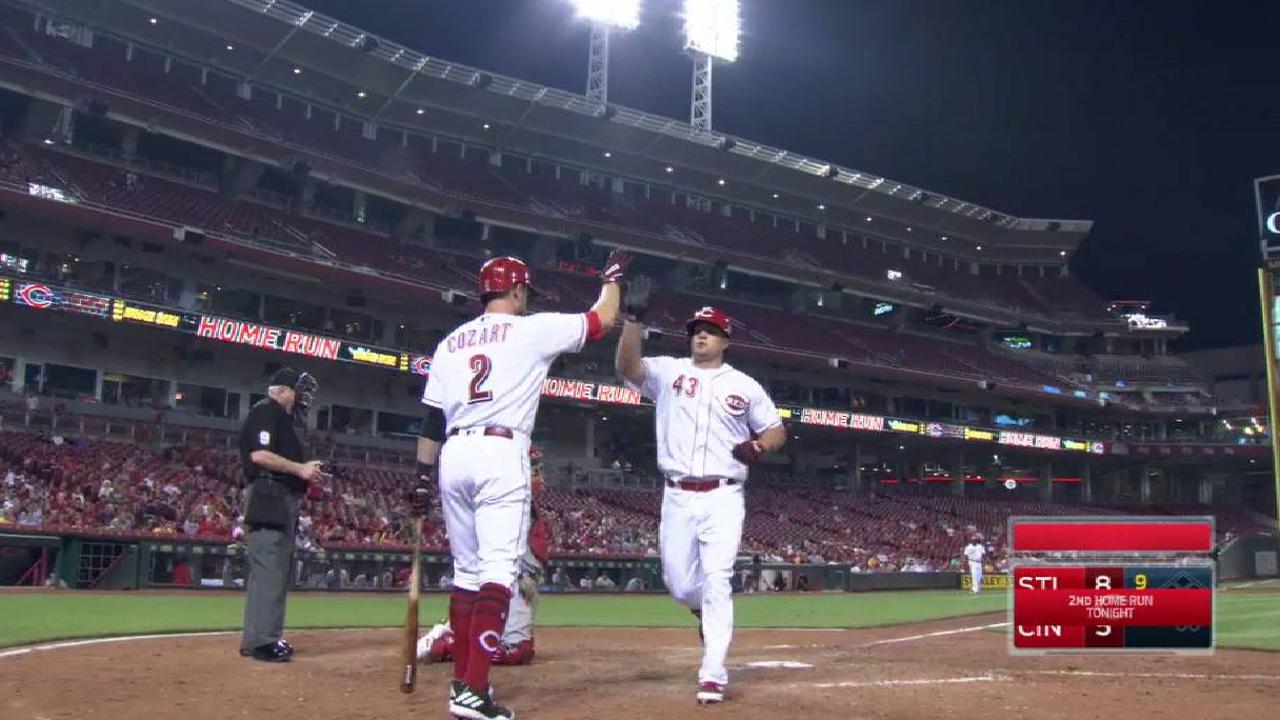 It was Schebler's third career multi-homer game, and second this season. Overall, he has a career-high 29 homers and 63 RBIs while batting .236/.314/.497.
Schebler spent Aug. 1-17 on the disabled list with a left shoulder strain, but he had been laboring with the injury since June without telling anyone. Prospect Jesse Winker is challenging for playing time, and there could be a division of duty among Schebler, Winker and Adam Duvall in the corner-outfield spots. Duvall has also dipped in the second half.
The last stretch of nine games could help Schebler go into the offseason on better footing.
"He hit two balls right on the screws. You couldn't hit them any harder," Reds manager Bryan Price said. "That's what he's capable of doing. He doesn't need to hit 30, 40 or 50 home runs to help us. But the quality of the at-bat and consistency, that would really put him on a trajectory to really be a big impact player for us."
Mark Sheldon has covered the Reds for MLB.com since 2006, and previously covered the Twins from 2001-05. Follow him on Twitter @m_sheldon and Facebook and listen to his podcast. This story was not subject to the approval of Major League Baseball or its clubs.