MLB encouraged by clubs' netting plans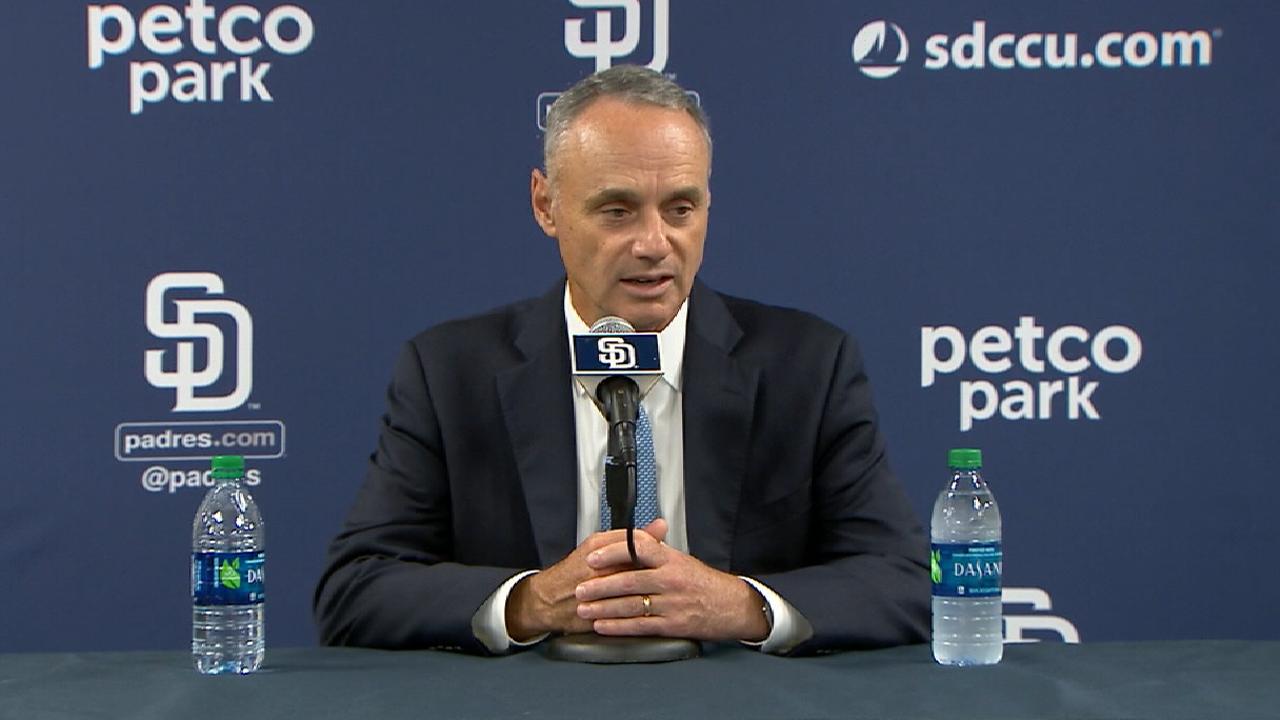 SAN DIEGO -- A day after a frightening incident at Yankee Stadium saw a young girl struck by a foul ball, MLB Commissioner Rob Manfred said he was encouraged by the league's "redoubled" efforts to expand netting at ballparks across the Major Leagues.
Speaking on Thursday at Petco Park -- where he addressed a number of topics ranging from pace of play to the home-run surge to a possible regular-season series in Mexico next year -- Manfred's press conference focused on additional netting being implemented to protect fans.
That decision will remain with individual clubs, Manfred said, with a goal "to get them to make decisions that make sense in their local markets and given the configuration of their ballparks." But he noted that the league had "extensive" talks with clubs on Thursday in an effort to increase fan safety. Several of those clubs -- including the Padres -- have already responded in kind by announcing additional safety measures.
"Frankly, I'm really encouraged by the conversations that have taken place today," Manfred said. "A number of clubs have made clear that they either have made ... or will be making announcements about additional netting for the 2018 season. I see that as a continuation of a process that is really good for the game over the long haul."
Petco Park, specifically, will expand its protective netting beyond both dugouts, the club announced. The Mariners, Rockies and Reds also announced plans to expand netting on Thursday.
"We've talked to clubs on an ongoing basis over the last two years," Manfred said. "We've had extensive conversations with clubs today. I think we all agree on what the goals should be."
Rule changes coming this offseason?
Regarding potential changes involving pace of play and September callups, Manfred said the league and the Players' Association will continue discussions into the offseason -- even without a new collective bargaining agreement on the horizon.
"One of the most positive things about the improvement of our labor relations is that we do get things done in between agreements," Manfred said. "It used to be, when I started, that if you didn't get it done in collective bargaining, you put it on the shelf for five years. It's not that way anymore, particularly in respect to on-field issues."
Among the potential changes being discussed are limiting mound visits, shortenting the between-innings gap and instituting a pitch clock, Manfred said.
As for September roster rules, Manfred expressed a desire for change, so long as the league can work with its players to ensure that the overall number of service days isn't reduced.
"A lot of people feel -- and I actually agree strongly with this sentiment -- that in September we play our most important games, and we should be playing them at least close to the way we play them all season long," Manfred said.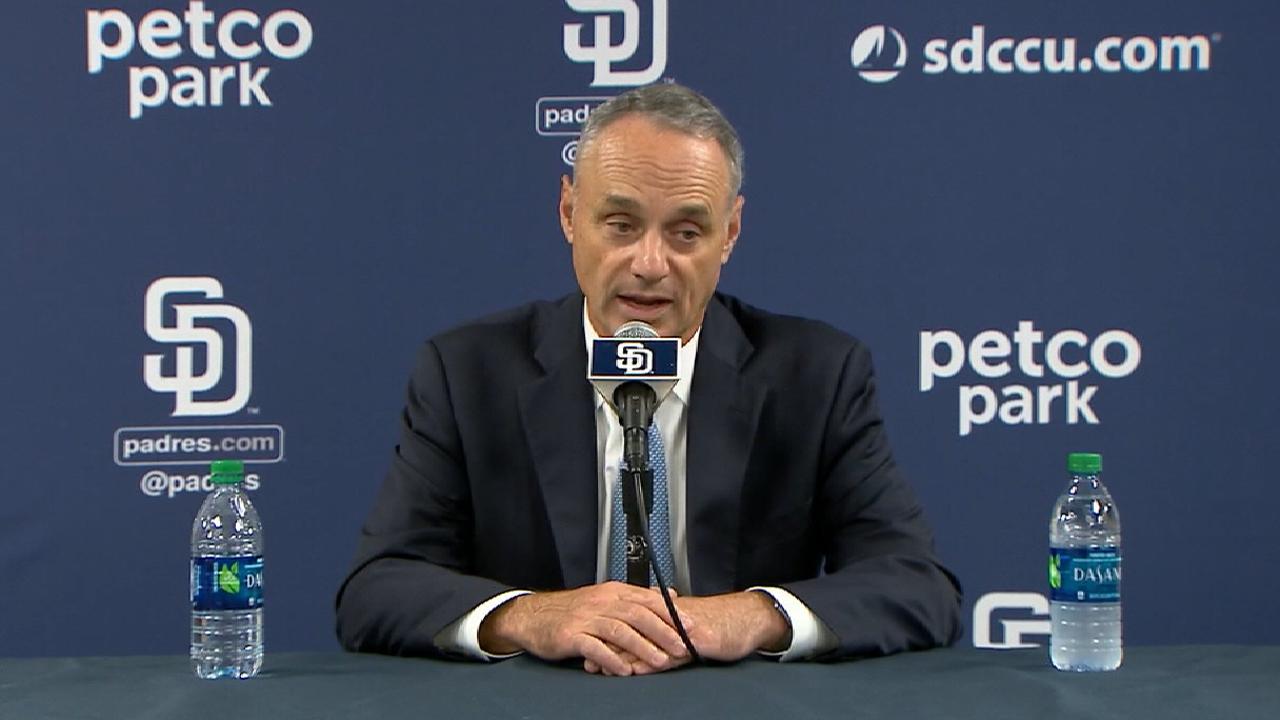 League "hopeful" for series in Mexico in '18
Rumors have persisted that Major League Baseball -- more specifically the Padres and Dodgers -- will play a series in Mexico next May. Two days after an earthquake devastated parts of Mexico City, Manfred addressed that possibility.
"I am still hopeful that we're going to play in Mexico," he said. "Whether it's going to be in Mexico City or someplace else depends on some logistical issues that we're trying to work our way through. That situation, obviously, has been complicated by recent events. Understanding all of that, I still hope that we will play Major League regular-season games there next year."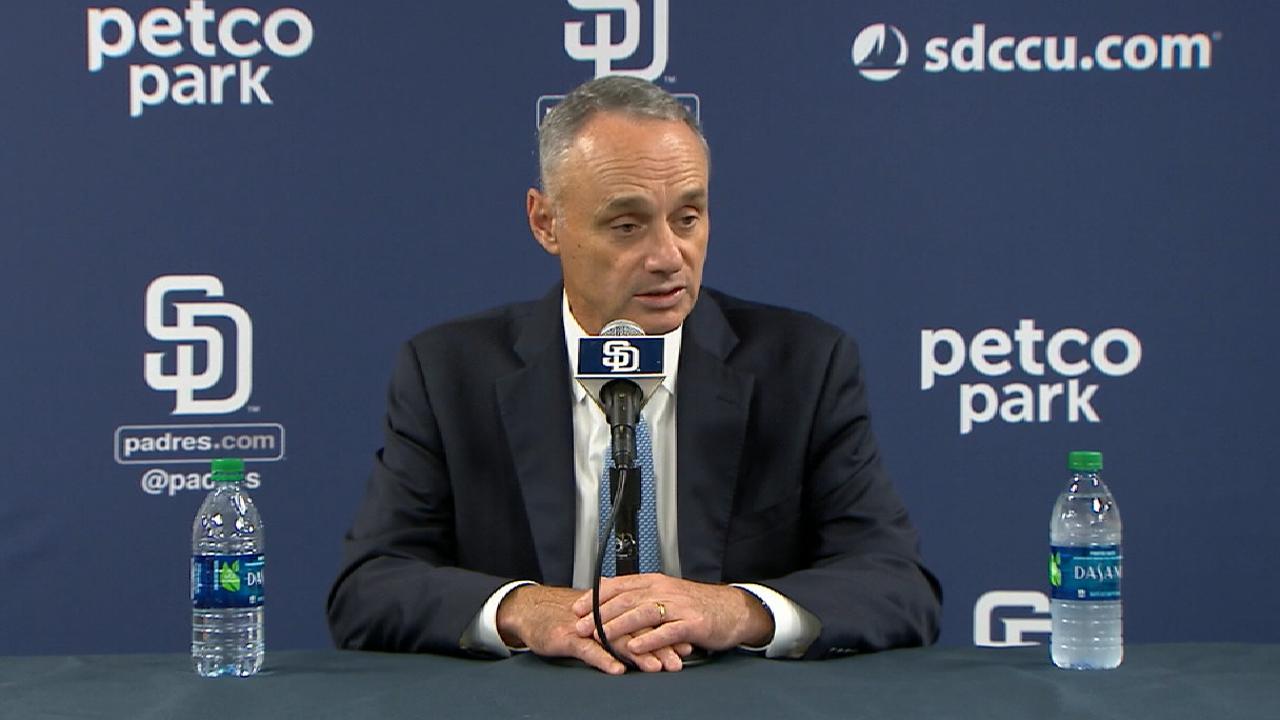 Manfred discusses home run surge
Two days after Major League hitters combined to set the league's all-time single-season home run record, the Commissioner discussed the reasons behind the spike in long balls.
Foremost, he addressed players being bigger, faster and stronger than their predecessors. He also noted that methods for teaching the game have changed, with less resistance to strikeouts and more emphasis on power.
Manfred also addressed the possiblity of a change in the baseball itself.
"We have used two independent labs," Manfred said. "Rawlings, the manufacturer of our baseballs, does its own testing. And I know that baseballs, for the entire time I've been Commissioner and the years preceding that, are within the same range of specifications that they've always been."
AJ Cassavell covers the Padres for MLB.com. Follow him on Twitter @ajcassavell. This story was not subject to the approval of Major League Baseball or its clubs.