Gomez talks his way back into lineup
Center fielder delivers in first with a two-run double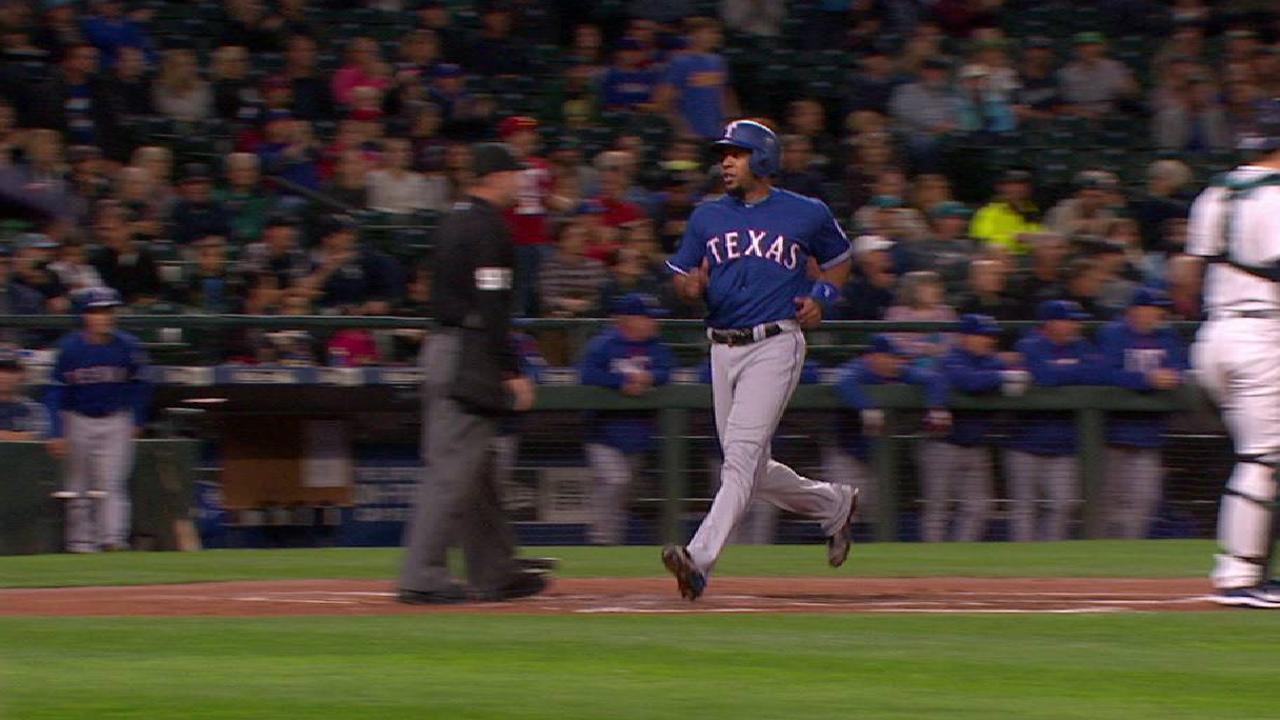 SEATTLE -- Rangers outfielder Carlos Gomez was in the starting lineup on Thursday for the first time since Sept. 9. Gomez has been dealing with a sprained right ankle but was able to convince manager Jeff Banister that he was ready to go.
Gomez got the green light after going through a rigorous defensive workout during batting practice before Wednesday's game against the Mariners.
The move paid off right away, as Gomez had a two-run double in the first inning as the Rangers went on to defeat the Mariners, 4-2. Gomez finished 2-for-3.
"I'm not 100 percent but I'm not going to be 100 percent the rest of the season," Gomez said before the game. "Like I told you, I can play through pain if I have to. I'm not going to put myself in center field if I can't help the team. But what I can do right now is good enough to come in and help the team."
Delino DeShields has been playing center field during Gomez's absence, but shifted to left field on Thursday. That allowed the Rangers to give Nomar Mazara a night off with left-hander James Paxton pitching for the Mariners and get Gomez's right-handed bat in the lineup.
Mazara is going to be back in there against right-hander Kendall Graveman on Friday when the Rangers open a series against the A's. DeShields sat for much of the season when a right-hander was on the mound, but Banister said that's not going to be the case now.
"I didn't say Gomez is going to be the everyday center fielder," Banister said. "DeShields is going to play."
Trevino keeps coming: Double-A catcher Jose Trevino continues to impress. He won another Gold Glove this week for defensive excellence, an award that encompasses all levels of the Minor Leagues. It's the second year in a row he has won it.
Trevino had just three passed balls in 99 games caught at Frisco and threw out 41.3 percent of attempted basestealers. Offensively he hit .241 with seven home runs, 42 RBIs, a .275 on-base percentage and a .323 slugging percentage. They are not impressive numbers but the Rangers still think he will hit.
"Another solid year for Trevino," Rangers farm director Jayce Tingler said. "Defensively, obviously, outstanding. Offensively battled through some injuries early in the season, adjusting to upper level pitching but [we] truly believe he is making adjustments and is going to be a good offensive catcher in the Major Leagues."
Rangers beat:
• Rougned Odor hit his 30th home run -- a grand slam -- on Wednesday and became the 11th middle infielder in Major League history to have back-to-back 30-homer seasons.
• Odor has two career grand slams and both have come in Seattle. Only two other Rangers players in club history have multiple grand slams in one city. Jeff Burroughs had two in Chicago against the White Sox and Rafael Palmeiro hit two against the Mariners.
• The Rangers seven-run fourth inning on Wednesday was their second biggest of the season. They had an eight-run inning on April 26 against the Twins.
T.R. Sullivan has covered the Rangers since 1989, and for MLB.com since 2006. Follow him on Twitter @Sullivan_Ranger and listen to his podcast. This story was not subject to the approval of Major League Baseball or its clubs.