Pirela's season ends due to finger injury
Padres left fielder motivated to earn starting role in 2018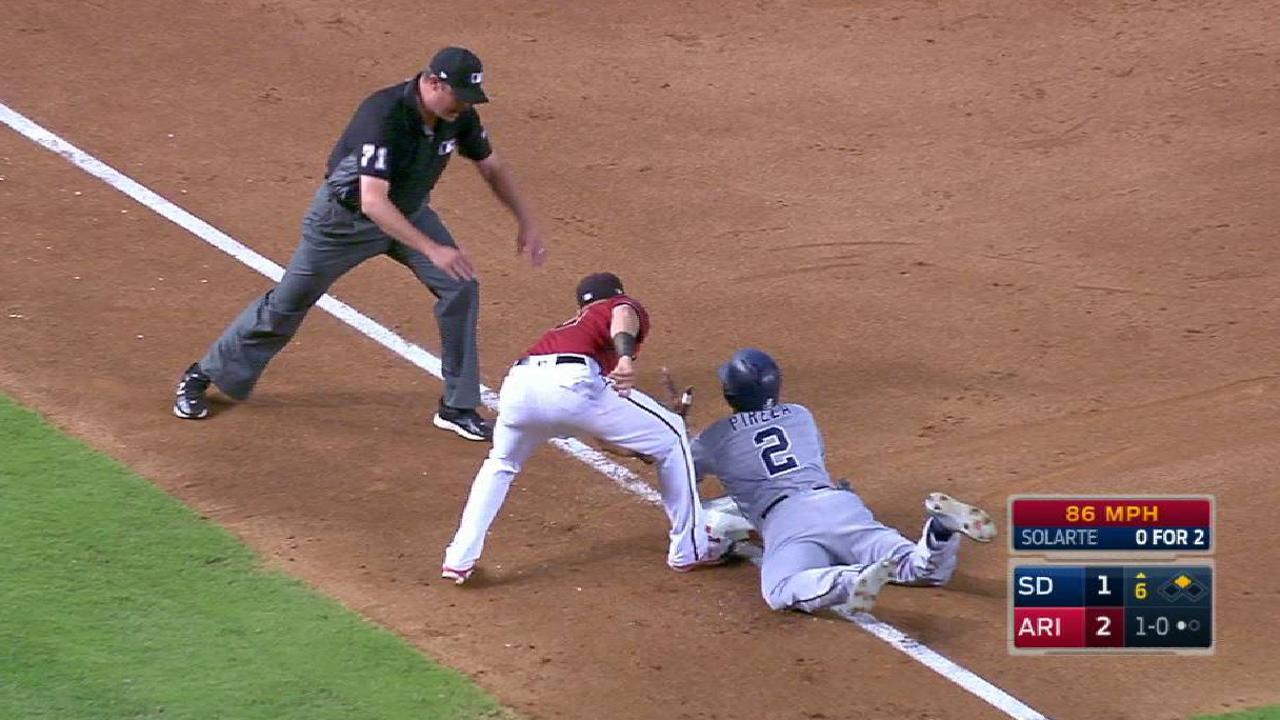 SAN DIEGO -- After telling Jose Pirela that his season is over, Padres manager Andy Green's next words were encouraging.
"Congratulations on a tremendous baseball season," Green told his left fielder. "Outstanding. You made an unbelievable impression."
A sprained left pinky finger will end the best season of Pirela's career. After beginning the year in Triple-A, Pirela became San Diego's regular No. 3 hitter and left fielder before a headfirst slide ended his campaign two weeks early. His slashline of .288/.347/.490 makes him the Padres' OPS leader among position players, excluding September callups.
"I'm really happy for the opportunity that was given to me; I'm really grateful for it and satisfied with the season that I've had," Pirela said through a team interpreter. "Incredible. I think it was a lot of learning, a lot of hard work and unbelievable results."
Green in recent days hinted at the possibility Pirela's season would end early. His pinky remained sore and would become swollen after he swung a bat. Given the short time before the regular season finale, trying to get Pirela healthy for what the Padres determined would be only two games was "just not worth it," Green said.
Pirela will continue to shag fly balls in left field (a position once secondary to the former infielder), prior to games, but he won't swing a bat.
This season represented remarkable growth for Pirela. He hit .226 in three Major League stints for the Yankees and Padres before San Diego designated him for assignment last offseason. He re-signed on a Minor League deal and wasn't given a spot on the 40-man roster.
Pirela, though, will enter 2018 at the "front of the line" to start in left, Green said. Pirela sees that not as an opportunity to relax, but as motivation to continue to improve and stay ahead of a group that includes Alex Dickerson, Travis Jankowski and Franchy Cordero.
"It's great that Andy has given me this opportunity and has believed in me and has said those things," Pirela said. "On one hand, it fills you with a lot of pride, but at the same time, you can't feel comfortable with that. You can't feel satisfied with that. It has to be used as motivation to come out here and show that you deserve something like that.
"I'm just going to keep working, so then hopefully, better things can come."
Petco won't host other sports during MLB season
MLB Commissioner Rob Manfred visited San Diego on Thursday and addressed the possibility of Petco Park being a multi-purpose stadium. Padres executive chairman Ron Fowler later gave a brief statement clarifying the team's plans going forward regarding other sports.
"To make the stadium safe for football and do the things necessary to maintain the integrity of the field for baseball, it doesn't work during the season," Fowler said.
Still, Fowler noted that the club has had discussions about converting Petco Park into a facility eligible for hosting the college football Holiday Bowl, played in December.
"We encourage our clubs to be as economically aggressive as possible," Manfred said. "... Virtually all of our clubs have concerts in their venues. We have no issue with that. Our only concern is that the playing surfaces be returned to Major League quality."
Worth noting
• Shortstop Dusty Coleman and right-hander Jose Valdez, designated for assignment Monday, cleared waivers and were outrighted to Triple-A.
Nathan Ruiz is a reporter for MLB.com based in San Diego. This story was not subject to the approval of Major League Baseball or its clubs.