Counsell goes all-in with 'pen, bench vs. Bucs
Brewers skipper uses seven relievers Wednesday ahead of crucial set vs. Cubs
PITTSBURGH -- The calendar said it was still September, but Brewers manager Craig Counsell operated like it was October, emptying his bullpen and then his bench in Wednesday's 6-4 loss to the Pirates in an effort to cash-in on a chance to gain ground in the National League Central and Wild Card chases. Worries about the Brewers' next series, a huge four-game showdown against the division-leading Cubs at Miller Park beginning Thursday, would have to wait for Thursday.
When Thursday arrived, the Brewers had used their reliable late-inning arms without a victory to show for it. Setup man Anthony Swarzak and closer Corey Knebel are question marks for the opener against the Cubs after pitching all three games at PNC Park, including Knebel's extended outing on Wednesday that resulted in his first blown save in more than two months.
"That's the game we would manage if we had the lead. That's how we have to do it," Counsell said. "We were going to be in 'straits' [after] any game of this type. Some guys are going to have to step up tomorrow. That will be a story."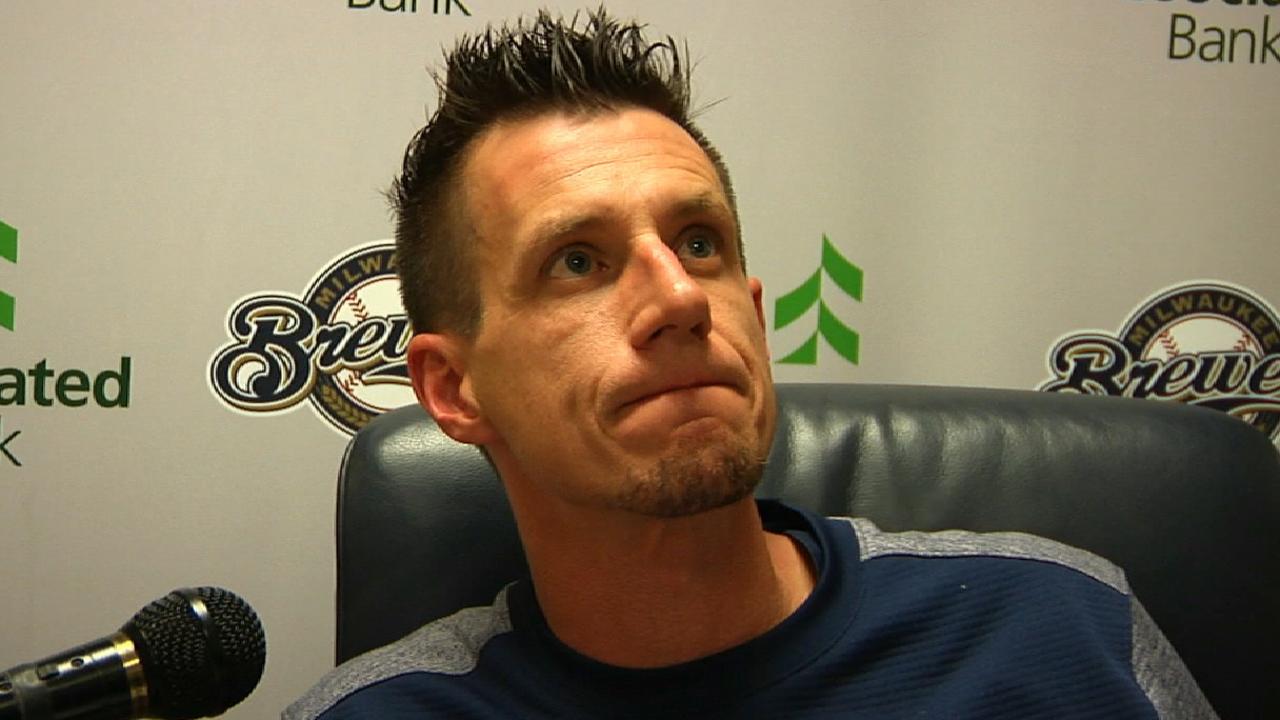 On Wednesday, the story was Counsell's aggressive managing, beginning in the bottom of the third inning when he abandoned hopes of a deep outing from 28-year-old rookie Aaron Wilkerson. Counsell made it another "bullpen day" instead, summoning seven relievers in a repeat of a strategy that had worked for the Brewers on three previous occasions of late. But that was not the plan Wednesday in the middle of a stretch of 10 games in as many days.
In the seventh inning, Counsell employed a similar all-hands-on-deck approach to his bench. He used pinch-runner Quintin Berry and then four consecutive left-handed pinch-hitters against Pirates right-handers Tyler Glasnow and A.J. Schugel, even if it risked exposing some of those lefties to the Pirates' southpaw closer, Felipe Rivero, later in the game. The opportunistic approach worked, with Eric Thames delivering a game-tying double and Stephen Vogt taking a go-ahead walk with the bases loaded for a 4-3 lead before Schugel regained control against right-handed hitters Domingo Santana and Ryan Braun.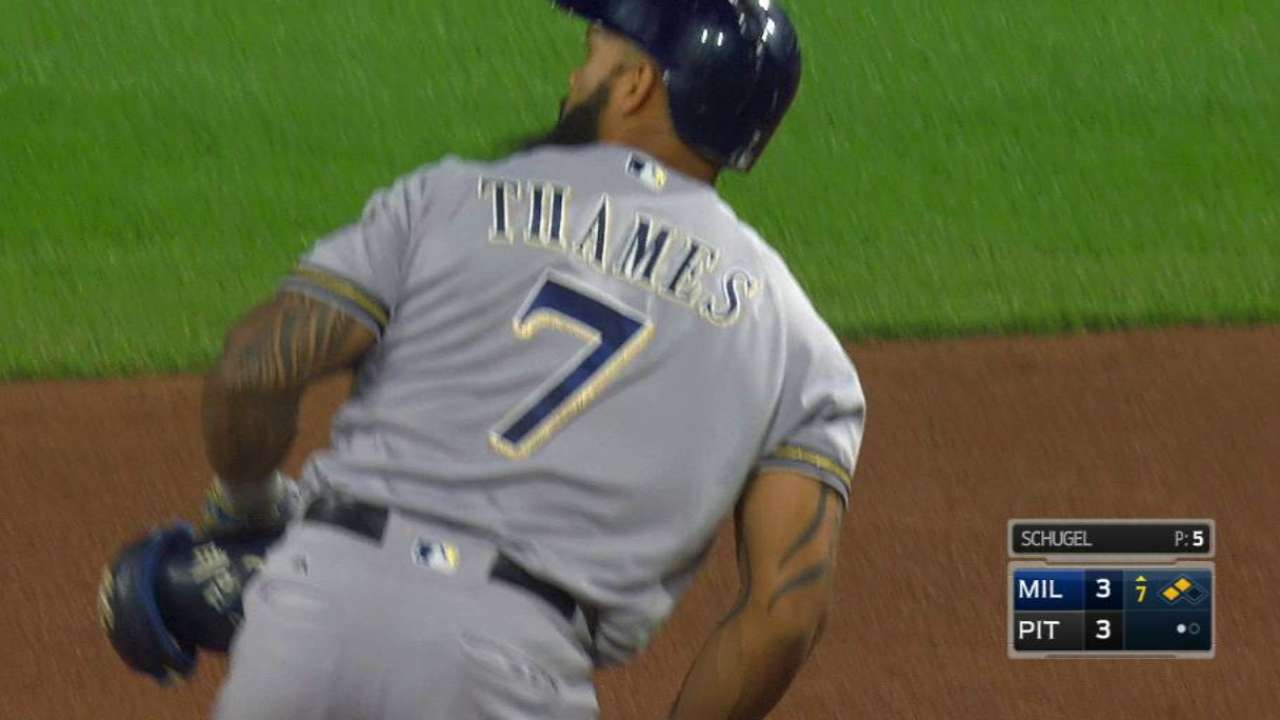 By the end of the night, 24 players appeared in the Brewers' box score, one shy of Ron Roenicke's obscure franchise record for a nine-inning game from a September 2014 loss to the Cardinals. For the second time, Counsell matched another club mark by employing eight pitchers.
"For me, I'm used to more of an American League style, where it's, 'OK, everybody go play,'" Thames said. "It's like chess playing in the National League. For me, it's like, 'I don't know how you guys do all that.' … It's a lot of moves going on. I sit back, and then they tell me to hit or tell me I'm playing, then I go play. I'll let them deal with that."
Brewers hitters will be all hands on deck again Thursday against the Cubs at Miller Park, but the key bullpen arms may be another matter after Wilkerson was able to record only seven outs. Besides Swarzak and Knebel working three straight days, left-handed rookie Josh Hader pitched twice in the series, including a 24-pitch outing Monday and 18 pitches on Wednesday. The Brewers have closely monitored his workload.
"The games that you lose late burn you. It's always that way," Counsell said. "It's that way in May and June. But we were going to manage aggressively with 'Wilk' and make sure we had a chance to win that game.
"When we get this deep [into a playoff race], we've talked about it -- the losses hurt more, the wins feel so much better. Yeah, this one hurts, for sure. But what we're doing [Thursday] lets you turn the page really fast."
Adam McCalvy has covered the Brewers for MLB.com since 2001. Follow him on Twitter @AdamMcCalvy and like him on Facebook. This story was not subject to the approval of Major League Baseball or its clubs.