Ramirez's remarkable streak ends at 47 2/3 IP
Converted OF hadn't allowed earned run in Minors, Majors in '17 before Wednesday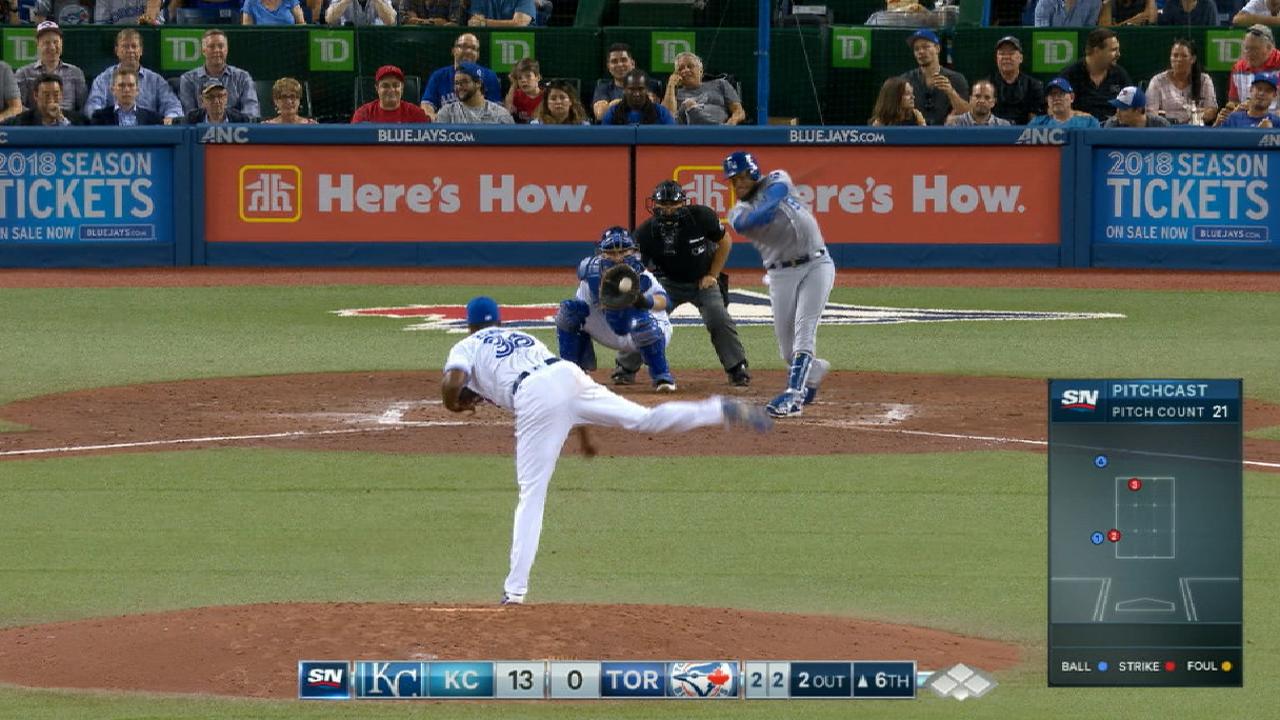 TORONTO -- Carlos Ramirez's eye-opening streak through the Major League and Minors has finally come to an end.
Ramirez allowed four earned runs on three hits and a walk in Toronto's 15-5 loss to the Royals on Wednesday night at Rogers Centre. The four earned runs were the first he surrendered all year during a stretch that lasted 47 2/3 innings through stints in Double-A New Hampshire, Triple-A Buffalo and finally Toronto.
The 26-year-old converted outfielder is one of three pitchers in Major League history to not allow a hit in six of his first seven big league games. Jonathan Sanchez in 2006 and John Holdzkom in 2014 are the others. The run of success came to an end, but this is the year Ramirez put himself on the map.
"It has been an incredible year for the kid," Blue Jays manager John Gibbons said. "It was going to happen. He hadn't been out there for a while and wasn't as sharp. But it was a heck of a feat, and he's got something. He's really shown us a lot. He'll be back out there in the next couple days, and hopefully he can pick right up where he left off."
Well it was bound to happen at some point but Carlos Ramirez just gave up his first earned run of 2017. 47 2/3 innings, Minors+Majors

— Gregor Chisholm (@gregorMLB) September 21, 2017
Prior to Wednesday night's outing, Ramirez allowed 17 hits over the 47 2/3 scoreless innings. He struck out 54 and walked 12 while posting a 0.61 WHIP. It was a dominating run that saw righties pick up just six hits in 73 at-bats (.082) in the Minors. At the big league level, it was equally as impressive, with righties going 0-for-23 over Ramirez's first seven appearances.
One of the main reasons behind his success vs. righties is a slider that has proven to be borderline untouchable during the early stages of his career. According to Statcast™, he entered play Wednesday having thrown the slider 63 times compared to 29 two-seam fastballs and 28 sinkers. Ramirez has been in the organization since 2009, but he didn't start pitching until late in the 2014 season. The speed in which he mastered the pitch is nothing short of remarkable.
Toronto moved Ramirez to the mound because of his strong outfield arm, but pure velocity is just a small part of why he has been so effective. Instead, it has been pinpoint command low and away to hitters with his sinker/slider combination that comes with a lot of movement. That's no small feat.
Ramirez entered during the sixth inning of a game on Wednesday night that had already been gotten out of hand by the time he stepped on the mound. He was greeted by a home run off the bat of Whit Merrifield, and before it was over, Ramirez had allowed a walk, double and another home run, this time by Mike Moustakas.
"You need to have a short mind," Ramirez said earlier this week when putting the streak into perspective. "One day you do bad, but you've got the next day. That happened to me a lot. Don't think about the last outing. Just keep moving forward."
Gregor Chisholm has covered the Blue Jays for MLB.com since 2011. Follow him on Twitter @gregorMLB and Facebook, and listen to his podcast. This story was not subject to the approval of Major League Baseball or its clubs.