Former All-Star Diaz returns to Cardinals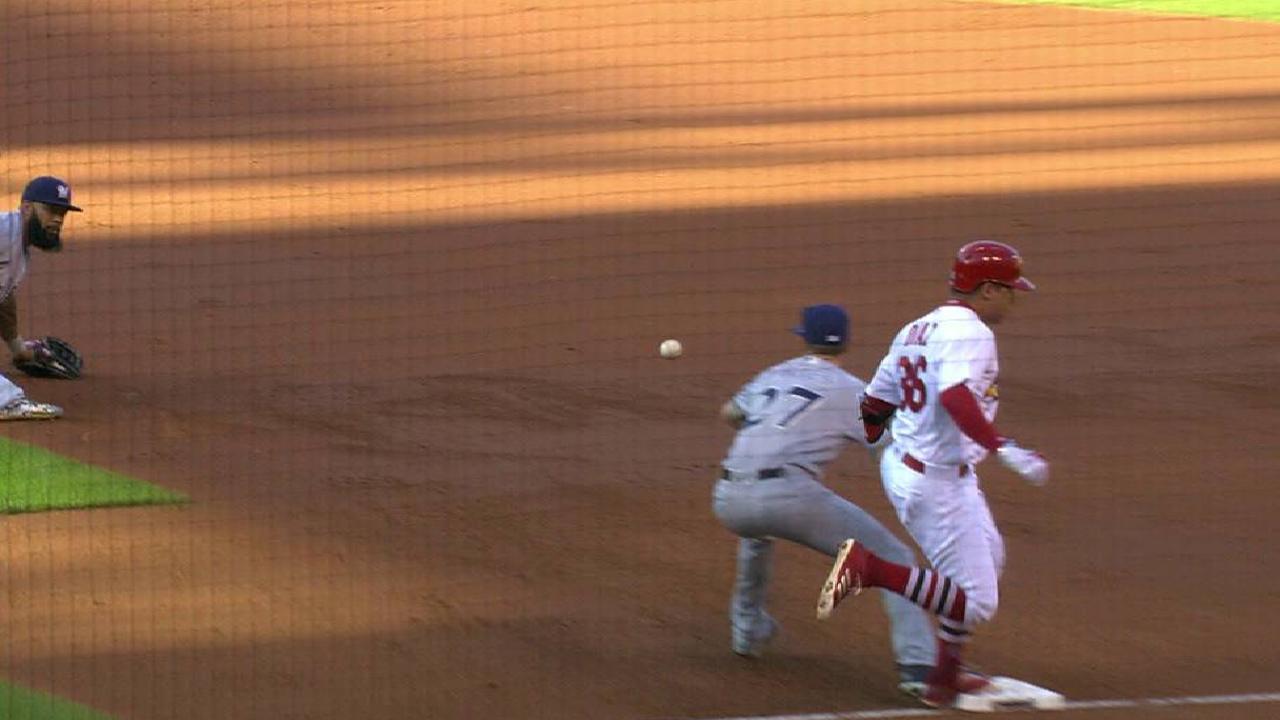 CINCINNATI -- The story of Aledmys Diaz's journey from Cuba to the big leagues has yet to be completely written. The first two chapters, however, have been interesting.
The Cardinals recalled the 27-year-old infielder, as well as right-hander Josh Lucas, from Triple-A Memphis prior to Wednesday's game against the Reds at Great American Ball Park. Diaz was a National League All-Star in 2016, but he's spent most of the second half of this season in the Minors.
"When they send you down, it's tough at that moment," Diaz said. "But my goal is always the same wherever I am -- to try to become the best player I can be."
How good a player can he be? And at what position?
The Cardinals signed Diaz to a four-year, $8 million contract in March 2014. Two years later, he was a house afire. The rookie shortstop had 26 hits in his first 52 at-bats, the first player since 1900 to be hitting .500 after more than 50 at-bats. He was named to the NL All-Star team as an injury replacement and finished the season with a .300 average.
His second season was less memorable. Diaz took a 102-mph fastball off his right thumb on March 9 and battled soreness for some time afterward. He lost the starting shortstop job to NL Rookie of the Year candidate Paul DeJong. Diaz hit .260 before being sent down to Memphis on June 28.
"I didn't feel like my timing was very good," Diaz said. "I worked on things and I came back feeling better about my hitting. I worked on using the whole field. Every time you see a hitter who can use the whole field, he's a .300 hitter."
While with the Redbirds, he played 28 games at shortstop, nine at third base and six at second base.
"I feel like I can play any position," Diaz said. "I want to be ready."
"It was nice to see him adjust to playing third base," Cardinals manager Mike Matheny said. "Now he can play all over the infield. Being versatile is important. When a bat gets going, you do find a spot for that guy."
Diaz batted .253 and helped Memphis win a franchise-record 91 games.
"Sure, you want to be on the [big league] team, but I needed to go down there, just do my job and focus on getting better every day," Diaz said.
Lucas, 26, is in his second stint with the Cardinals this season. His 17 saves ranked third in the Pacific Coast League, and he struck out 68 in 60 innings.
Worth noting
Matheny said Jack Flaherty, who lasted just two innings Tuesday, is likely to be replaced by John Gant on the next turn through the rotation. Flaherty would be available for relief work later this week.
"He's 21 and we will keep a close eye on him," Matheny said of Flaherty, who has worked 164 innings this season, compared with 134 in 2016. "We knew coming in we would be cautious."
Andy Call is a contributor to MLB.com based in Cincinnati who covered the Cardinals on Wednesday. This story was not subject to the approval of Major League Baseball or its clubs.