Despite getting swept in NY, Twins look ahead
Minnesota stays positive, keeps eyes on Wild Card with 10 games to go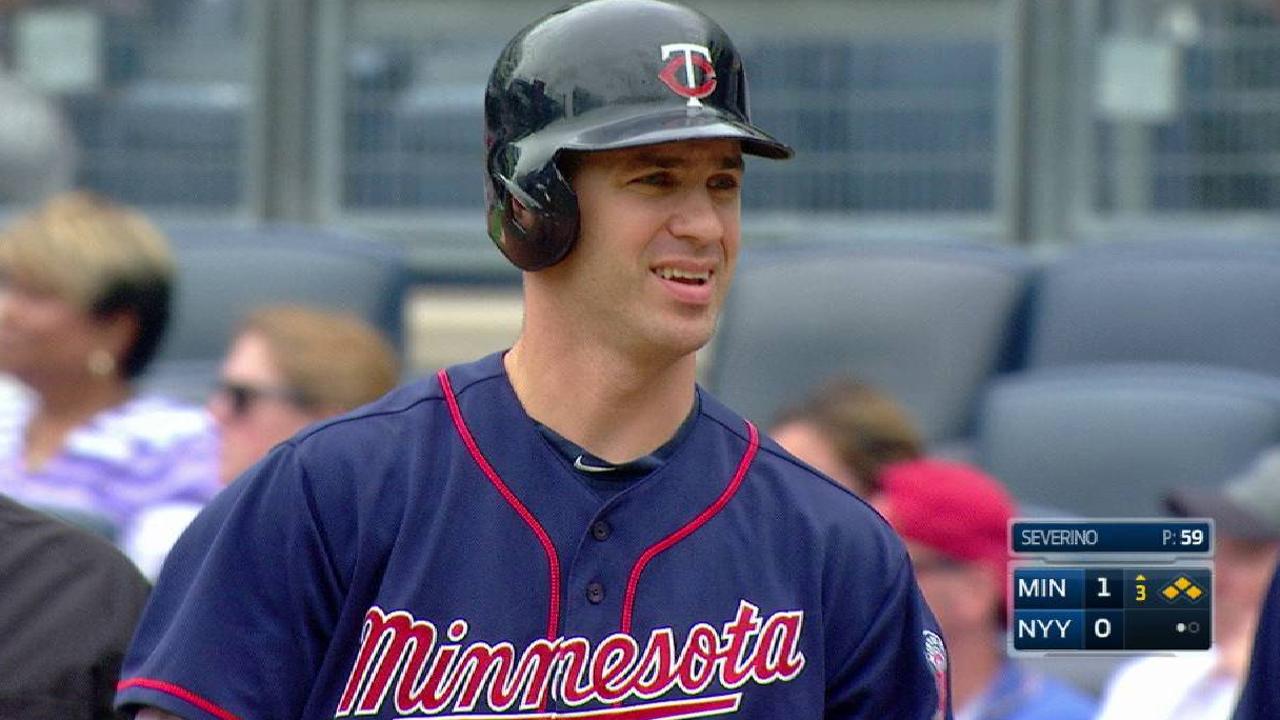 NEW YORK -- Even with a new regime and a lineup full of youngsters, Yankee Stadium remains the Twins' house of horrors.
The Twins headed to the Bronx with a chance to pad their lead over the Angels for the second American League Wild Card spot, but instead, they were swept in the three-game series, punctuated by an 11-3 blowout loss on Wednesday afternoon. It dropped the Twins to 9-20 at Yankee Stadium since 2009 and 1-8 since '15. They're also 31-78 against New York dating back to 2002, winning their last season series against the Yankees in '01.
"I've heard Frank sing that song too many times," Twins manager Paul Molitor quipped about Frank Sinatra's "New York, New York." "I've had better trips to New York. Guys asked before the series about getting swept, and in reality, that's what happened. We've got 10 games, and my goal right now is to get these guys back in a positive frame of mind."
The Twins, though, still have a slight edge over the Angels for the second AL Wild Card spot. And they have a forgiving schedule over their final 10 games, playing the Tigers seven times, including a four-game series in Detroit that begins on Thursday.
"Hopefully we learned something," Molitor said. "We've talked about the experience of coming in here on the bigger stage and do the whole 'Hoosiers' thing -- the game is the same, but it feels different. Hopefully it helps these guys in the long run."
Minnesota had the momentum early on Wednesday, taking a 3-0 lead against potential Wild Card Game starter Luis Severino with a three-run third, keyed by an RBI single from Joe Mauer with the bases loaded on the 13th pitch of his at-bat. Jorge Polanco jumped on the very next pitch for a two-run single, and Severino was pulled after three innings.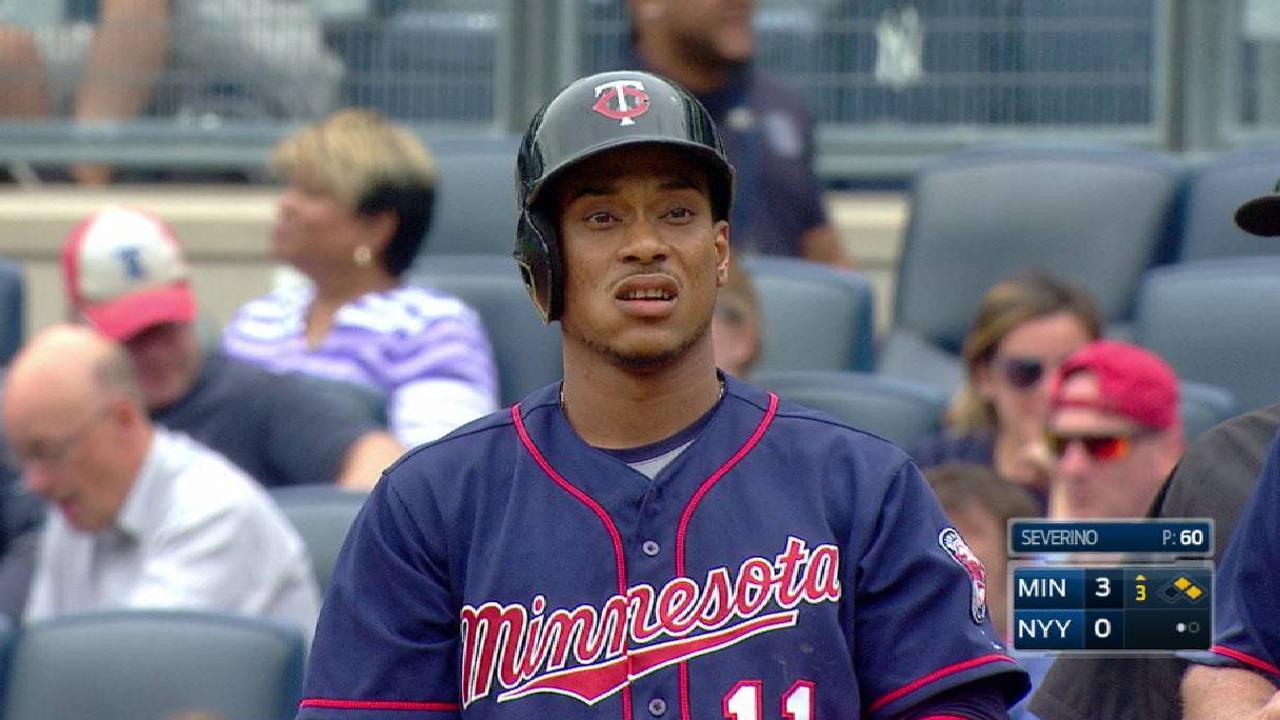 But things imploded from there, with right-hander Bartolo Colon continuing his recent struggles, as the Yankees struck with a three-run third featuring back-to-back homers from Aaron Judge and Gary Sanchez before breaking out for a six-run fourth. Colon was charged with six runs over 3 1/3 innings, giving him a 13.09 ERA over his past three outings.
Colon, though, said the Twins will continue to push forward, and Molitor said he's counting on veterans such as Colon to help the younger players down the stretch.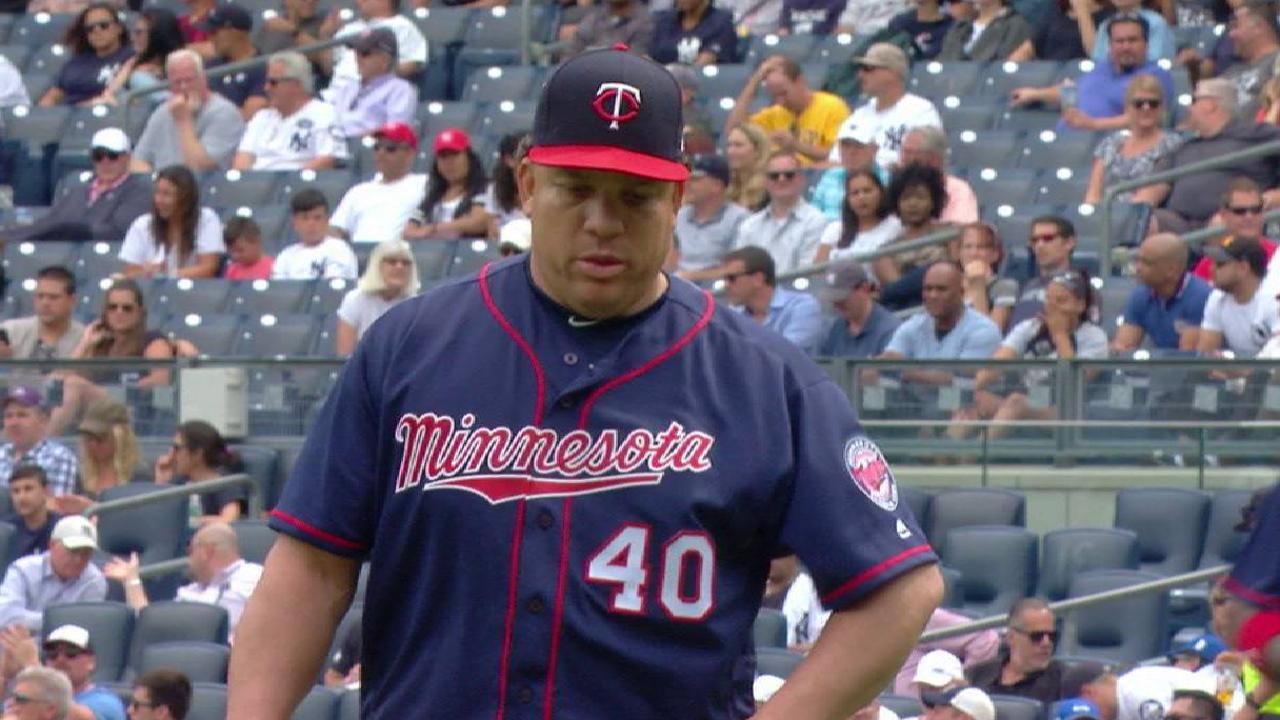 "I believe in that group a lot, and that hasn't changed because of the last three days," Molitor said, "and not just because of the talent, but because of the character and leadership in that clubhouse."
Wednesday's loss completed another forgettable trip to the Bronx, and yet the Twins could be back on Oct. 3 for the AL Wild Card Game with right-hander Ervin Santana lined up to start. Minnesota was eliminated by the Yankees in the postseason in 2003, '04, '09 and '10, but a win in the Wild Card Game would ease some of that pain and make this week's sweep a footnote in an otherwise successful season.
"We don't want to get ahead of ourselves, but there's a possibility we come back here, and that's our goal," Twins second baseman Brian Dozier said. "We're turning the page but not forgetting what we read. Our objective tomorrow is to win one game against the Tigers."
Rhett Bollinger has covered the Twins for MLB.com since 2011. Follow him on Twitter @RhettBollinger and Facebook. This story was not subject to the approval of Major League Baseball or its clubs.