Best Player-Fan Interaction full of worthy pairs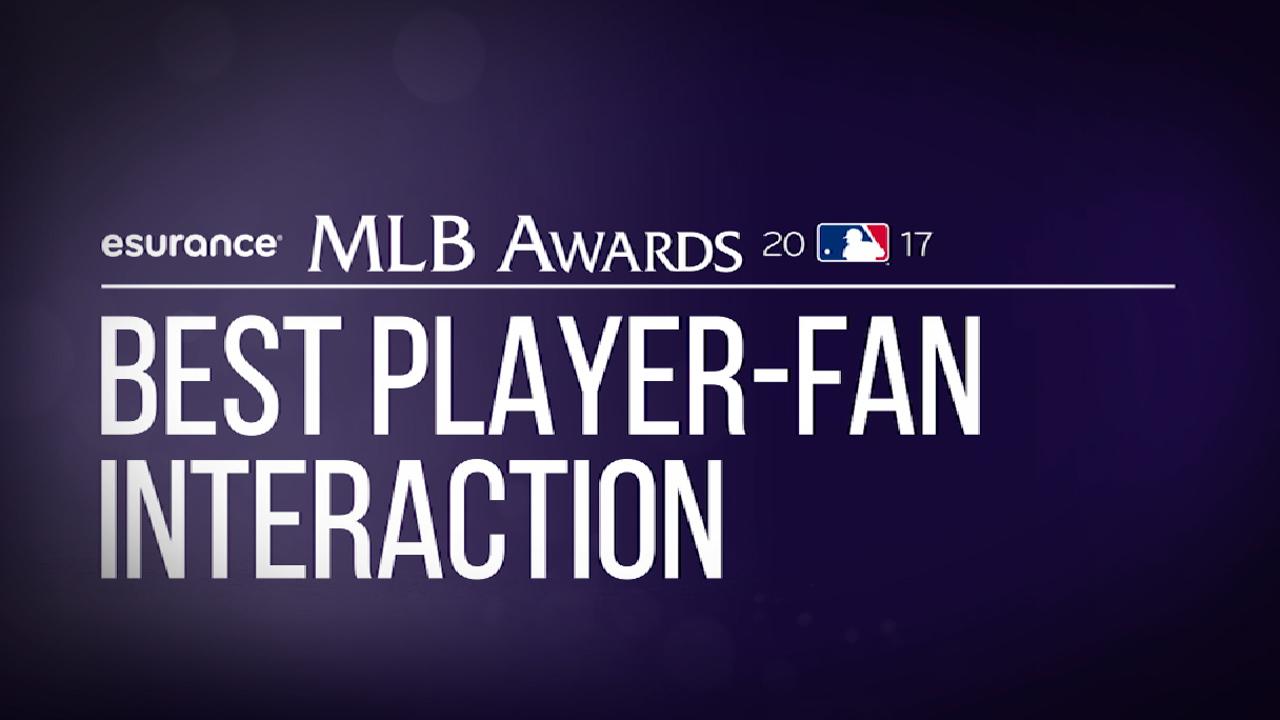 One of the many great things about attending Major League Baseball games is the old adage that you'll always see something you've never seen before. You also might end up seeing someone up close that you never imagined you'd have the pleasure of meeting.
This happens all the time in the big leagues, as players with personalities as fun as the great game itself interact with fans to toss up baseballs, sign autographs, occasionally grab snacks while they run by or just stop by to offer a quick hello.
• Vote for the 2017 Esurance MLB Awards
These special meetings stand out on the daily highlight reels, and they should not be ignored at the end of the season when it's time to hand out awards, so here we go.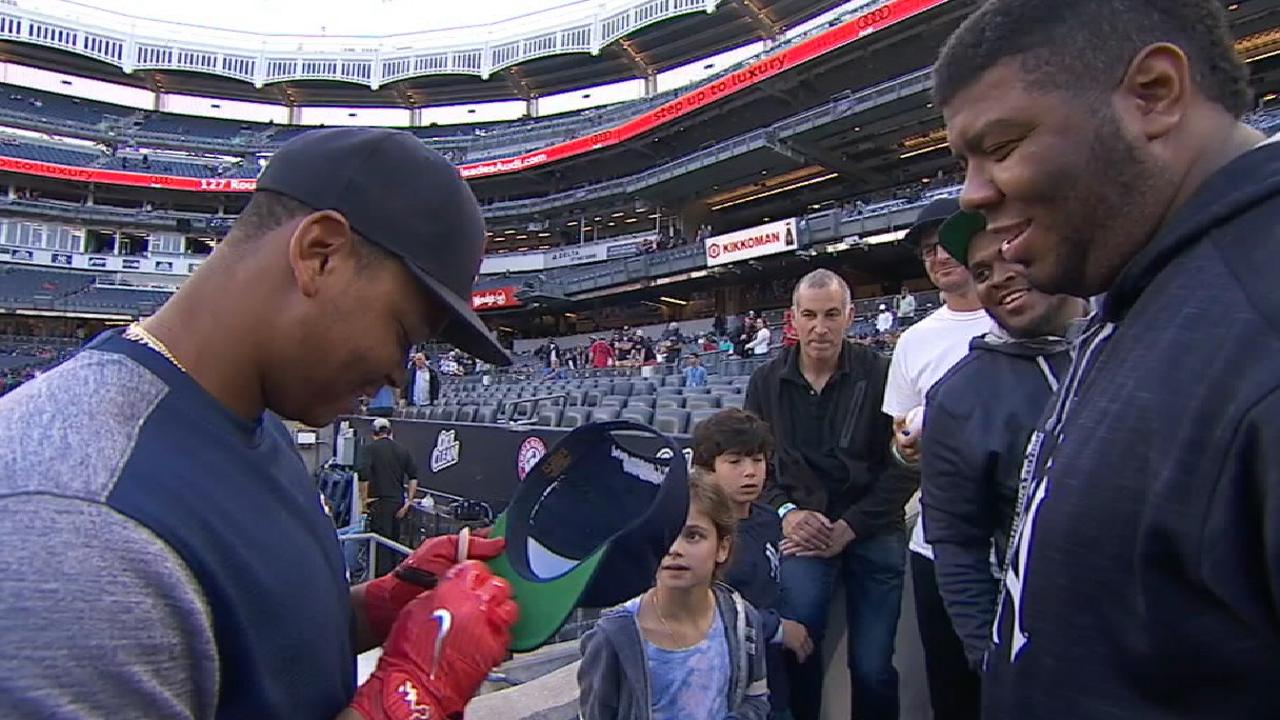 The nominees for the Esurance MLB Award for Best Player-Fan Interaction are fun, creative and heartwarming. Rafael Devers of the Red Sox gets a nod for his Sept. 3 meet and greet with a Yankees fan who had a memorable and viral reaction to a home run three weeks earlier.
• Cast your vote for the Best Player-Fan Interaction Award
Astros pitcher Joe Musgrove gets a nomination for lifting the spirits of Hurricane Harvey evacuees on Sept. 1, and then wearing the cleats that they signed in the very next day's game.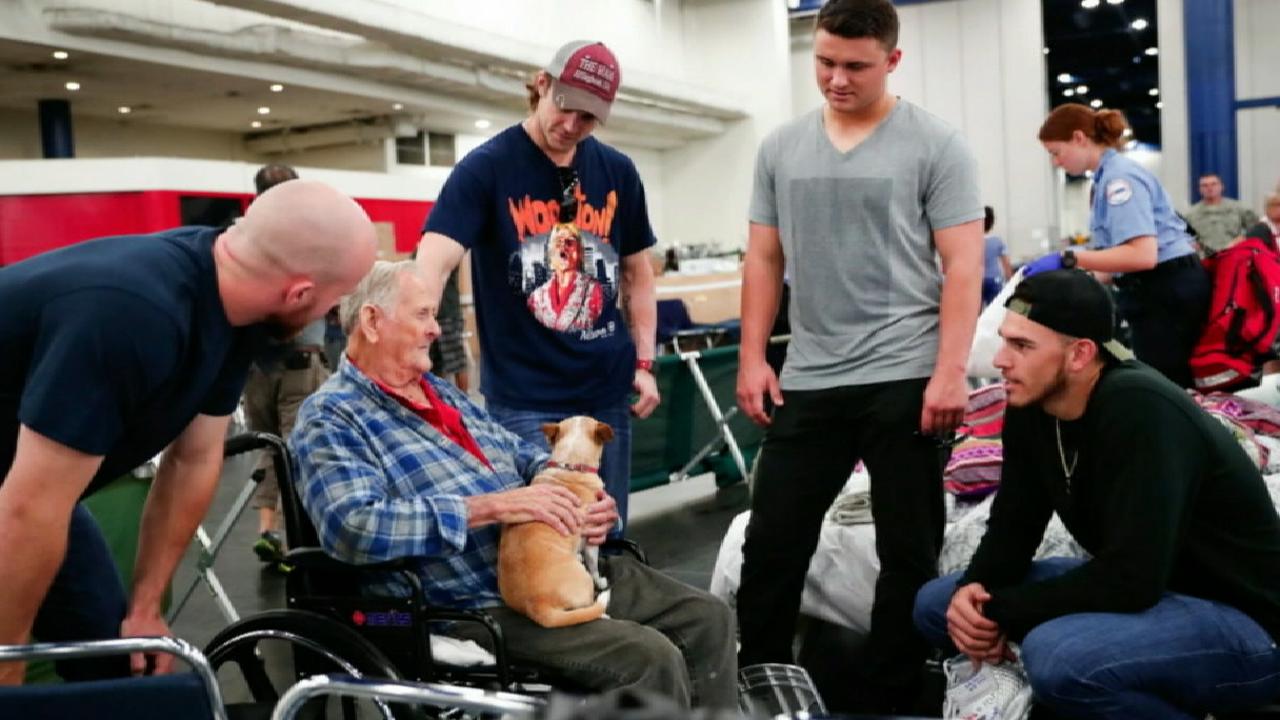 Dodgers outfielder Yasiel Puig is honored for not giving up in his persistent quest to get a baseball into a boy's glove on April 21.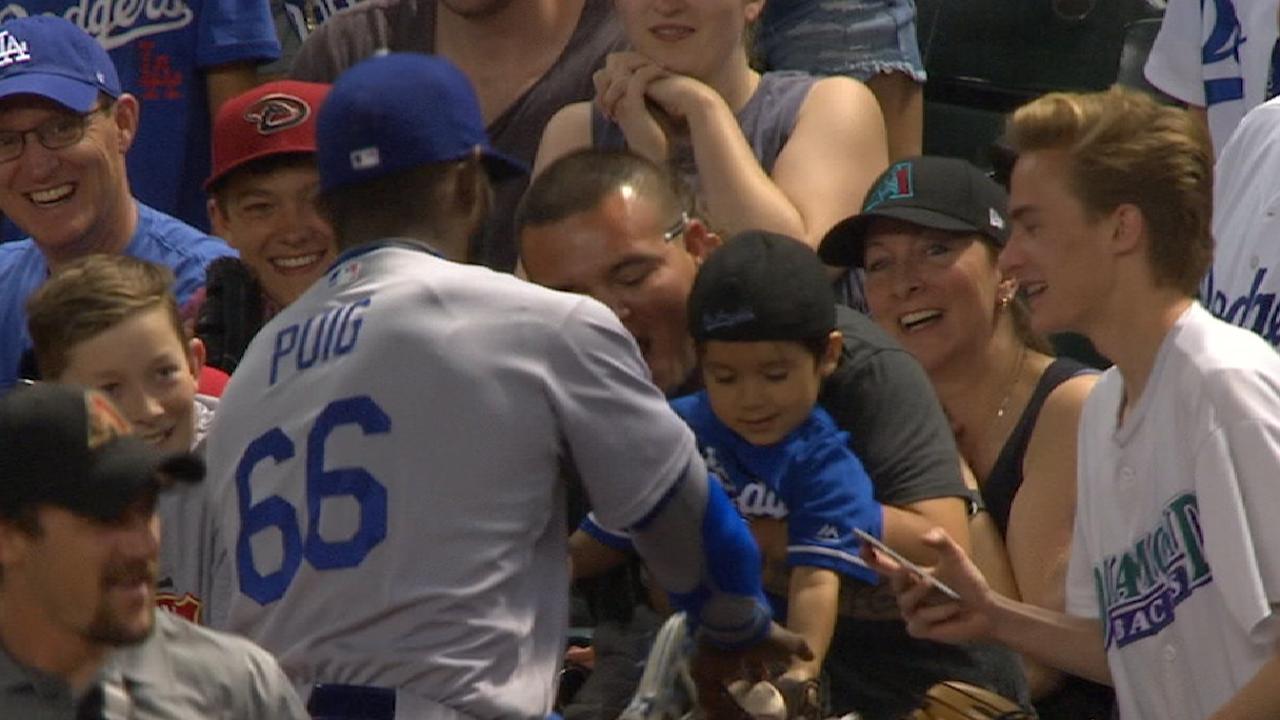 And Tommy Pham and Carlos Martinez of the Cardinals got some love for the love they gave to a host of kids at the first MLB Little League Classic in Willamsport, Pa., on Aug. 20, ordering 200 snow cones so they could beat the heat.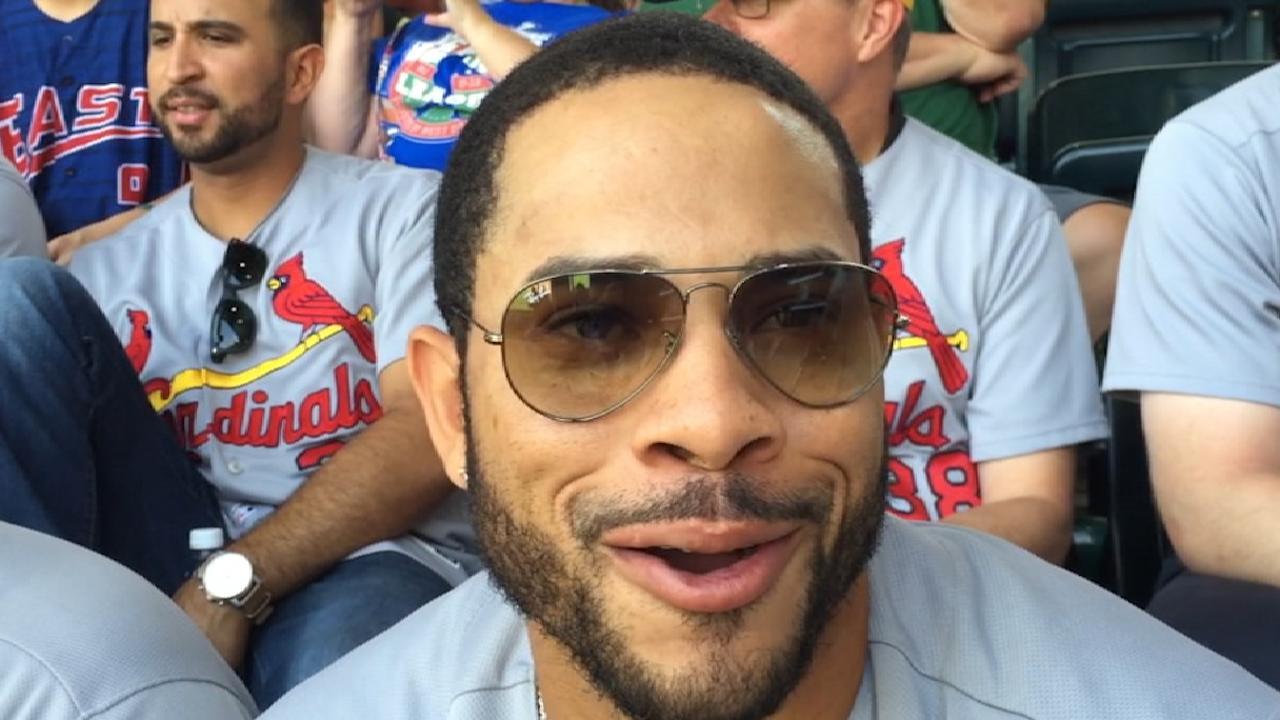 The Esurance MLB Awards annually honor Major League Baseball's greatest achievements as part of an industry-wide balloting process that includes five groups, each of which accounts for 20 percent of the overall vote: media, front-office personnel, retired MLB players, fans at MLB.com and Society for American Baseball Research (SABR) members.
The MLB Awards are an all-inclusive program, encompassing the top players and performances from both the American League and National League from Opening Day through the end of the postseason.
Hall of Famers, team general managers, broadcast-booth legends and you will be among those helping to pick this year's Best Major Leaguer in addition to the winners in the following categories: Best Pitcher, Rookie, Defensive Player, Manager, Executive, Personality, Postseason Moment and Postseason Performer.
One winner in each category will also be recognized for the year's Best Offensive Play, Defensive Play, Single-Game Performance, Fan Catch, Broadcast Call and Player-Fan Interaction.
In addition to the aforementioned categories, a panel of MLB experts will identify and recognize the season's Best Moments and Trending Topics.
The backstory behind the Devers-fan exchange makes it one of the more detailed interactions. Three weeks earlier, the fan had expressed widely-viewed social-media dismay when Devers crushed a ninth-inning homer off a 102.8-mph Aroldis Chapman heater. So naturally it made sense that the two should meet during the next series, and Devers signed his newly-branded hat that recreated the now-famous moment in a rare Red Sox-Yankees summit that transcended rivalry, at least for a few minutes.
Musgrove's interaction came in the midst of harrowing times for the city of Houston. The pitcher visited evacuees at the George R. Brown Convention Center near Minute Maid Park on Sept. 1 along with a large contingent of teammates and Astros personnel, and he had people sign one of his white cleats. Then he wore the cleat in the next day's game to further the spirit of togetherness that continues to help Houston recover.
"I'm thankful the city has a place where people can go," Astros manager A.J. Hinch said at the time. "I'm sad that people have to spend time here because of the devastation. I'm overwhelmed by just the spirit of people playing games with kids to going down to serve food. There's so many people that want to help and so many people that need the help. It's an amazing community to be able to go through this together."
Meanwhile, Puig is already a fan-interaction legend, and he only added to his reputation on April 21 when he refused to be denied in his efforts to place a ball in a very young fan's mitt.
And Pham and Martinez couldn't have picked a better setting or moment to give kids something they'd remember forever -- and enjoy eating -- on a hot day as kids do what they love the most: watch baseball.
After inadvertently spilling a Cardinals fan's nachos when he flew into the stands while trying to catch a foul ball, the Cubs' Addison Russell made it up to the man by bringing him another tray of the cheesy snack and joining in on a selfie. They, too, were nominated for the award.
The MLB Esurance Awards are worth watching, too. Some of the winners who accepted their trophies in person or live on the MLB Awards winners' program last year included Francisco Lindor, David Ortiz, Mike Trout, Anthony Rizzo and Corey Seager, so there's star power everywhere you turn.
Winners will be announced live on MLB Network and MLB.com on Friday, Nov. 17.
Doug Miller is a reporter for MLB.com. Follow him on Twitter @DougMillerMLB. This story was not subject to the approval of Major League Baseball or its clubs.