Stanton launches No. 56 to pad Marlins' rout
Slugger hoping to reach 60 homers, join elite ranks, in remaining 10 games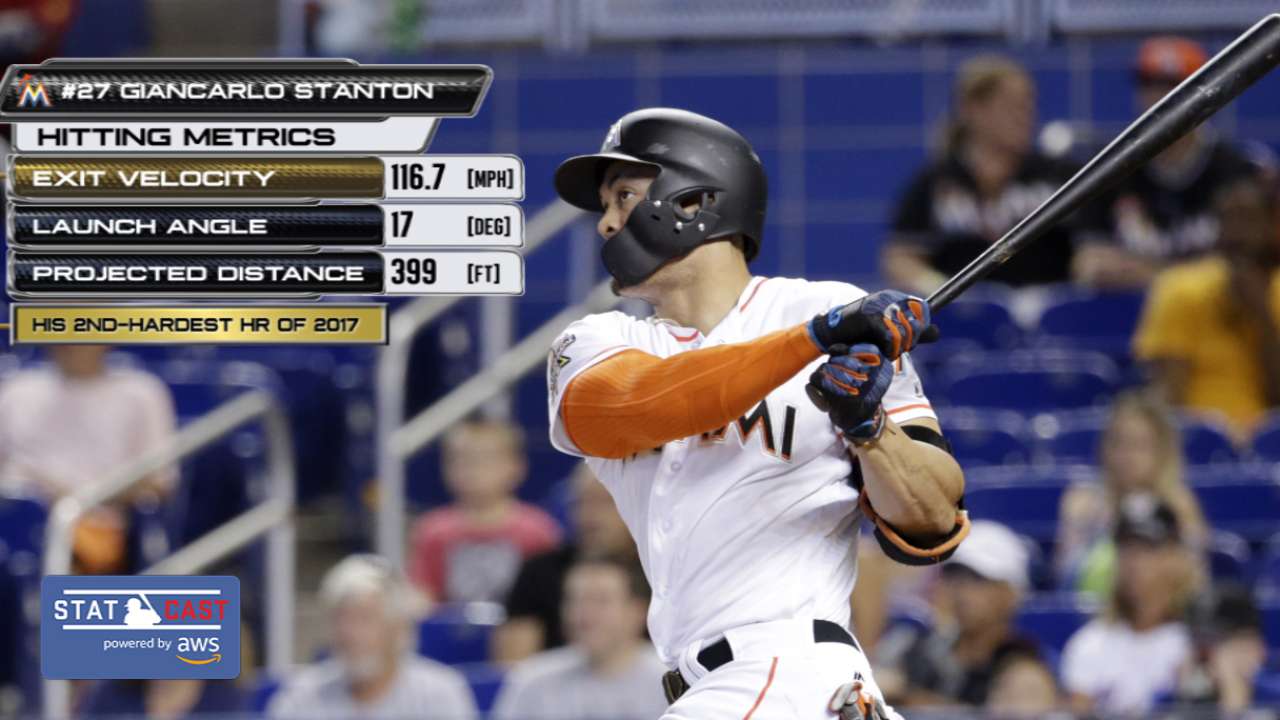 MIAMI -- Giancarlo Stanton hasn't been seeing too many strikes in recent days, but when he does, the All-Star right fielder does damage.
Stanton, who walked four times on Tuesday night, delivered a two-run homer off Erik Goeddel in the eighth inning at Marlins Park on Wednesday. The blast, No. 56, punctuated the Marlins' 9-2 victory over the Mets, completing the three-game sweep.
With 56, Stanton now has 10 games remaining to see if he can reach 60, which would place him in more elite company.
"I like watching it," Marlins manager Don Mattingly said. "I think it's fun to see him kind of get back. He had a little stretch there where he struggled. We're kind of seeing him get back to being more consistent. He takes that base hit to right field today, you know, things like that. It's fun to watch, no doubt about it."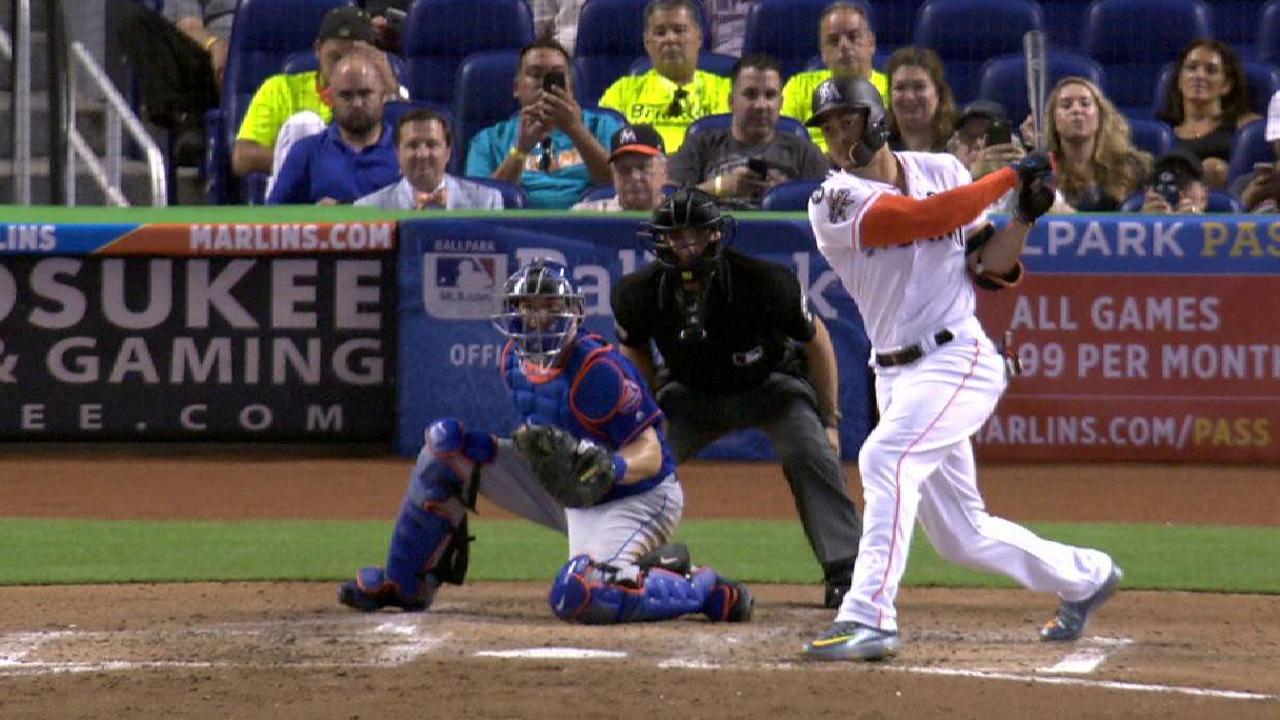 After Stanton belted 18 homers in August, teams have been more careful with him. He's walked 15 times in September, compared to 14 in August.
"The walks are OK," Stanton said. "You can get your timing on those pitches still. It's being smarter and getting pitches out over the plate consistently. They're going to throw everything they've got, and more, to try to get me out. Just stick to my plan and don't worry about theirs."
Stanton had three RBIs on Wednesday, giving him 120 on the season, which is one shy of Preston Wilson's franchise mark (121) set in 2000. The Marlins swept the Mets, and they are now 72-80 with a three-game series at Arizona scheduled to begin on Friday.
The latest Stanton smash was impressive by the fact it was a low liner that kept going. Statcast™ projected the homer at 399 feet, with an exit velocity of 116.7 mph and a launch angle of just 17 degrees.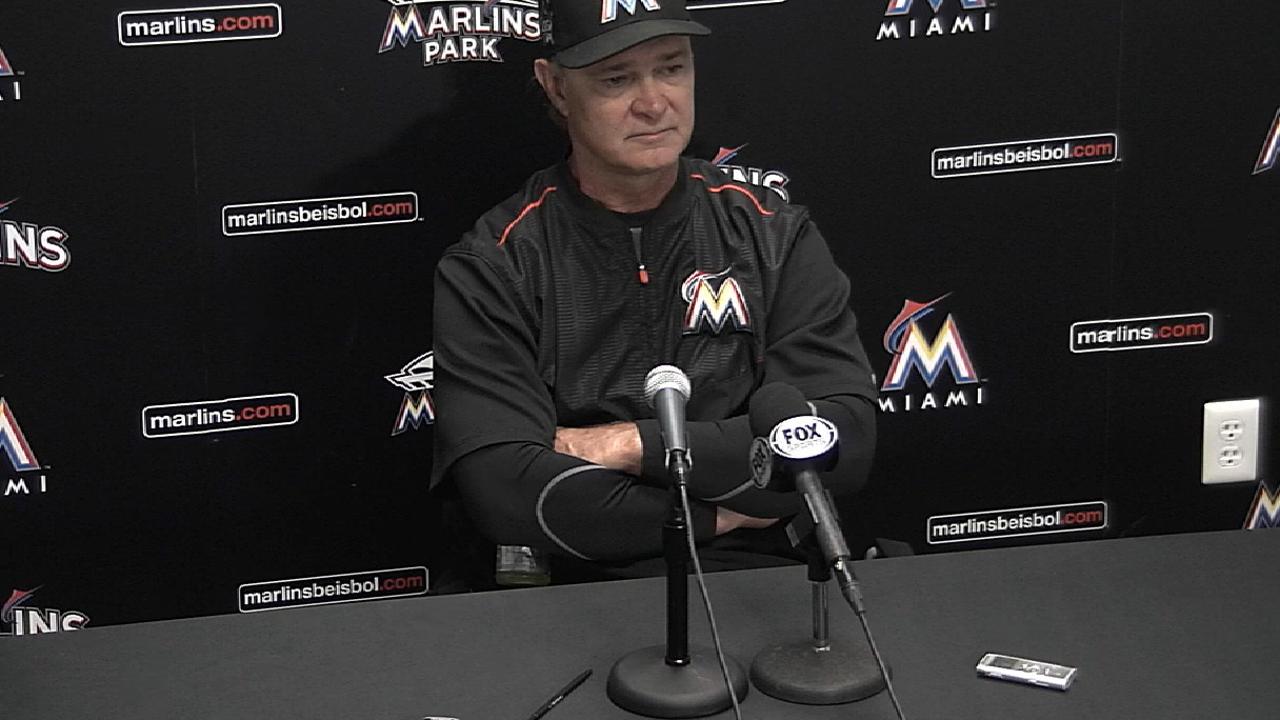 Stanton's laser came off Goeddel's 78.2 mph curveball. The only question was if it had enough height to clear the wall.
"That one had a motor on it, it kept going," Stanton said. "The curveball already has that backspin that you need. You've got to clip it."
The exit speed was Stanton's second-hardest-hit homer of the season, and it's in the top eight in the Majors. Aaron Judge of the Yankees has six of the top eight home run exit velocities, with Stanton claiming the other two.
Stanton's 56 homers are the most in the Majors since Ryan Howard finished with 58 for the Phillies in 2006. The 60-homer mark has been reached just eight times. Barry Bonds set the MLB single-season record with 73 in '01.
In MLB history, a player has reached as many as 56 homers 19 times, and that figure has been achieved six times since 2001 -- Stanton, Bonds ('01), Sammy Sosa (64 in '01), Howard ('06), Luis Gonzalez (57 in '01) and Alex Rodriguez (57 in '02).
Stanton has now homered eight times off Mets pitching this year, which sets a Miami single-season record against New York. Wilson held the previous high, with seven in 2002.
Stanton now has 30 home runs in 63 games since the All-Star break, and at Marlins Park this year, he has gone deep 29 times. The last player to have 30 after the break was Jose Bautista of the Blue Jays in 2010.
"We all said, 'If he ever stayed healthy, he's going to hit a ton of home runs,' and he's showing that that's exactly the case," Mets manager Terry Collins said. "I think it's great that he's been able to stay on the field this year and show everybody in baseball that he's truly the ultimate power hitter in our sport."
Joe Frisaro has covered the Marlins for MLB.com since 2002. Follow him on Twitter @JoeFrisaro and listen to his podcast. This story was not subject to the approval of Major League Baseball or its clubs.