Myers' adjustments leading to success, results
Padres first baseman notches two hits in win vs. D-backs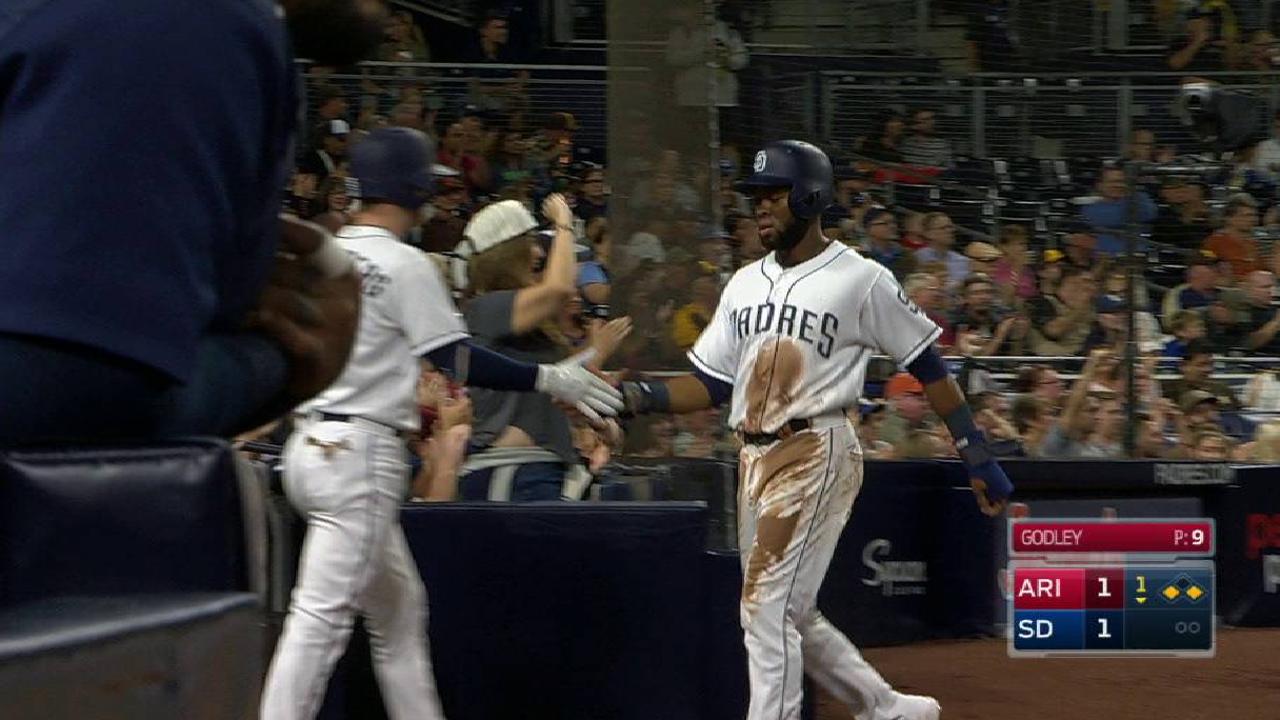 SAN DIEGO -- As Wil Myers seeks to break a habit, he's forming ones providing hope that his season-long slump may have reached its end.
Myers went 2-for-4 in San Diego's 6-2 victory over Arizona on Tuesday, continuing a torrid September that has the Padres first baseman looking more like the All-Star he was in 2016. After hitting .233 through August, Myers is 20-for-60 in September. He has seven multi-hit games this month, after having eight in July and August combined.
"I felt really good in the box today, one of the best I've felt all year," Myers said. "It's great just to see some results come back. I've been working like crazy this year to try to find something."
Myers still has areas that need improvement, evidenced by Tuesday's first inning. After smoking a liner to left with two runners on, Myers prematurely entered his home-run trot. When the ball clanked off the wall, Myers, measured by Statcast™ as baseball's fastest first baseman, lacked time to speed toward second, settling for a long single.
Manager Andy Green counted it as the third time Myers admired a stroke off the wall that ended with a single, saying he and Myers have discussed the franchise player's observance "multiple times." Ironically, Myers later started a three-run rally in the third with a hustle double.
"He could've had two doubles today," Green said. "He gets to where he spectates, and it's something that he can turn the page on. He flies. He's the fastest guy we've got. … [If he] hits a ball off the wall, it's a double."
Myers refers to it as a habit, "not really a conscious thought." His tendency to think homer is understandable, given he's tied his career high with 28, but he knows it's an issue that needs correcting.
"I think getting out of the box, thinking I've hit a homer, has been a little bit of a problem this year for me," Myers said. "It's one of those things where you've just got to be better and have more awareness of what's going on in the situation, instead of thinking you hit a home run.
"As the Padres continue to get better and continue to improve to what we want to be, I've got to be able to get out of the box better."
Myers' other habits have allowed him to have success with his bat, though. His timing has improved through slowing the game down. Myers is tied for the National League lead with 19 balls hit harder than 100 mph in September, including three Tuesday. Last month, he put 13 balls in play with such an exit velocity.
It's led to results, as Myers already has 10 extra-base hits this month, after posting eight in August. The 10th came Tuesday when Myers grounded a ball the other way and, with no thoughts of a homer, sprinted into second for a double. His next two at-bats ended in outs, but they came on a 103.2-mph grounder and a 109.5-mph lineout.
Myers has finally started to see results in the box. Once he stops having trouble getting out of it, his September success could blossom beyond just a habit.
Nathan Ruiz is a reporter for MLB.com based in San Diego. This story was not subject to the approval of Major League Baseball or its clubs.