Blown lead in 8th eats at veteran Wilson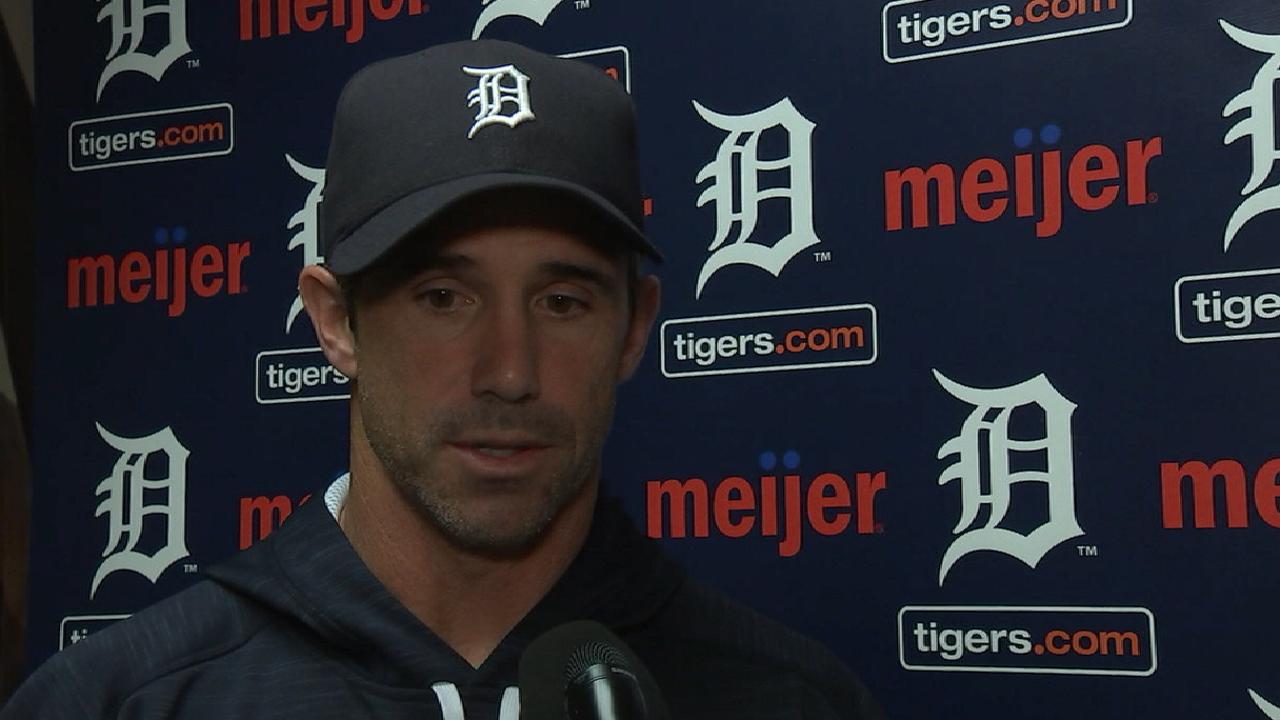 DETROIT -- Alex Wilson saw the plethora of young relievers in the Tigers' bullpen down the stretch and thought of Miguel Cabrera's young son, Christopher, wearing a Teenage Mutant Ninja Turtle backpack earlier in the year.
Instead of trying to figure out which of the Tigers' rookie relievers had to wear the bullpen backpack on which night, he bought them all the same backpacks to wear. So each game, before the first pitch, a parade of a half-dozen turtle shells march out to left field.
It was a fun bonding activity, and a way for Wilson to fill the leadership role of a veteran reliever in a young bullpen. But there's a serious side to that role: He doesn't get many leads to protect these days as Detroit's setup man, but the rarity of them make them valuable to protect.
That's what made Tuesday's 9-8 loss to the A's so tough after Jed Lowrie's grand slam off Wilson put Oakland in front for good. It was the Tigers' 15th loss in 19 September games, but with an 8-4 lead entering the seventh, it was a game they thought they had.
"I expect myself to be able to handle those situations," Wilson said. "I've done it not only this year but in other years. I've been really consistent in my career. This year's had its ups and downs, and this is really frustrating.
"Especially now that I'm an older guy and a lot of younger guys are looking to me for answers and help, you kind of want to lead the way by example, not just with words. Tonight, I wasn't able to do that."
Wilson's struggles began before the Tigers' selloff. He was dominant over his first 25 appearances to the end of May, allowing 16 hits over 24 innings with 10 holds in 11 opportunities. He has a 6.25 ERA over 40 appearances since May 31, including 52 hits over 36 innings.
Initial theories was possibly overwork. But as the Tigers traded away veteran pieces, Wilson actually gained rest. With fewer leads to protect, he hasn't pitched back-to-back days since Aug. 4-5, and he's had more stretches with three or more days of rest in September than he's had with just one day off.
It's good for his arm, but there's a catch.
"For me, it's the downtime between each game," Wilson said. "I'm used to throwing 4-5 days a week, and now I'm throwing once a week. As a reliever, you're kind of a creature of habit. When you don't get the consistent work, you fall into some bad habits. Just the feel of the game is different when you're in there once or twice a week."
The wins and losses don't mean as much in the standings, either. But they mean plenty to the mindset.
"The nature of a back-end reliever or a closer or a setup man, they pitch only in close games," manager Brad Ausmus said, "and if they have an off-day, you generally lose the lead or it becomes sketchy."
Wilson inherited a bases-loaded jam and allowed one run in the seventh, but stranded the bases loaded, striking out Matt Chapman on back-to-back fastballs and getting Matt Joyce to fly out. Once he came back for the eighth, a leadoff single out of Jose Iglesias' reach started a parade of hits.
"I actually thought I was making pretty good pitches, to be honest," Wilson said. "They did a good job of putting the bat on the ball and it went in the right spot."
Line-drive singles from Franklin Barreto and Chad Pinder loaded the bases for Lowrie, who had faced him just twice in his career, but had seen enough to look for a cutter.
"I think Lowrie was sitting cutter," Wilson said. "And I just kind of threw it right into the wheelhouse when you're sitting cutter, unfortunately."
Jason Beck has covered the Tigers for MLB.com since 2002. Read Beck's Blog, follow him on Twitter @beckjason and Facebook. This story was not subject to the approval of Major League Baseball or its clubs.