Astros' bullpen hitting stride at perfect time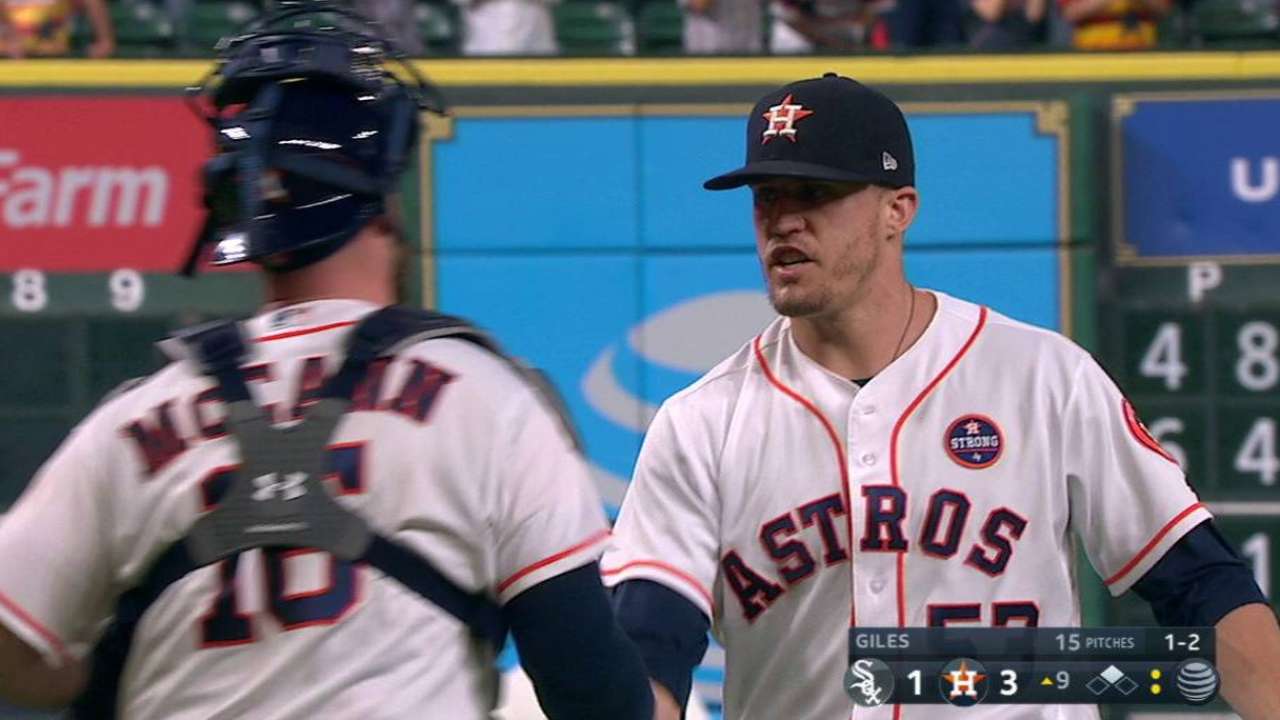 HOUSTON -- Perhaps the Astros' bullpen is starting to hit its stride when it matters the most. Four relievers -- Will Harris, Chris Devenski, Luke Gregerson and Ken Giles -- combined to strike out nine and allow one hit in four scoreless innings behind starter Collin McHugh in the Astros' 3-1 win over the White Sox on Tuesday night at Minute Maid Park.
The bullpen, which entered Tuesday with an MLB-worst 7.66 ERA in September, will be a key part of the Astros' success in the postseason. Houston clinched the American League West on Sunday and is aiming for the best record in the AL.
"Slowly but surely, these guys are getting good," manager A.J. Hinch said.
To be fair, 29 of the 42 earned runs Astros relievers have given up in September came during a disastrous four-game sweep at Oakland earlier in the month. The bullpen also allowed five runs in a win over the Mariners on Saturday.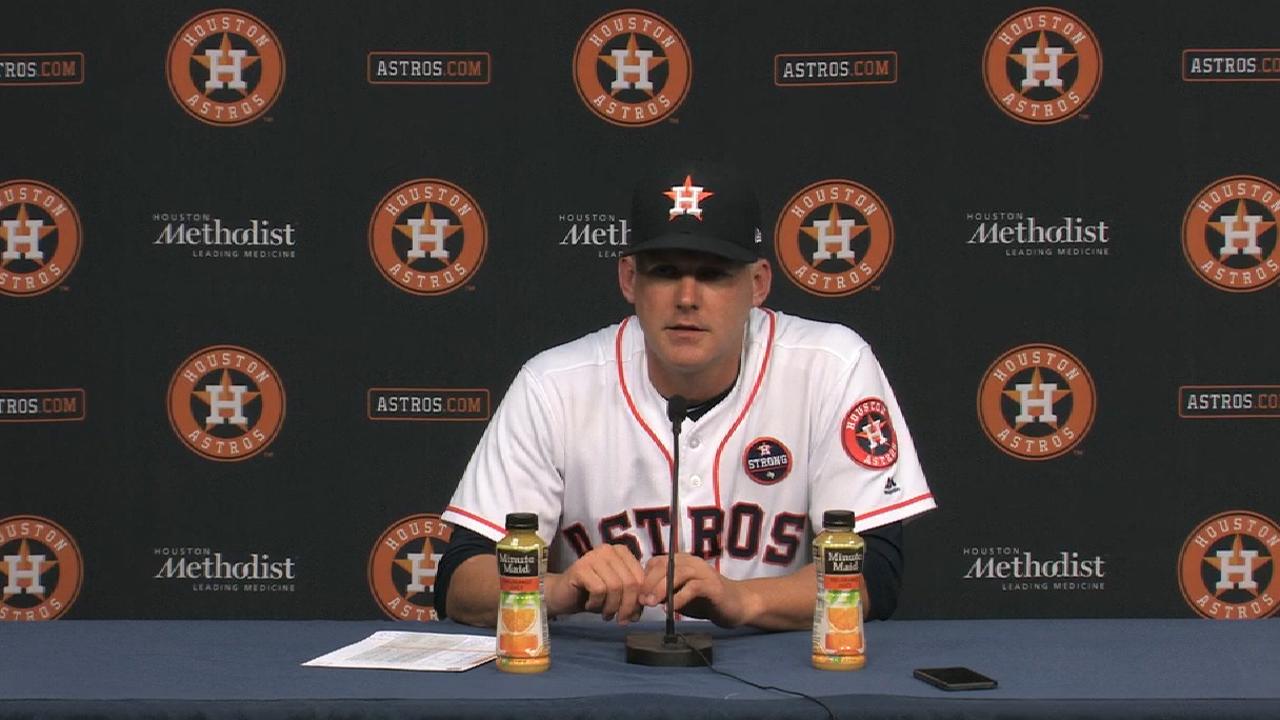 "I know I have a lot of faith and trust in these guys," Hinch said. "They're going to be important down the stretch if we want to win as many games as we can in the regular season. I know they're going to be very, very important in October, and we have a lot of options, and I think that the more that we can instill some confidence in these guys and get some regular work out of some of these guys, the better they'll be."
Harris worked a scoreless sixth before Gregerson struck out two of the three batters he faced in the seventh. Devenski struck out the side in the eighth, also issuing an intentional walk, and Giles gave up a single in the ninth but struck out three for his 32nd save.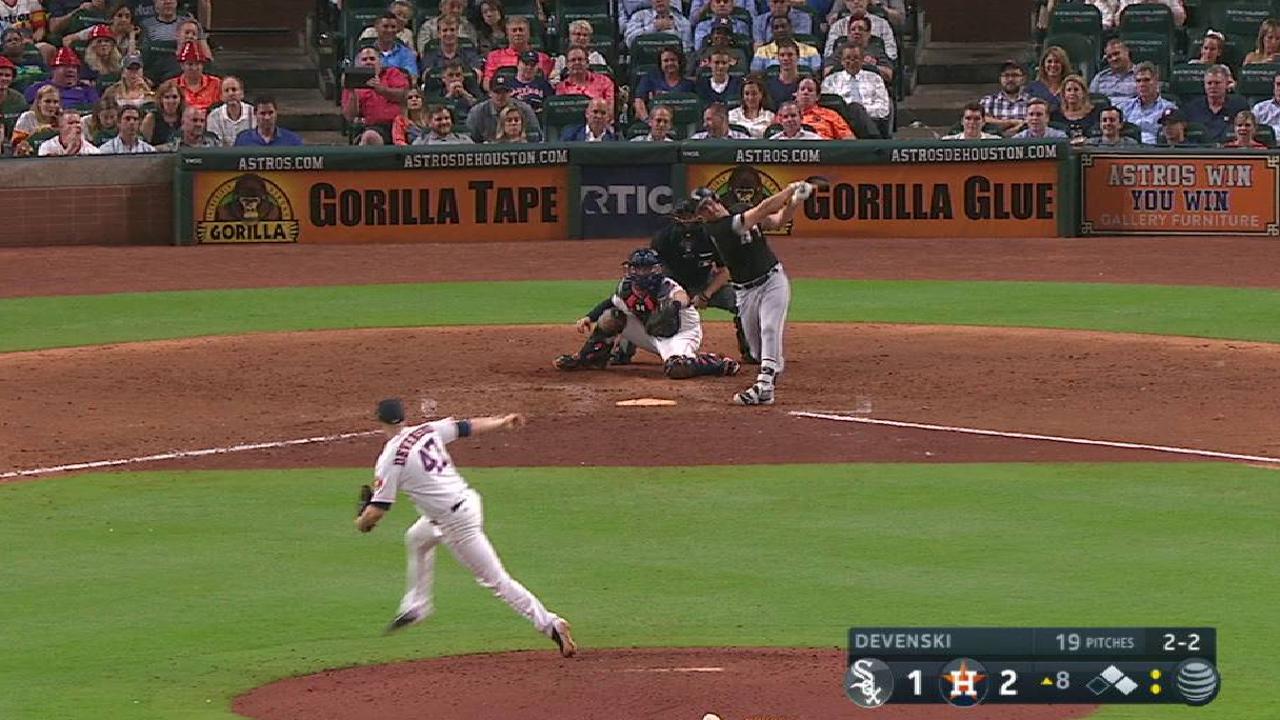 "We're trying to find a way to get better every day and not really perfect everything, but make everything a little bit better than before," Giles said.
Harris figures to be a weapon in October if he's effective. Tuesday marked his seventh outing since he missed six weeks with inflammation in his right shoulder, and he said he's starting to finally feel like himself again. His velocity was up, and the power on his breaking ball was good.
"It's a work in progress, for sure," Harris said. "I took a lot of time off. Today it felt good to pretty much put the ball where I wanted, for the most part, and [shortstop] Carlos [Correa] made a great play behind me. That first out is always big for a reliever to settle in. Yeah, I was happy with it, keeping the score what it was -- 2-1 at the time -- and Devo and Luke and Kenny did their job after me. I thought it was great."
Brian McTaggart has covered the Astros since 2004, and for MLB.com since 2009. Follow @brianmctaggart on Twitter. This story was not subject to the approval of Major League Baseball or its clubs.