In big moment, Ichiro stays the same
Hitless in 4 at-bats, veteran comes through with two outs in 9th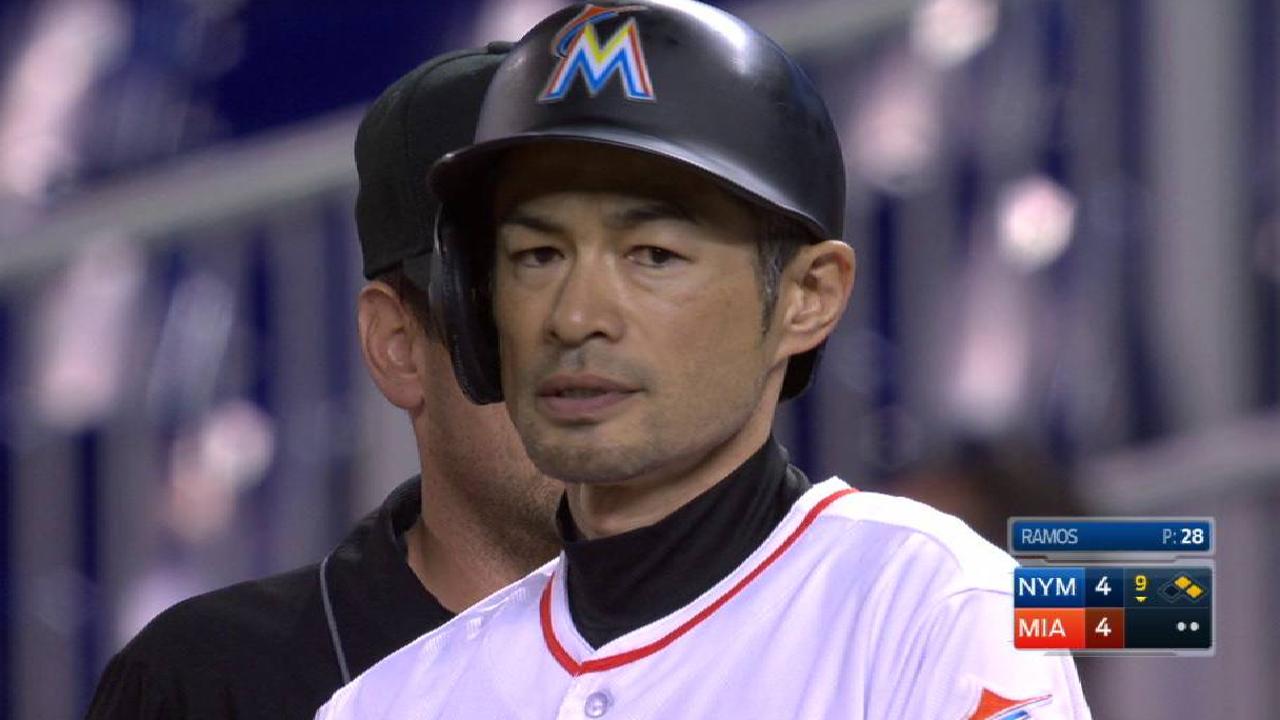 MIAMI -- To Marlins manager Don Mattingly, there is no real mystery as to why Ichiro Suzuki has had a Hall of Fame-worthy career. The 43-year-old outfielder has the ability to make the most stressful situations seem simple.
Ichiro came through yet again on Tuesday night with a two-out, RBI single in the ninth inning that extended the game to extra innings. The Marlins ended up celebrating a 5-4 walk-off win on J.T. Realmuto's home run in the 10th inning, which was made possible by Ichiro's timely at-bat.
"I think Ich's at-bats are always the same," Mattingly said. "That's why he's been so great for so long. It doesn't really matter the situation, he's going to hit the same way. I think the fact he didn't have any hits to that point didn't change his way of what he's trying to do up there."
Getting the starting nod in left field because Marcell Ozuna was given the night off, Ichiro led off and was hitless in four at-bats before he faced closer AJ Ramos with two outs in the ninth inning.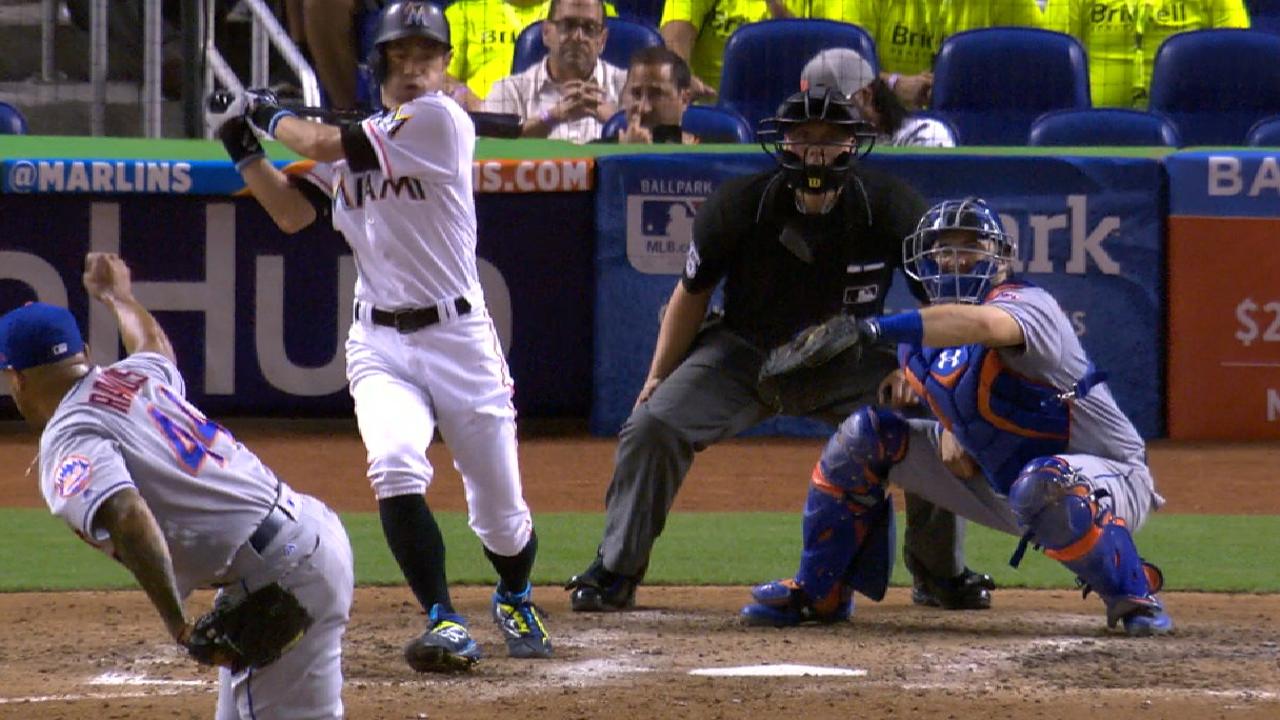 Ichiro sliced Ramos' 94.9-mph fastball over the reach of shortstop Jose Reyes, who made a leaping attempt. The hit scored Brian Anderson, and the Marlins competed a three-run rally in the ninth.
Statcast™ had Ichiro's exit velocity at 87.7 mph, but it had a 12-degree launch angle, putting it just out of Reyes' extended glove.
On a night Major League Baseball witnessed the most home runs ever in a single season, Ichiro is a throwback reminder that executing the basics with precision still has a place in the game.
Ichiro doesn't always aim to generate the most exit velocity, meaning he is perfectly fine with slicing the ball or decreasing the speed of the ball to produce a hit.
The ninth-inning single gives Ichiro 3,079 MLB hits, moving him within two of Cap Anson (3,081) for 21st place all-time, according to the Elias Sports Bureau.
Ichiro is winding down his third season with the Marlins, and it remains to be seen if Miami will exercise the $2 million club option for 2018. That will be addressed in offseason, and after the new ownership group, headed by Bruce Sherman and Derek Jeter, takes over.
To Mattingly, a big reason why Ichiro is a future Hall of Famer is because he repeats his approach, no matter the situation.
"It's simple," Mattingly said. "It's like he's pretty much having the same at-bat all the time. Obviously, he's got some sort of plan with different guys. But in general, what you really want your guys to get to, is what Ich is. It's where the at-bats are always the same. Whether it's Spring Training, or at the beginning of the season, or if you're 10 runs down or 10 runs up, or the game is on the line. If you look at his at-bats, if you break them down to the simplicity part of them, they're the same. You're still looking to get a pitch to hit and hit it hard somewhere."
Joe Frisaro has covered the Marlins for MLB.com since 2002. Follow him on Twitter @JoeFrisaro and listen to his podcast. This story was not subject to the approval of Major League Baseball or its clubs.