Fantasy411 Podcast: Investing in Hoskins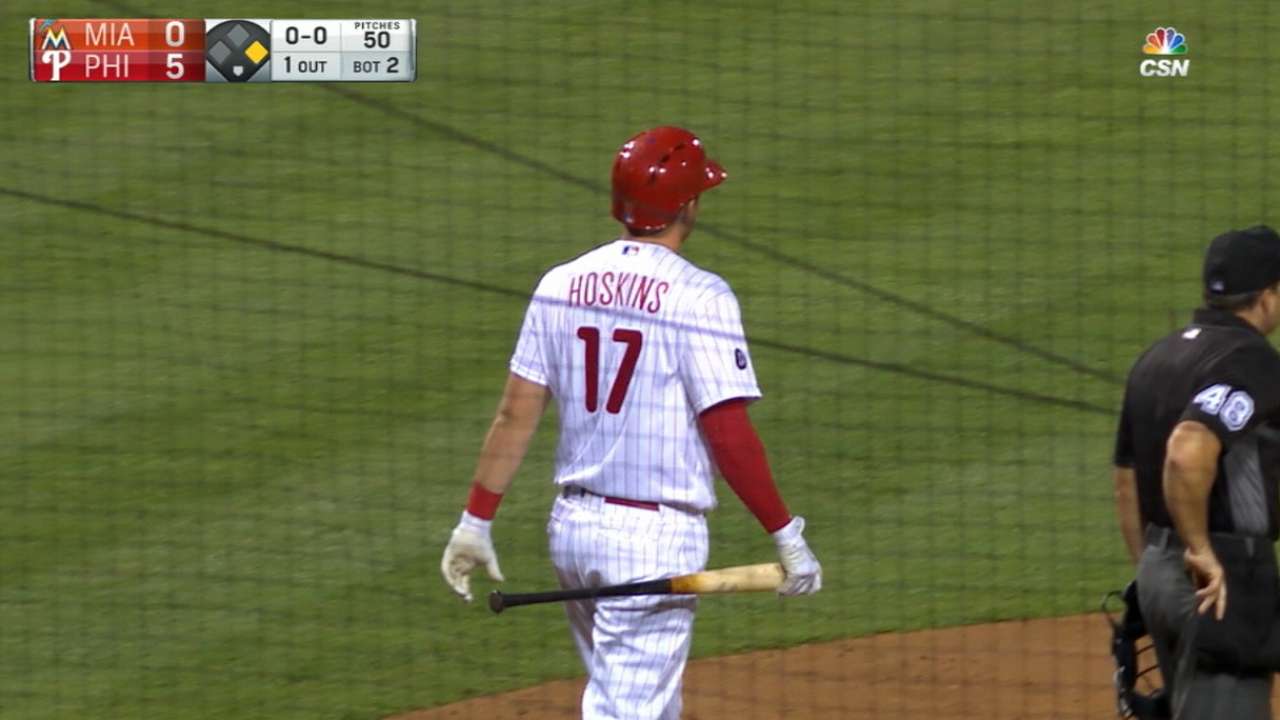 The following is a transcript of a segment from this week's Fantasy411 podcast, hosted by MLB.com lead fantasy writer Fred Zinkie and national editor Matthew Leach. To hear the rest of their discussion, subscribe to the Fantasy411 podcast by clicking here.
Leach: We move onto another of the biggest stories of the year. Rhys Hoskins took a brief breather, about a week, where he wasn't crushing everything thrown to him. Now he's crushing everything thrown to him again these last few days. He is slugging .784 in 33 Major League games, and he has 46 home runs in 618 professional plate appearances this year between Triple-A and the Majors. I understand, I know that is not a thing, but the dude has hit 46 home runs this year. That is ludicrous power, and even though I wrote a thing a couple of weeks ago noting he's done a lot of damage against slop, or at least he had over his first 10-12 home runs. I think there will be an adjustment to him, but that kind of power is rare. There's 30-home run power, there's Logan Morrison and Justin Smoak, and there's guys with the ability to do what he's doing. He hit 38 in Double-A last year. This is big power from a guy with a sense of the strike zone. That's the other thing, he's got almost as many walks as strikeouts in the big leagues this year. I think he's a really intriguing guy, and again, the question is not, "Do you want him now?" because, yeah. The question is: "How high do you have him going into '18?"
Zinkie: That really depends on whether you view him as, you said, a Logan Morrison or Justin Smoak-type 30-home run player, or do you view him as special, someone who can go in the high 30s, 40 home runs. Or who can combine a 30-something-home run season with a .300 average. I am pretty sold on him. I will make the comparison to Gary Sanchez last season, just in the sense that "OK, Hoskins isn't going to hit home runs at this rate in a full season, otherwise he breaks the home run record next year." And Sanchez last year, 20 home runs, 201 at-bats, 53 games played. Similar home run-to-fly ball percentages -- Hoskins is at almost 40, Sanchez's last year was exactly 40. If you look at what Sanchez has done this year, 30 home runs in 419 at-bats, so people who heavily invested in him expecting a little bit of game regression but still expecting him to be great, they've gotten what they paid for. And with Hoskins, I think there's so much to like here -- 26 strikeouts and 24 walks. He's hitting .310 with a .257 BABIP, I know he's getting a lot of fly balls, but he's not even getting great luck on batted balls as far as batting average goes. This profiles as someone who can hit you 35, maybe 40 home runs, and could also hit .300, can drive in 100 runs. Unless he really craters in the last few weeks, I think he gets into the first five rounds of drafts next season, just like Sanchez did this year.
Leach: The thing about Hoskins is I don't hate his circumstances for next year. I think that's a thing to remember where you think, "OK, they're not very good, maybe he won't have many chances to drive in runs," but if you take a deeper look, it's a really good park to hit, there are some good hitters in that lineup and it's starting to come together a little bit. You can kind of see what they like. It's not going to be anything like the worst lineup in the league. And the Braves, the Marlins -- these are not going to be dominant pitching staffs. The Nationals will be, the Mets might be, but I don't hate his circumstances for next year, so all of the things you kind of put together, along with liking both the raw power and the strike zone judgement, he's a really exciting player. And I'm sort of coming around a little bit from my own stance, which was pouring a little bit of cold water on him because what he was hitting early. I'm kind of coming around on him.
Zinkie: I'm going to give you an interesting comparison for him that I was thinking about the other day. Now, obviously Cody Bellinger will run away with the [National League] Rookie of the Year Award; he's been up almost all year and doing great things. But for next year's drafts, are they in the same breath? Because Hoskins is arguable a better candidate to hit .300 than Bellinger, because he strikes out less often. Bellinger has a better supporting cast, but I think Hoskins is showing enough to expect 30 home runs and 100 RBIs. Are they in the same breath? Could they be in the same round next year?
Leach: I think they are at least closer than a knee-jerk reaction would probably put them.
Zinkie: And is Aaron Judge still way ahead of both of them? Or has this second half and all the strikeouts and the concern that maybe if things don't go well next year with Judge, you get a .250 hitter? Is he still way ahead of them or not? That was the thing, I think Judge is still ahead of them, because the power has proven to be so impressive, but I think it's a legitimate talking point right now.