O's not planning to shut Bundy down for '17
Young righty endures 2nd rough outing in past 3 starts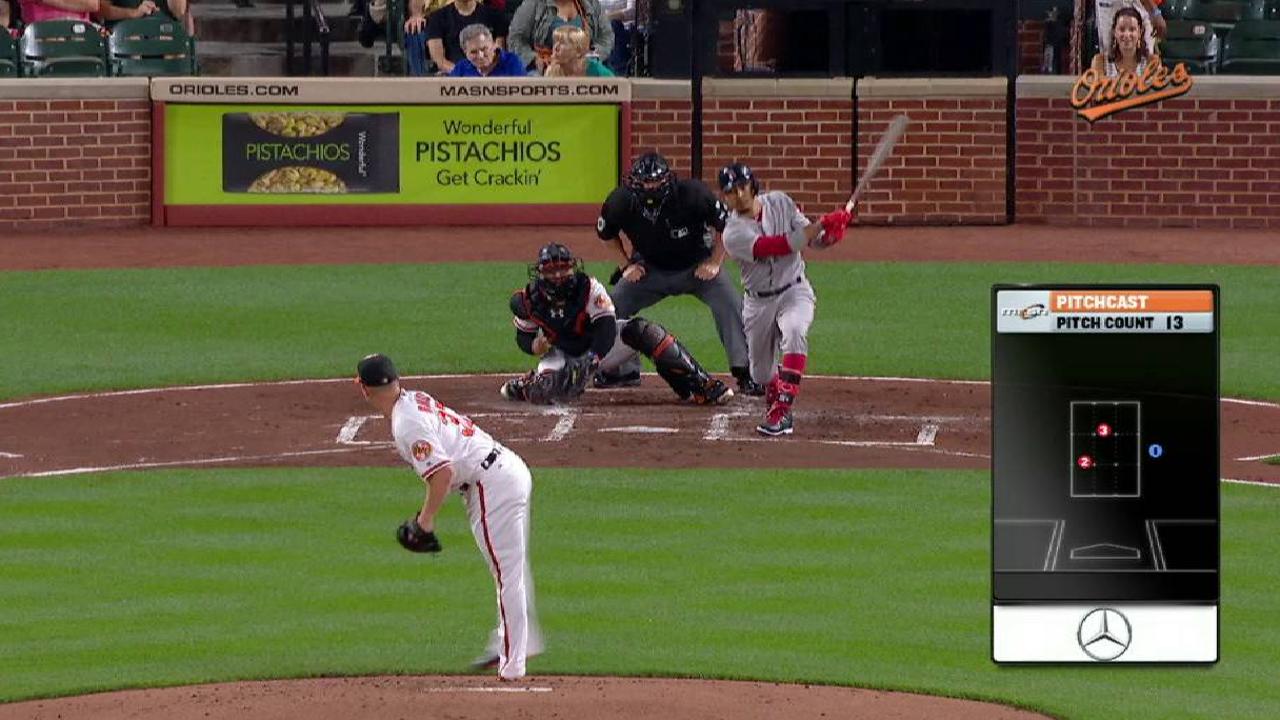 BALTIMORE -- Dylan Bundy said he let one inning slip away in Monday's 10-8, 11-inning loss against the Red Sox. And that could very well be the case.
Still, as the Orioles righty hits 169 2/3 innings in his first full season in a big league rotation, it's fair to wonder how many more starts the O's plan on giving Bundy.
"No, I don't think we're at that point yet," manager Buck Showalter said of shutting Bundy down. "Stuff's fine, he feels great between starts, he's getting extra days' rest. As long as we think it's beneficial for him and the club, then we'll continue down that path. But we're not at that point yet."
The O's have tried to get Bundy prolonged rest as the righty has a 2.68 ERA in six starts in which he's received six or more days of rest. Bundy posted a 3.73 ERA in the first 16 starts, with nine quality starts in his first 10 outings as he quickly established himself as the club's ace.
Could fatigue be settling in?
"I mean, it could, yeah," Bundy said. "But it doesn't matter. It's September. Everybody is tired right now. So, you've just got to battle through it and work on it in my next bullpen [session] and get ready for the next one."
The 24-year-old, who started last year in the bullpen, pitched 109 2/3 innings in 2016. And, while the O's haven't publicly mentioned a number they'd like him to reach this season, the thought was giving Bundy extra rest throughout the season would keep him pitching in September and October, if necessary. But as Baltimore's playoff hopes have taken a hit, the question looms: should they shut Bundy down early?
"Dylan is very mature about it. I think he trusts us and we trust him with where we are about it," Showalter said. "Every time we want to go, 'OK, was it something other than just [stuff]?' Sometimes guys don't feel great and don't pitch particularly well, too. It also has something to do with facing a really good team, one of the best teams in the American League. That has something to do with it, too. They are hard to get out."
Consider this: two of Bundy's roughest outings -- Monday's 4 1/3 innings and the four innings Sept. 4 -- have come when he's received five or fewers days of rest.
The Red Sox had no trouble with Bundy the second time through the order, erasing a 6-1 deficit in a six-run fifth that quickly spiraled out of control. Bundy, who was charged with six runs on seven hits, saw his season ERA raise to 4.24 as he didn't get out of the fifth for the second time in three starts.
"It was just that one inning," Bundy said. "I let things slip away from me. I didn't really limit the damage very well, obviously. I was just leaving balls over the middle of the plate and they made me pay for them."
Brittany Ghiroli has covered the Orioles for MLB.com since 2010. Follow her on Facebook and Twitter @britt_ghiroli, and listen to her podcast. This story was not subject to the approval of Major League Baseball or its clubs.