Dodgers open with back-to-back HRs in Philly
Taylor hits inside-the-parker, Turner follows with liner into LF seats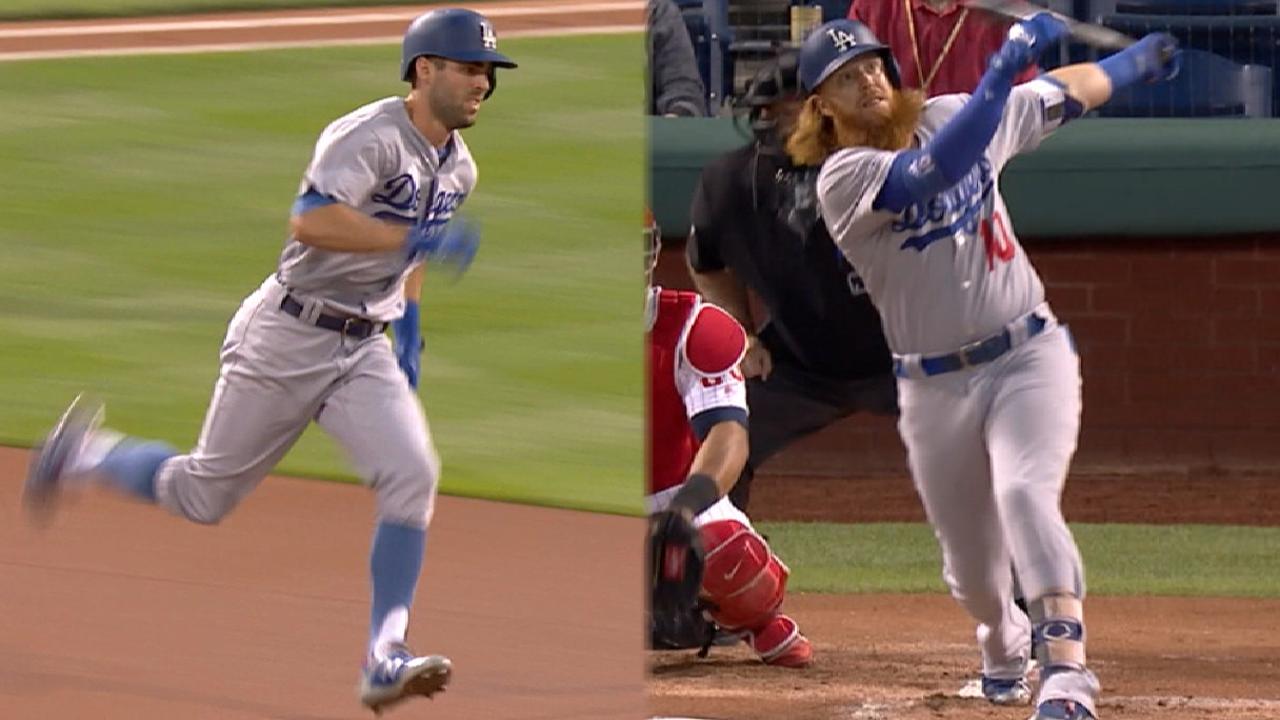 Taylor's wind-blown home run caromed off the metal guardrail in front of the center-field bleachers and took a fortuitous bounce toward left field. Running hard all the way -- "I thought it was going to be a deep flyout, I thought I got under it too much," he said -- Taylor stepped on second as the ball first bounced on the outfield grass after the crazy carom.
Taylor circled the bases in 15.40 seconds, the seventh-fastest home-to-home time on any play this year, and third-fastest on a home run (Byron Buxton's 13.85 seconds and Michael A. Taylor's 15.04 were faster), according to Statcast™.
It was the first inside-the-park homer of Taylor's pro career.
"I saw the kick it took, and I had a pretty good idea," Taylor said. "It's exciting, I was still running hard just in case, but I was pretty sure I had it."
Off the wall and off to the races!@Dodgers leadoff man Chris Taylor circles the bases in 15.40 seconds, 3rd-fastest time on a HR in 2017. pic.twitter.com/FeepPfZkEm

— #Statcast (@statcast) September 18, 2017
It was Taylor's 20th home run, giving the Dodgers five players with 20-plus homers, along with Cody Bellinger, Yasiel Puig, Corey Seager and Turner, who hit his 21st. Yasmani Grandal has 19.
The last Dodger to hit a leadoff inside-the-park homer in the first inning was none other than current Dodgers manager Dave Roberts on Aug. 9, 2003. Off the top of his head, he remembered it well, even down to the pitcher he hit it off of (the Cubs' Matt Clement) and the fielder involved.
"Fastball, shot it down the left-field line at Dodger Stadium," Roberts recalled. "It just kind of went around, Moises Alou botched it, and a young Dave Roberts was running around the bases."
The last time a team hit a leadoff, inside-the-park homer and then the second batter also homered was July 13, 1911, when the Giants pulled it off vs. the Pirates. Josh Devore hit a leadoff inside-the-park homer, then Larry Doyle followed up with another inside-the-park homer.
The Giants' Denard Span had the only other inside-the-park homer in his team's first at-bat this year, accomplishing the feat Aug. 19 at home. Buxton had the last inside-the-park homer to lead off a game, coming Oct. 2, 2016, against the White Sox Chris Sale. The White Sox were the last team to lead off a game with back-to-back home runs, coming on Sept. 2.
Ken Gurnick has covered the Dodgers since 1989, and for MLB.com since 2001.

Ben Harris is a reporter for MLB.com based in Philadelphia.

This story was not subject to the approval of Major League Baseball or its clubs.