Prado not optimistic about return in '17
Veteran's rehab was postponed by Hurricane Irma; Rojas hopes to play this weekend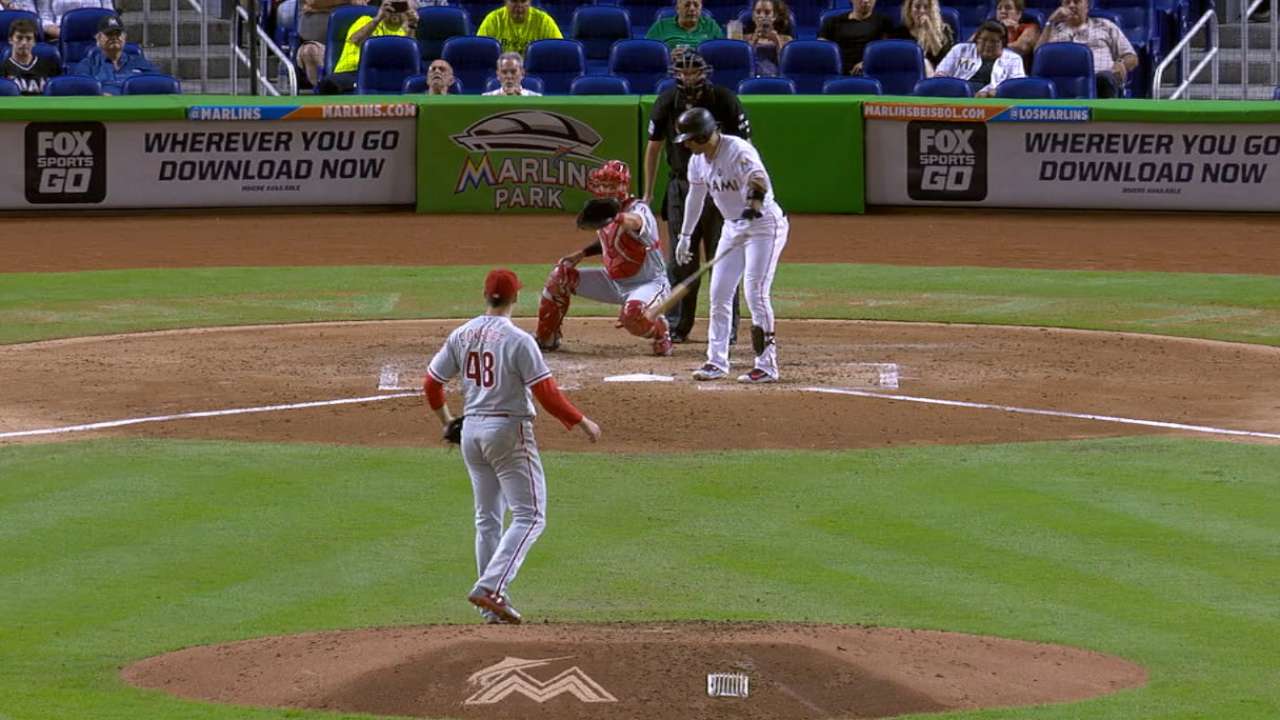 MIAMI -- In what has been a disappointing, injury-filled season, Martin Prado isn't optimistic he'll return during the final two weeks after Hurricane Irma set him back in his recovery from right knee surgery.
The third baseman had just resumed baseball activities before he was forced to put his progress on pause during the storm. He spent the week at his home in Orlando, where he lost power.
"I wasn't able to do anything for a week," Prado said. "It's kind of like I came back to zero."
Now, Prado plans on increasing his workload to make up for the missed time. He said he's working out in the mornings and afternoons, but he won't take the field until he's 100 percent.
"I'm not a guy that's gonna be up there at 50 percent or 60 percent or 70 percent," he said. "I don't think it's gonna be professional to just show myself up there and not perform in the way that I should be performing."
Prado, 33, landed on the disabled list in mid-July with a right knee sprain before undergoing arthroscopic knee surgery on July 28. It marked his third trip this season to the 10-day DL, the first two being separate hamstring injuries in April and May.
If he doesn't return, Prado's 37 games played would match his 2014 mark for fewest games played since 2008. He's slashing .250/.279/.357 with two homers, nine doubles and 12 RBIs this year.
Still, Marlins manager Don Mattingly would like to get Prado back on the field this season, even if it's just in a pinch-hitting role.
"My hope was to get him out there somehow," Mattingly said. "Pinch-hitting, just to play one game. I think that could be valuable, just to know he's ready to go heading into offseason."
Added Mattingly: "We'll play it by ear. There's no reason to have to push it."
Rojas hopeful for return in Arizona
Shortstop Miguel Rojas, who injured his left shoulder diving for a ball Sunday in Milwaukee, will receive an MRI on Tuesday and is hopeful to play in Arizona this weekend.
It's the same shoulder that has given Rojas trouble this season. He took grounders prior to Monday's game against the Mets, and Mattingly said he'll likely be "a little careful" with him this series.
"When I swing it bothers me a little, but I don't think it's anything I can't handle," Rojas said. "It would really be unfortunate to finish the year on the DL after such a long season, especially after coming back from the thumb injury earlier this season."
Patrick Pinak is a reporter for MLB.com based in Miami. This story was not subject to the approval of Major League Baseball or its clubs.