Inbox: Will Dyson return to Seattle in 2018?
Beat reporter Greg Johns answers questions from Mariners fans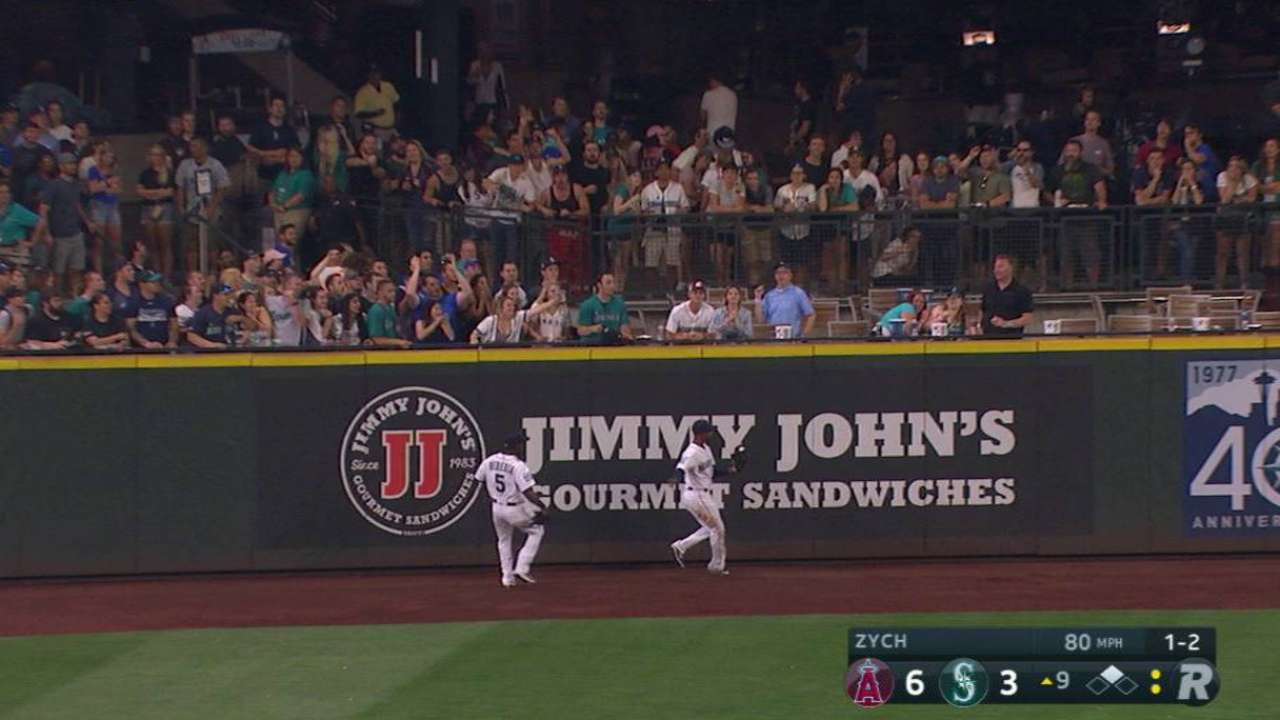 What's going on with Jarrod Dyson and is there any chance he returns to the Mariners next year?
-- Phil R., Bainbridge Island, Wash.
The speedy center fielder underwent sports hernia surgery last Wednesday, with the procedure performed by Philadelphia-based specialist Dr. William Meyers, the same physician who did Robinson Cano's double-hernia surgery two years ago.
Dyson has been recovering on the East Coast, but will return to Seattle this week and begin rehabbing with the Mariners over the remainder of the season before heading home to Mississippi for the offseason. The 33-year-old hits free agency for the first time this winter and the surgery shouldn't affect that as he'll be fully recovered in plenty of time to resume workouts. I think the Mariners will have interest, but where he lands is anybody's guess at this point.
The Mariners just can't seem to get over that hump. What does this team need in 2018?
-- Rick J., Omaha, Neb.
Two things are obvious. Starting pitching and better health. Or maybe just better health with their starting pitching. I think the plan was sound this year, but the season-ending injury to Drew Smyly was a killer and that only accentuated later injuries to Felix Hernandez, James Paxton and Hisashi Iwakuma. I don't know if any team can absorb extensive injuries to their top four starters and remain truly competitive.
The Mariners treaded water pretty well, considering, but to be a legitimate playoff team they'll need to restock the rotation. General manager Jerry Dipoto has already begun that process. Mike Leake looks like he can help and rookies Andrew Moore and Marco Gonzales could be factors if they progress. But it feels like this club needs to go get a top-end starter to really solidify things, given the uncertainty with Hernandez's age and Paxton's health, along with another experienced starter for depth.
Is Hernandez at a downside in his career? Do we ever see a return to King status? Do we look for a new No. 1?
-- Sean Q., Ellensburg, Wash.
Hernandez clearly is no longer at the elite level he held for a decade of dominance in Seattle. Injuries are part of that as he missed nearly four months this season due to bursitis in his shoulder. And when he did pitch, his numbers were among the worst of his career.
Father Time is undefeated and every athlete eventually sees their performance wane. Hernandez is just 31 years old, but he's got a lot of innings on his arm. That doesn't mean he can't be healthy and productive next year if he comes back strong, but I would think it does mean the Mariners can no longer afford to automatically count on him being their No. 1 starter as they've done for so long.
Is it just me or does it seem that the Mariners are giving up home runs at a record pace?
-- Mike H., Fernley, Nev.
It's not just you. When Houston hit four home runs in Sunday's 7-1 loss, that pushed the Mariners past their previous record for homers allowed in a season at 220. But they aren't alone with that issue. The Reds (234), White Sox (230) and Orioles (225) have all allowed more. If the Mariners stay on their current pace, they'll finish with 238 home runs allowed for the year.
Home runs are up around baseball again this year, but the Mariners won't threaten the all-time record set by the Reds last year with 258, though they -- and the White Sox and Orioles -- could all threaten the AL record of 241 given up by the 1996 Tigers.
On the flip side, the Mariners have hit 178 homers, which ties them for 19th in MLB.
Is there any possibility that Dipoto will keep Iwakuma in the rotation next season?
-- Caleb T., Hong Kong
Given Iwakuma only made six starts this year and has since battled shoulder issues that still remain unresolved, it's hard to imagine the Mariners will extend the $10 million club option they hold for his 2018 season. More likely they'll give him the $1 buyout in his contract, though it wouldn't stun me if Iwakuma agreed to return on a Minor League deal and try to compete in Spring Training should he want to remain in the U.S.
How many more years does Nelson Cruz have left on his contract? Can the Mariners extend his deal before it expires?
-- Duane J., Post Falls, Idaho
Cruz has one more year on his four-year deal at $14 million. Certainly Seattle can extend that contract, should both sides agree. But the big slugger will be 38 years old when this deal is done, which makes an early extension risky. Most teams would wait until after the final year to make sure a player that age is still healthy and productive before guaranteeing a lot more money. But Cruz is a player and person the Mariners hold in high regard and he keeps himself in excellent condition, so I'm not going to rule it out.
Did the Mariners try to get Justin Verlander and is it possible he just didn't want to come here?
-- Adam W., Sequim, Wash.
The Mariners made inquiries into all the potential starting-pitching options, including Verlander, but that never got much traction as Seattle didn't really have the prospect package to compete and Verlander reportedly wanted to go to the Dodgers or Cubs and only accepted the Astros deal at the last minute. And, yes, he controlled where he'd go because he's a 10/5 player (10 years in MLB and five with the same team), just like Hernandez would control any trade the Mariners wanted to make if they ever went that route.
Greg Johns has covered the Mariners since 1997, and for MLB.com since 2011. Follow him on Twitter @GregJohnsMLB. This story was not subject to the approval of Major League Baseball or its clubs.