Tigers reflect on OF positioning in near no-no
Statcast metrics give play in ninth inning one percent catch probability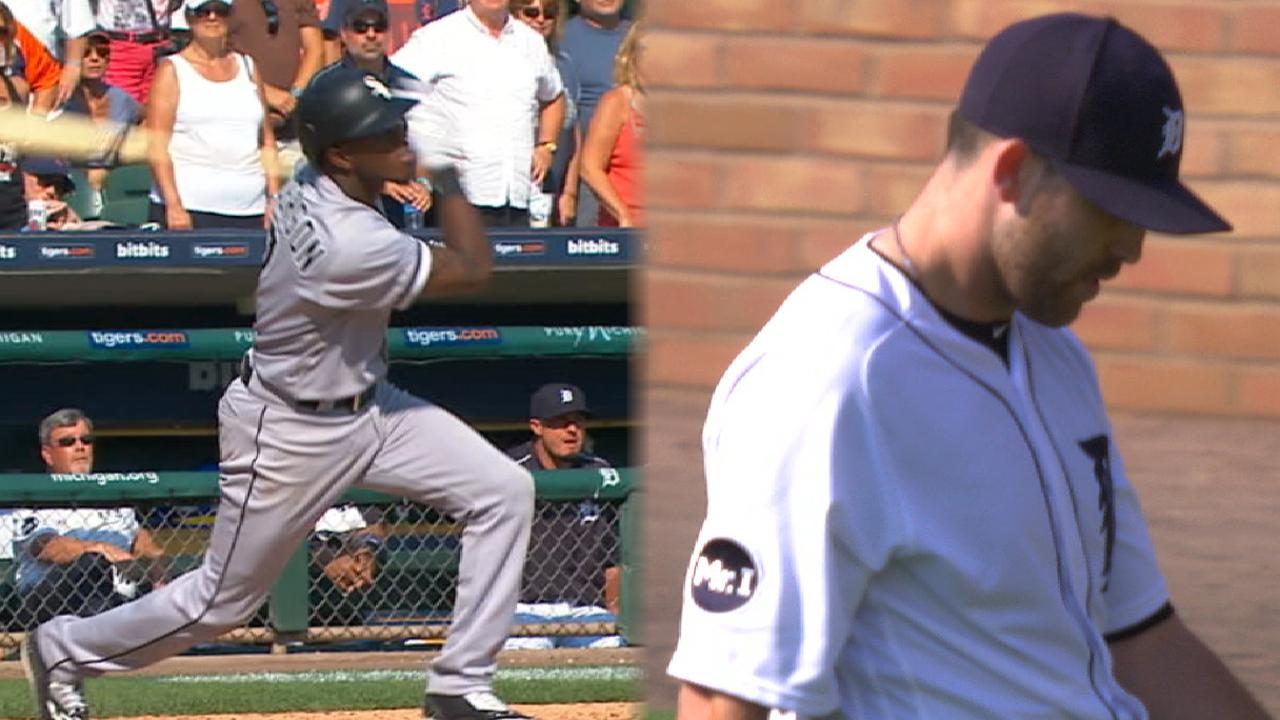 DETROIT -- The question was bound to come up as soon as Tim Anderson's opposite-field double cleared Nicholas Castellanos' head in right field, breaking up Matthew Boyd's no-hit bid with one out to go during Sunday's game against the White Sox at Comerica Park.
Would another right fielder with more experience have caught the ball? And did Tigers manager Brad Ausmus consider a defensive replacement for the ninth inning?
"No one catches that ball," Ausmus said after the game. "It's a bad question. I'm not even going to go there. Nobody catches that ball."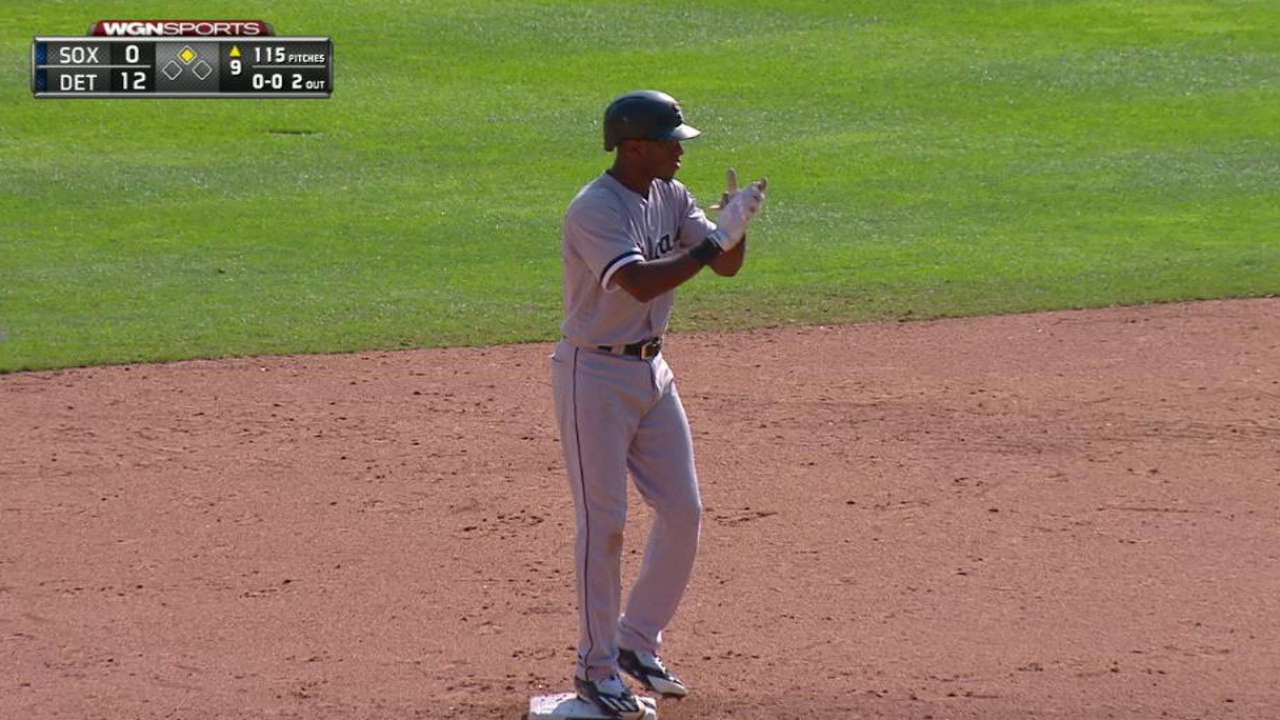 The metrics from Statcast™ support his contention.
Statcast™ has two metrics for balls in play: hit probability and catch probability. The two statistics may seem related, but they're actually independent of each other. Hit probability takes exit velocity, launch angle and location of where the ball lands, and compares it with similar plays to calculate the chances of a base hit. Catch probability judges defensive positioning, how far a fielder has to travel to catch the ball and how quickly, and makes comparisons to similar catches to calculate those chances.
The hit probability on Anderson's double was only 29 percent. But the catch probability was just 1 percent.
The difference comes down in part to defensive positioning.
Statcast™ not only calculates motion, it notes where a fielder is positioned before he moves on a ball. The average starting depth for Castellanos in right field has been 302 feet from home plate. The average depth where right fielders have played Anderson this year is 285 feet.
On that play, the Tigers had Castellanos playing shallow to try to take away a bloop single, so his starting depth was just 277 feet. Anderson hit his double 343 feet, landing in an area where a right fielder playing regular depth would've had a better chance.
If Castellanos had been playing at his average depth, he would've been 25 feet deeper and had way less distance to cover. But he also would've been susceptible to the bloop single, which was what the Tigers were worried about.
"If we play [Anderson] deep, he's much more likely to get a hit," Ausmus said Monday.
As the Statcast™ route map shows, Castellanos cut over before going back on the ball, which cost him time to cover that distance. But even a direct route would've left him doing the same thing at the end, watching it go over his head. At that depth, it would've been difficult for a lot of other right fielders to make the catch as well, though their chances might have been a little better.
Had someone else been in right field, Ausmus said, they would've played at a similar depth to take away the shallow single.
"It's based on the player's [at-bat]," Ausmus said Monday.
As for Castellanos staying in, the strategic answer from Ausmus on Sunday seemed to differentiate between a no-hit bid and a close game. The goal, Ausmus said, was to win.
"Nick's been out there all day. We have a 12-run lead. I'm not defending for Nick there," he said.
Jason Beck has covered the Tigers for MLB.com since 2002. Read Beck's Blog, follow him on Twitter @beckjason and Facebook. This story was not subject to the approval of Major League Baseball or its clubs.