Twins putting trust in Adrianza's improved bat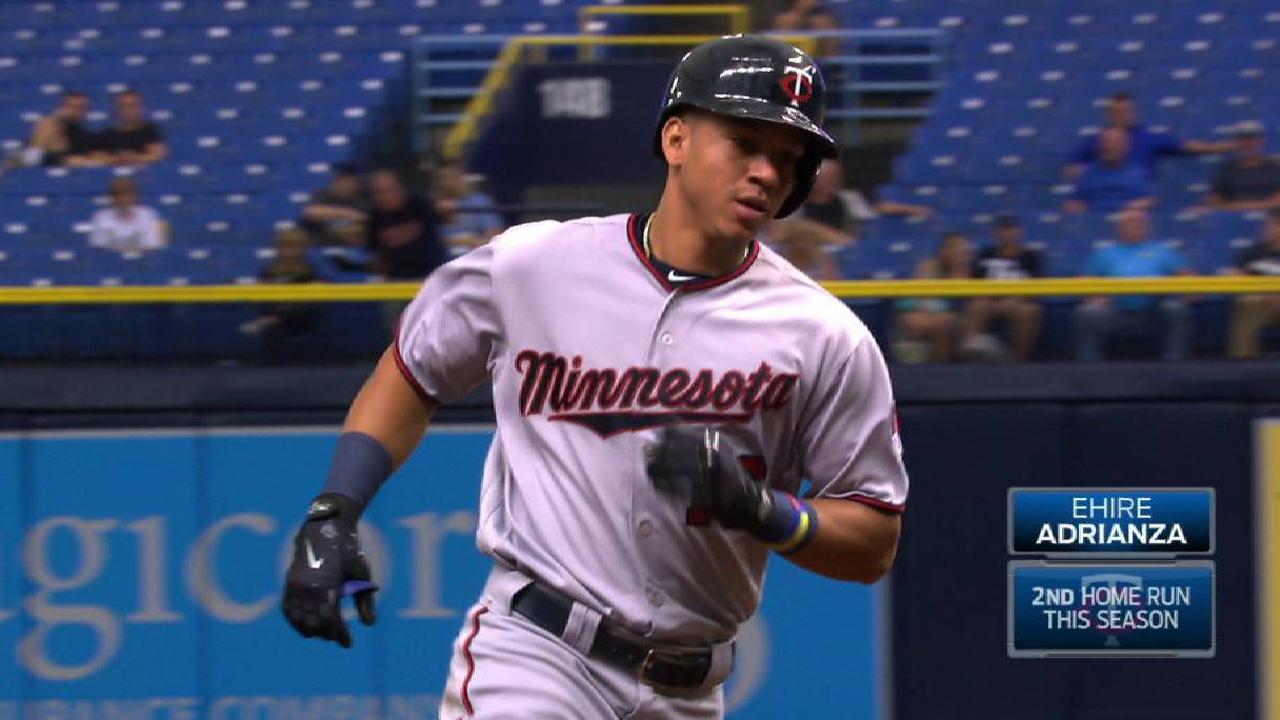 NEW YORK -- When the Twins claimed Ehire Adrianza on waivers in February, they added him to the roster mostly because of his elite infield defense, as he'd never played in the outfield in the Majors or Minors and was a career .220/.292/.313 hitter in parts of four seasons with the Giants.
But Adrianza has been a better hitter than expected, thanks to some mechanical changes such as the addition of a leg kick early in the season, and he's filled in capably in left field, getting playing time over Max Kepler against left-handed starters.
Twins manager Paul Molitor said he's comfortable with Adrianza over Kepler against lefties down the stretch, and he started in left in the series opener against the Yankees and left-hander Jaime Garcia on Monday. Kepler is hitting .132/.205/.170 against lefties, while Adrianza is batting .298/.340/.447 against southpaws.
"It's not so much what I need to see, it's more that with 13 games left, it's who I decide to play," Molitor said. "I just have to pick my best option. It's not a knock. I think generally [Adrianza] has put together a quality offensive season with the number of at-bats he's been given. He doesn't give them away. He doesn't chase much. I trust him situationally. He's got his share of big hits, too."
Adrianza said his only experience playing outfield was one game in Spring Training several years ago, but Monday was his 14th appearance in left, including his ninth start.
"At this point, it's much better than I expected it to have been," Molitor said. "He's taken to the instruction well and his athleticism plays. There's no timidity about how he plays and he's very confident."
Adrianza, 28, praised the coaching staff for helping him develop, crediting hitting coaches James Rowson and Rudy Hernandez for helping him incorporate a leg kick instead of a toe-tap and outfield coach Jeff Pickler for assisting him with his defense.
"I changed my approach and my mechanics my first month here in May," Adrianza said. "I think the new mechanics helped me a lot to be consistent and help with my timing. At the beginning, it was tough and uncomfortable. But we worked hard in the cage with the machine and the results have been pretty good so far."
Worth noting
• Twins infielder Eduardo Escobar was named the American League Central's representative for the 2017 Marvin Miller Man of the Year Award. Players vote for the winner on Tuesday, and the winner receives grants totaling $260,000 from the MLB Players Trust. Escobar, through his foundation, provides things such as medical supplies, food, fresh water and much more to those in need in his native Venezuela.
"I have to thank my teammates for choosing me as a representative," Escobar said through a translator. "I just want to give back to the people in Venezuela with the help of my family for those in need. And same in Minnesota, helping kids come to the games."
• Third baseman Miguel Sano flew with the team to New York on Sunday, but it was for personal reasons, and he'll fly back to Minnesota on Tuesday to continue his rehab from a shin injury. Molitor said nothing is new with Sano's status and he'll continue to run and hit on the field.
Rhett Bollinger has covered the Twins for MLB.com since 2011. Follow him on Twitter @RhettBollinger and Facebook. This story was not subject to the approval of Major League Baseball or its clubs.