Yanks hope Gardner powers up down stretch
Outfielder hasn't gone deep since belting 20th homer on Aug. 20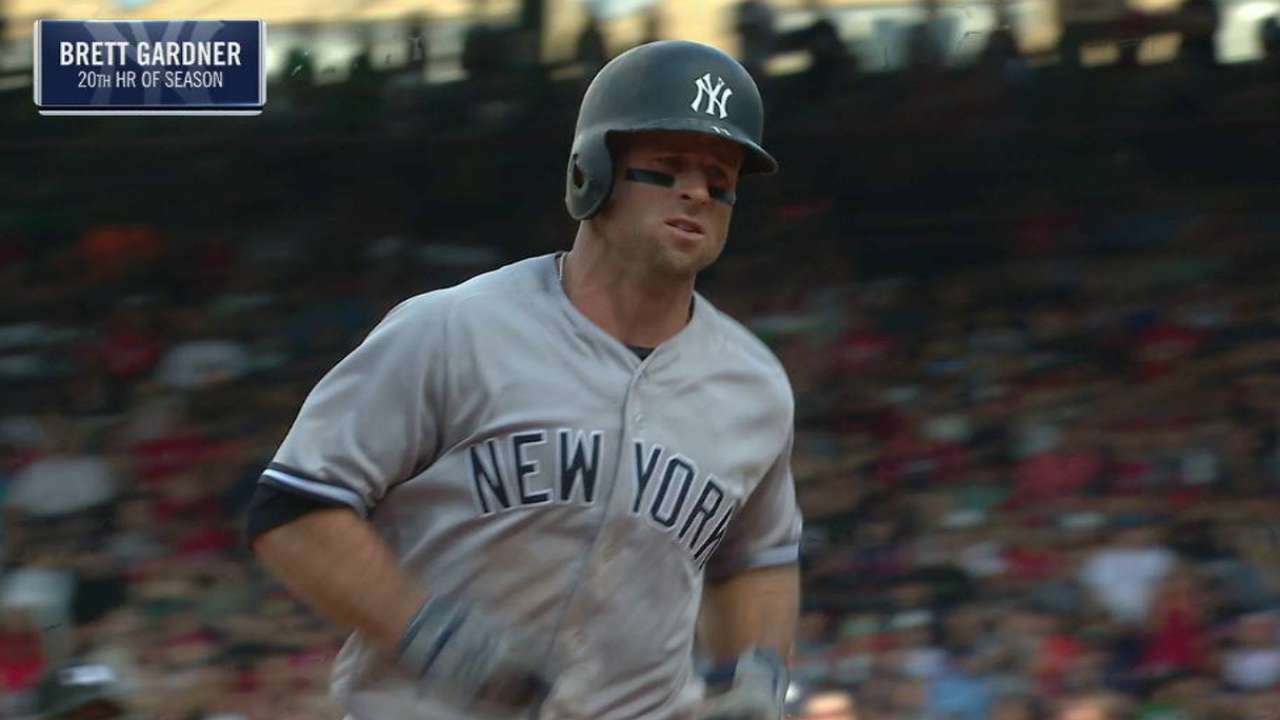 NEW YORK -- Earlier this season, Aaron Judge grinned and called Brett Gardner "a little ball of muscle," with the Yankees' power-hitting rookie observing that a home run surge had seemed long overdue and urging his teammate to continue hitting for power whenever possible.
"I was kind of tired of seeing him try to slap balls to start the game off," Judge said then.
When Gardner homers, the Yankees almost always have won -- they're 16-1 in such games this season -- but those blasts have been in short supply of late. Gardner has not cleared the fences since Aug. 20 at Fenway Park, but he believes that just means the next hot streak is right around the corner.
"I wouldn't say it concerns me. I'd like to hit one or two every week but that's not the case," Gardner said. "Baseball is a game of ups and downs. There's a lot more to my game than hitting home runs. I'm still trying to contribute on the defensive side of the ball and still do things to get on base and score runs.
"I just haven't been driving myself in as much recently, but hopefully I've got a few more left here for the most important time of the season."
For a period of the season, Gardner seemed to be going neck-and-neck in the homer department with designated hitter Matt Holliday, as the tandem began referring to themselves as the "Bald Brothers."
While their season tallies are still close -- Gardner has slugged 20 homers in 141 games and Holliday 18 in 99 games -- their paces have cooled. Gardner did not homer in his first 18 games, belting his first two on April 29 against the Orioles. Nineteen of his homers came in the next 78 games, a stretch in which he batted .278/.365/.523.
"I think Gardy's home runs are streaky," Yankees manager Joe Girardi said. "He usually gets to where he has one big streak during the course of the season. That's what you see. I'd love to see him have another one starting today."
Gardner would be on board with that, as the Yankees began a pivotal late-season series against the Twins, their closest competitors for the American League Wild Card. Gardner said that he believes the three-game set with Minnesota will be a good challenge for both teams.
"I think we match up well against anybody, to be honest," Gardner said. "I love the team we have and I love the way we've been playing. And whether it be the Twins or the Orioles or the Rays or the Red Sox, the way we've been playing recently I feel good about our chances. Yesterday we took a loss, but for the most part we've been playing well recently and hopefully we can continue that these last two weeks."
Bryan Hoch has covered the Yankees for MLB.com since 2007. Follow him on Twitter @bryanhoch and on Facebook.
This story was not subject to the approval of Major League Baseball or its clubs.