Inbox: What's in store for the Royals' rotation?
Beat reporter Jeff Flanagan answers fans' questions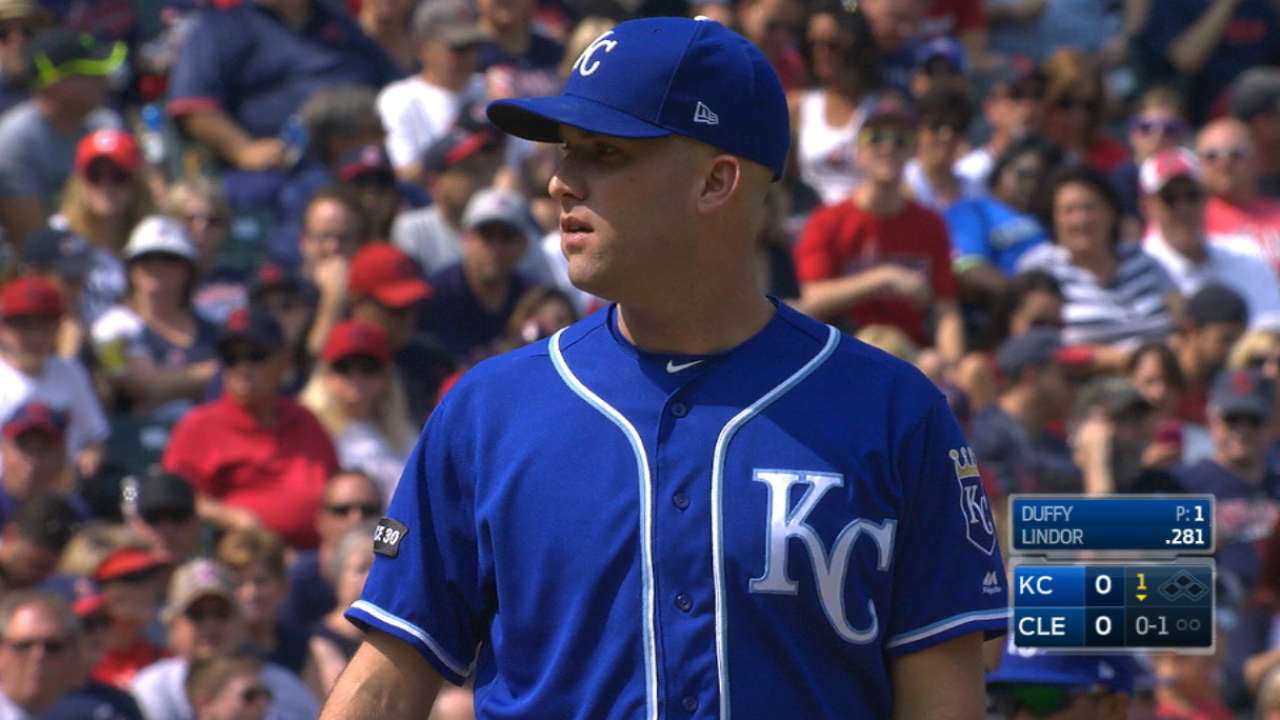 KANSAS CITY -- With 13 games to go, the Royals remain on the outer edge of postseason contention.
Kansas City is five games behind Minnesota for the second American League Wild Card spot, and realistically the Royals can't afford to lose more than two or three games if they are to avoid elimination.
With that backdrop, let's get to your questions for the final Inbox of the regular season.
• Submit a question to the Royals Inbox
What's your best guess as to next year's starting rotation? Will Karns be ready for spring?

— Andrew Logue (@AndrewMLogue) September 17, 2017
Danny Duffy will come back as the ace. Ian Kennedy has indicated he will not opt out of the final three years of his deal (smart man). The Royals are hoping Nate Karns will be healthy and ready to go next spring. Jason Hammel has another year on his deal. And rookie Jakob Junis impressed everyone in the second half. Right now, that's your starting five, though general manager Dayton Moore no doubt will add depth -- either internally through the Minor Leagues or in a trade or free agency.
What happens to Gordo next year?

— Alex Parker (@AlexParker) September 17, 2017
Alex Gordon still will be owed $44 million after this season, so after two rough campaigns from him, it's imperative that Kansas City gets some value out of that contract going forward. There have been encouraging signs of late: Gordon has adopted an opposite-field strategy in the past two weeks and the results are encouraging. Since Sept. 6, Gordon is 14-for-42 (.333) with four doubles and two home runs. Perhaps he might undergo a Mike Moustakas-like makeover in the offseason and stop trying to pull every pitch. Players, especially older players, have to adapt, and Gordon is at a crossroads.
Today is the anniversary of Ventura's debut. How has his loss worn on the team this year? I can't imagine it's been easy.

— KazoosForAll (@KazoosAreFun) September 17, 2017
That is a great question. The grieving period was pretty much over in early Spring Training, but they have not forgotten Yordano Ventura by any means. And on the field, this team and this rotation would look a lot different with him here. His loss was a tragedy on all levels.
Who's in the system we should be excited about but haven't heard anything about? Assuming he/they exist.

— Mrs_Fishie (@Mrs_Fishie) September 17, 2017
There are a few names to keep an eye on. Right-hander Josh Staumont (the Royals' No. 9 prospect per MLB Pipeline) and his 100-mph fastball got a long look last spring. Staumont still needs to harness his command, as he was demoted back to Double-A this season, but his future is still bright. Ryan O'Hearn (Kansas City's No. 14 prospect per MLB Pipeline) is a left-handed-hitting first baseman with a pretty swing, but he was also demoted to Double-A this season. I got a good look at another left-handed-hitting first baseman, Samir Duenez (the Royals' No. 13 prospect per MLB Pipeline), in the spring and was impressed -- he's only 21. And everyone is talking about outfielder Khalil Lee (Kansas City's No. 2 prospect), who is only 19 and slugged 17 homers at Class A Lexington.
Which is more likely: Royals re-sign Escobar or let Mondesi fill SS?

— Dain Glenn (@dain_bramage84) September 17, 2017
That's a great question. I know Royals fans on Twitter can't wait for Alcides Escobar, a pending free agent, to leave, but the truth is he has been the club's hottest hitter since Aug. 9 (.354 average, .888 OPS). And there are some obvious concerns on whether his protégé, Raul Mondesi, is ready to step in and be the everyday shortstop. Mondesi is incredibly fast and a gifted defender, but he has looked overmatched at the plate at this level. There is even some mild chatter in the organization about trying Mondesi in center (with the thought that Lorenzo Cain will sign elsewhere).
Who's the closer next year?

— Gabe Miles (@GabeMiles) September 17, 2017
Kelvin Herrera has one more year left before free agency, and obviously there are doubts whether he can be the closer, especially after his recent demotion. I can't tell you how impressed I was with left-hander Mike Minor's debut as the closer on Friday night. Minor showed everything you want -- a 97-mph fastball, an unhittable cutter and a cool demeanor as he struck out the side to end the Indians' 22-game winning streak. It certainly reminded me of another converted starter to the closer role -- Wade Davis. Minor is a pending free agent, too, but it would seem to be a mistake not to bring him back.
Jeffrey, you've said earlier that you think they will resign 2-3. Which do you think and what about the pitching depth and closer next year?

— twinkel78 (@shoushou78) September 17, 2017
The early guess here is the Royals will throw everything they have financially to keep Eric Hosmer. He is a great leader, a win-first competitor and the face of the franchise. They would love to bring Moustakas back. Kansas City certainly could use left-hander Jason Vargas. And as mentioned, not bringing Minor back would be a mistake. The Royals have about $90 million committed to payroll next year. That could leave them enough room to bring back two or three of those players.
Jeffrey Flanagan has covered the Royals since 1991, and for MLB.com since 2015. Follow him on Twitter @FlannyMLB. This story was not subject to the approval of Major League Baseball or its clubs.