Rain delay dampens Gray's stellar effort
Rockies righty fanned seven in five scoreless before game was paused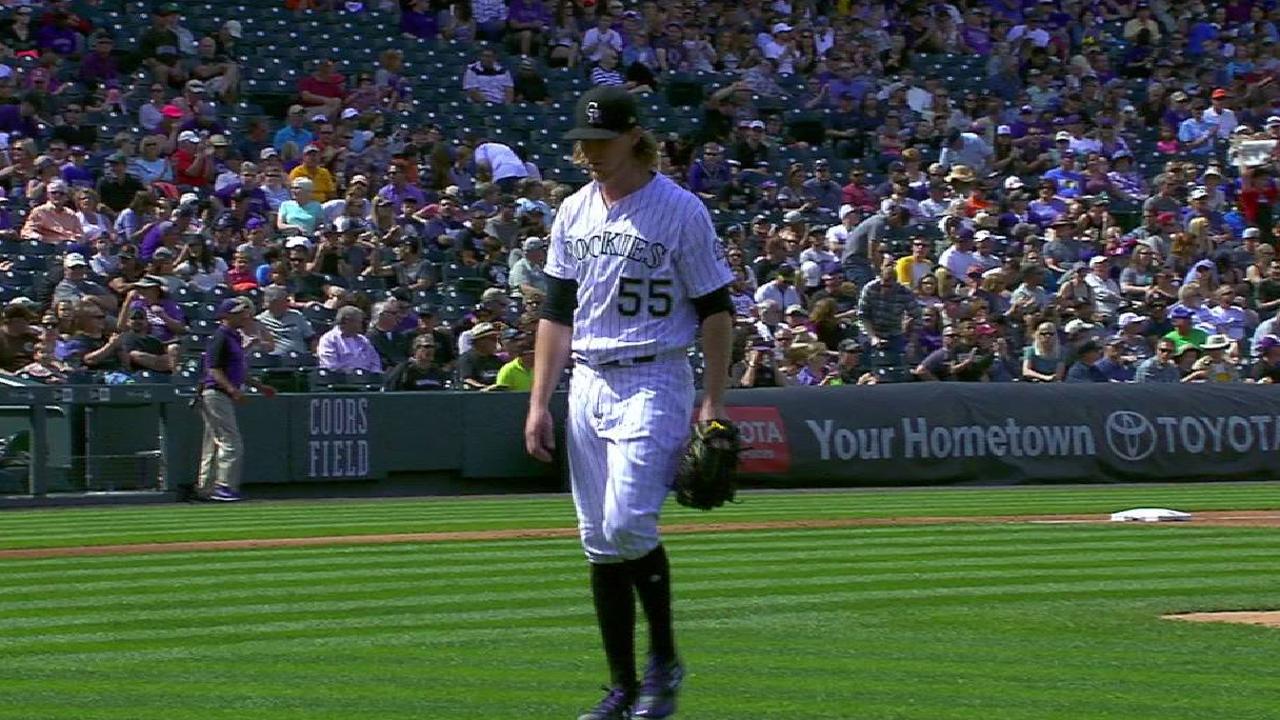 DENVER -- Rockies right-handed pitcher Jon Gray saw one of his best games slip away because of a rain delay on Sunday.
Gray had struck out seven in five scoreless, dominant innings against the Padres before being forced from the game by a 1-hour, 23-minute rain delay.
By the end, Gray and the Rockies were lamenting a 4-3 loss at Coors Field that robbed them of a chance to sweep the three-game series, and reduced their lead for the second National League Wild Card to 2 1/2 games over the Brewers.
"I had no idea; I thought it was going to be a little shower," Gray said. "I had no idea it would last that long, and it would be an issue with me going back out and pitching."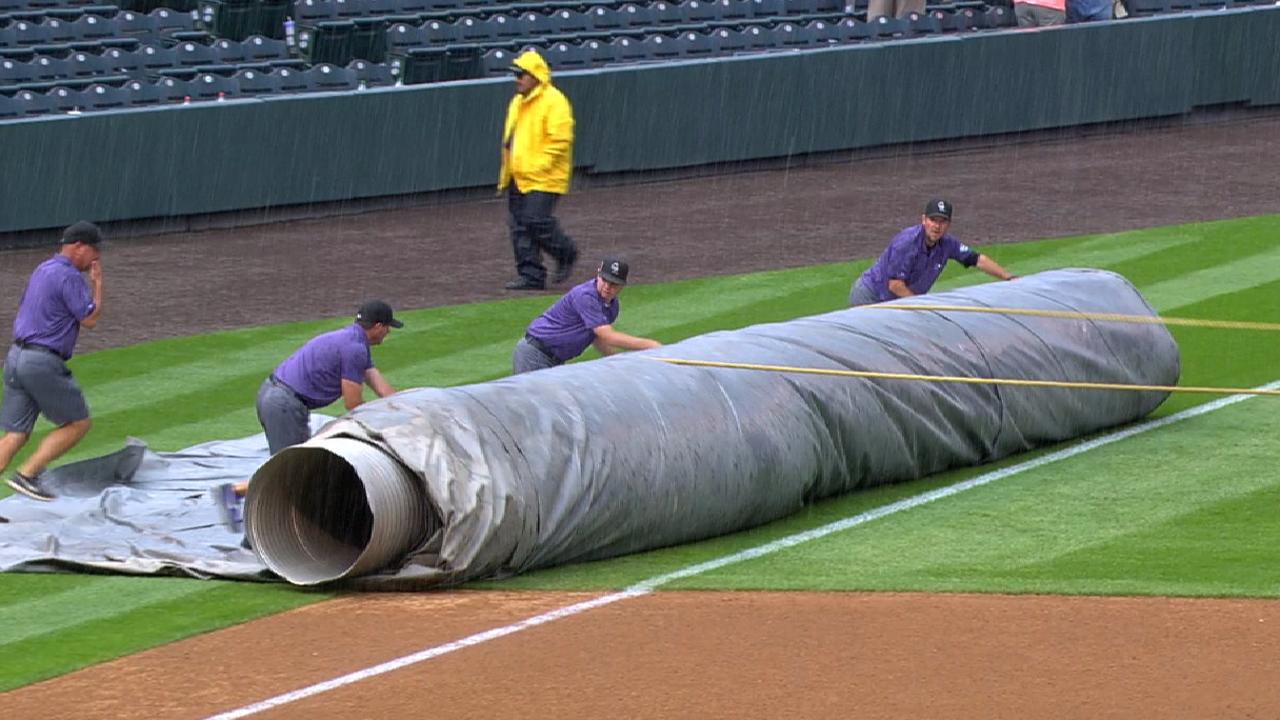 But the Rockies are left hoping the sun comes back out for them Tuesday, when they begin a two-game series with the Giants on a road trip that concludes with four at San Diego.
It happens over 162 games that you're going to see some things that you hadn't seen before," said Rockies manager Bud Black, whose team on Sunday completed a stretch of games in 17 straight days. "And today was a hard-fought game by both sides. There was a little bit of an interruption, obviously, of about an hour and a half, and both teams came back a little bit slow to get going, and they put an inning together in the ninth."
Gray had a 3-0 lead, thanks to a Gerardo Parra RBI single and a Trevor Story two-run double in the fourth off Padres starter Jhoulys Chacin. His dominance was reminiscent of his best career performance -- a year ago Sunday, when he fanned 16 in an 8-0 victory over the Padres, also at Coors.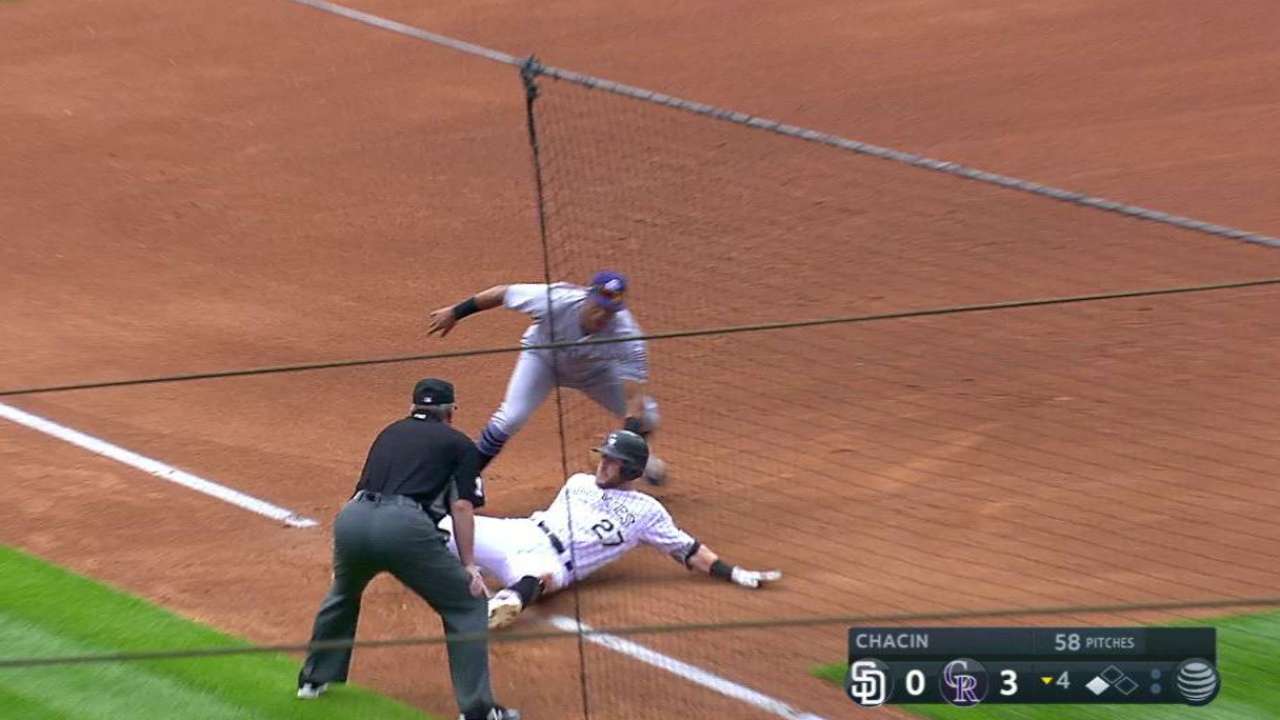 "We had Gray out there and he's throwing the ball well," Story said. "But we can't control that. We have a lot of faith in our guys, but tough break."
Rain wasn't the only reason for the loss. The Rockies didn't score and managed just four hits off the Padres' bullpen. Rockies relievers, who have pitched well recently, gave up the lead. Closer Greg Holland yielded a damaging walk and watched that runner score on a sacrifice bunt in the top of the ninth.
"It [stinks]," Holland said. "Jon's been throwing great, obviously. Our bullpen's been throwing the ball really well of late, too. It's just one of those things. We have a chance to win it in the ninth if I don't walk a guy."
However, the Rockies can look back and smile if Gray's dominance continues. He was sharp on his 63 pitches on Sunday, and he has held opponents to three or fewer runs in his last 11 starts -- the third-longest such streak in franchise history.
"I think something special is happening," Gray said. "As long as we kick these games like today aside and worry about the next one, we're not going to have a problem."
Thomas Harding has covered the Rockies since 2000, and for MLB.com since 2002. Follow him on Twitter @harding_at_mlb and like his Facebook page. This story was not subject to the approval of Major League Baseball or its clubs.