10 no-hit bids turned final-out heartbreakers
Tigers' Boyd has company in barely missing history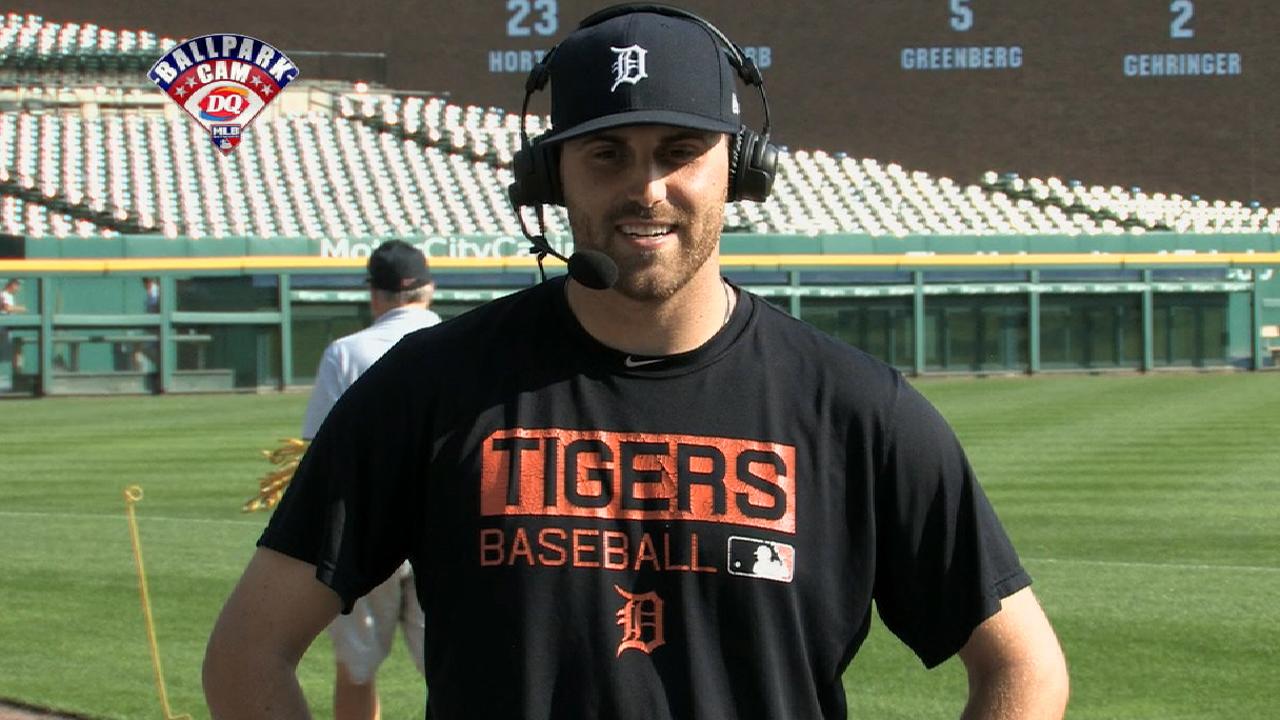 Matthew Boyd was one out away from becoming the first southpaw to throw a no-hitter in Tigers history, but Tim Anderson's double snatched his shot at history.
Boyd isn't the first pitcher to finish just one out short of a no-hitter in a nine-inning game. He joins a distinguished group of pitchers who experienced heartbreak on the mound.
Most recently, Rich Hill lost a no-hitter a month ago when the Dodgers couldn't provide any run support and Josh Harrison hit a walk-off homer in the 10th inning. While a similar circumstance, it is not included in this category because he completed the ninth inning.
Here is a breakdown of the last 10 times it has happened, going all the way back to the last time this happened to the Tigers:
Sept. 17, 2017: Matt Boyd, Tigers vs. White Sox, First hit: Tim Anderson
Boyd wasn't the first pitcher you'd guess to nearly throw a no-hitter; he entered Sunday with a 5.75 ERA in 114 1/3 innings. The last pitcher to post a no-hitter with an ERA higher than that was Francisco Liriano with a 9.13 ERA in April 2011.
Despite barreled balls off the bats of Jose Abreu and Matt Davidson during the start, Boyd kept the White Sox out of the hit column until Anderson stepped to the plate. Boyd fell behind 2-0, then threw a slider to the outside corner that Anderson belted into the right-center gap for a double.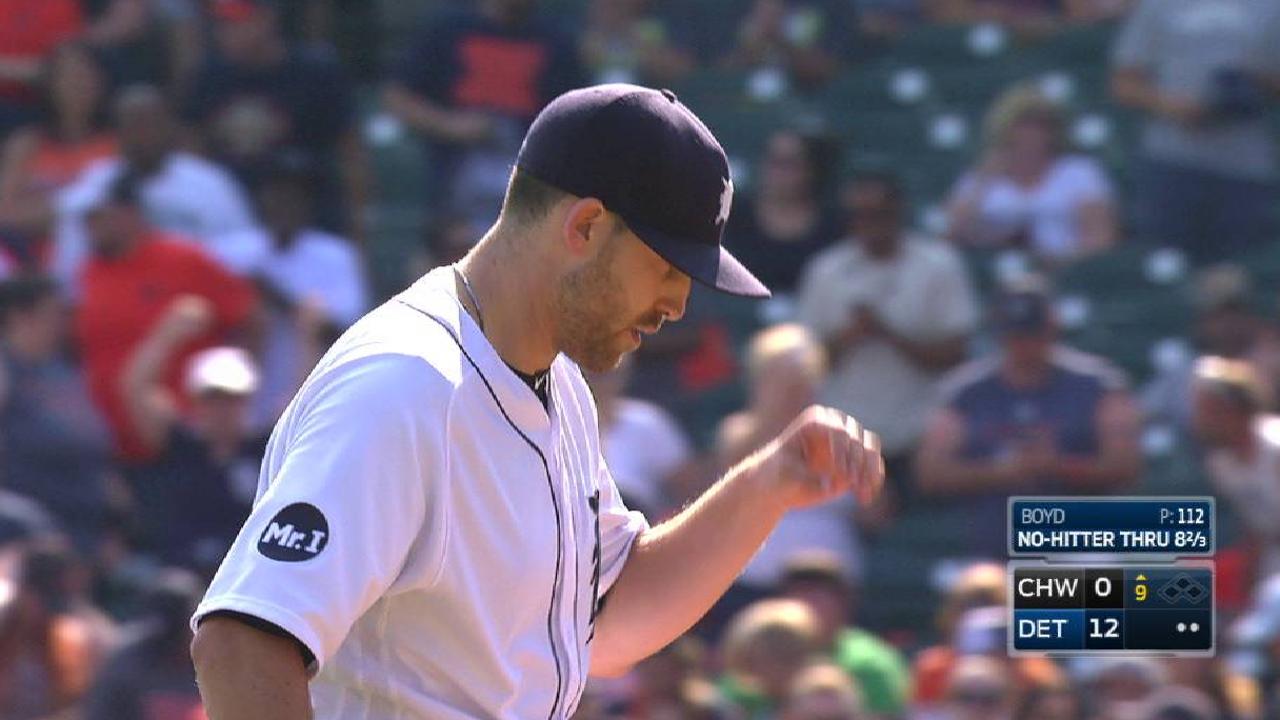 Aug. 25, 2016: Matt Moore, Giants at Dodgers, First hit: Corey Seager
Making just his fifth start with the Giants after being acquired from the Rays at the 2016 non-waiver Trade Deadline, Moore was one batter away from no-hitting the rival Dodgers at Dodger Stadium.
Unfortunately for Moore, that batter was Seager, on his bobblehead night. Moore was also likely gassed at that point, having thrown 130 pitches. While it wasn't the prettiest hit, Seager dropped a 1-1 fastball into right field for a bloop single and the crowd went wild.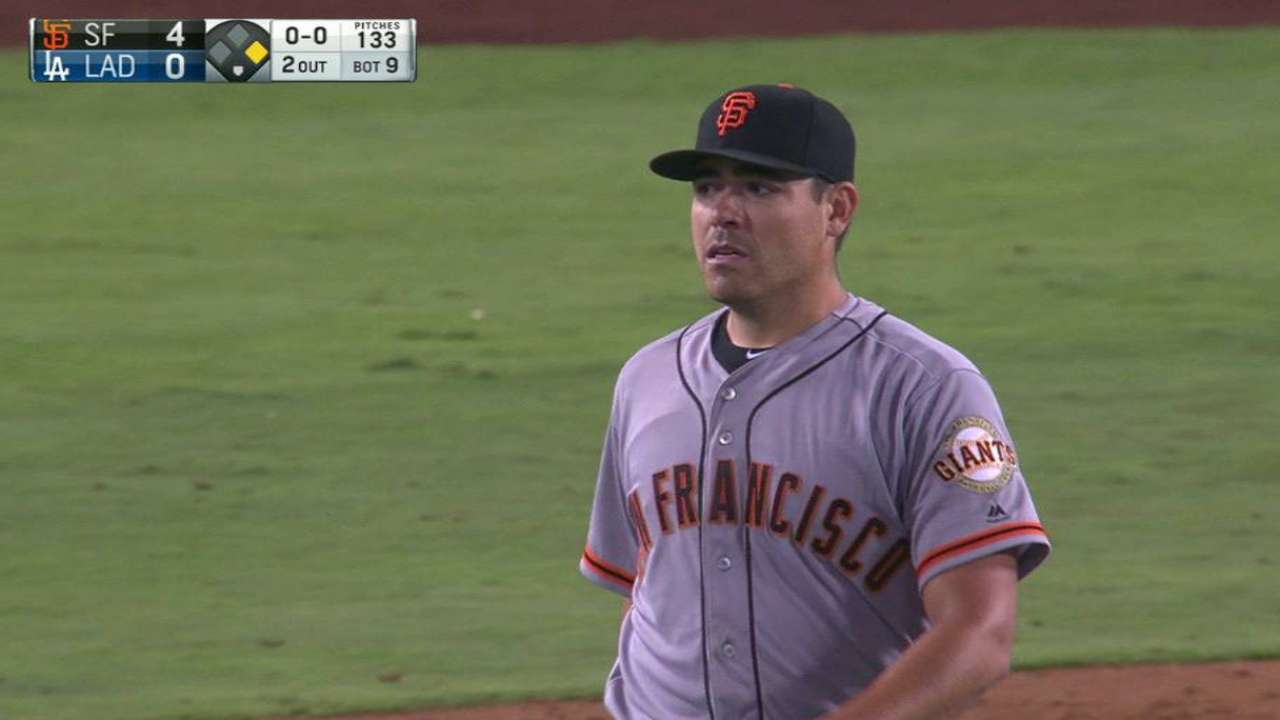 July 1, 2015: Carlos Carrasco, Indians at Rays, First hit: Joey Butler
Carrasco experienced double heartbreak at the hands of Butler that night, first losing his perfect game on a walk to Butler in the seventh inning, then yielding a two-strike single to him with an out to go in the ninth.
That wasn't the only difficulty Carrasco had run into during the ninth, as he had also walked and hit a batter. Carrasco would later call Butler his teammate when the Indians picked him up on waivers the following offseason.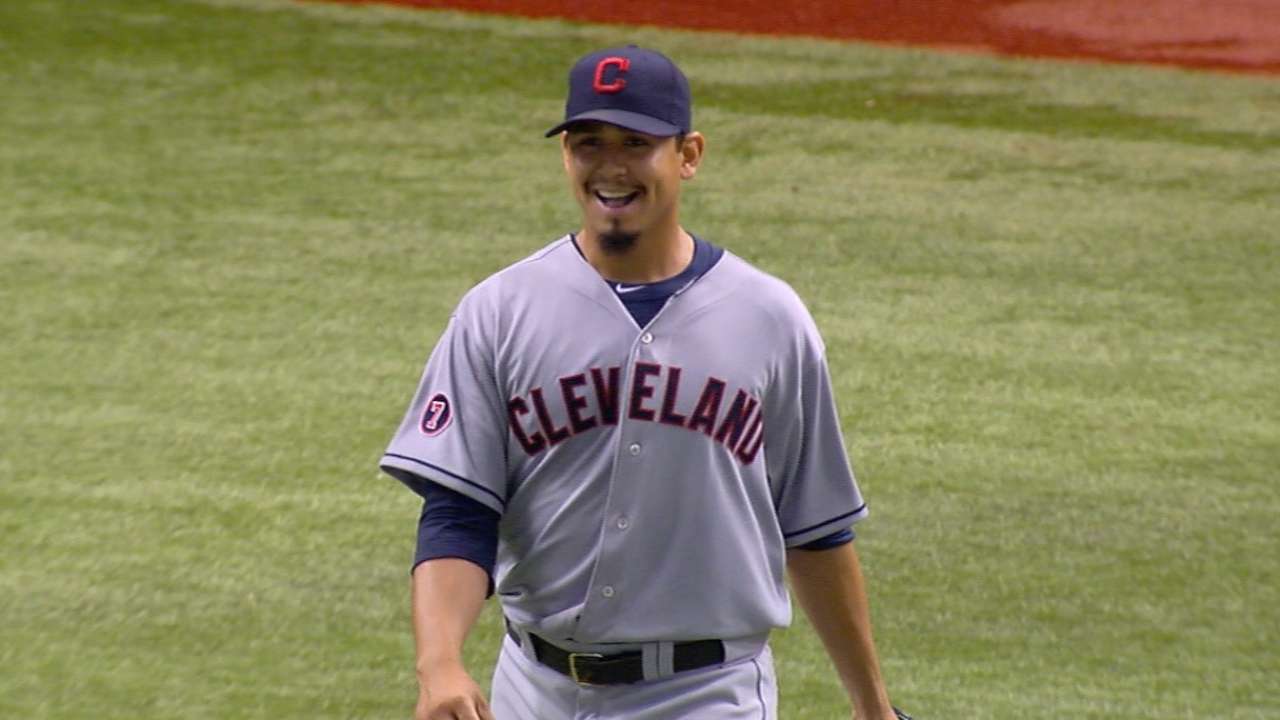 May 17, 2015: Shelby Miller, Braves at Marlins, First hit: Justin Bour
There was a reason the D-backs paid a premium in prospects to acquire Miller from the Braves after the 2015 season, and it was on full display when Miller faced the minimum through the game's first 26 batters. A leadoff walk in the second inning had been later erased on a double play.
Miller had been so dominant, he faced Bour for the game's final out with his pitch count at only 88. Unfortunately, Bour's first-pitch swing connected for a ground-ball single up the middle to end Miller's bid. Miller ended the game five pitches later, enough to register his second Maddux in three games.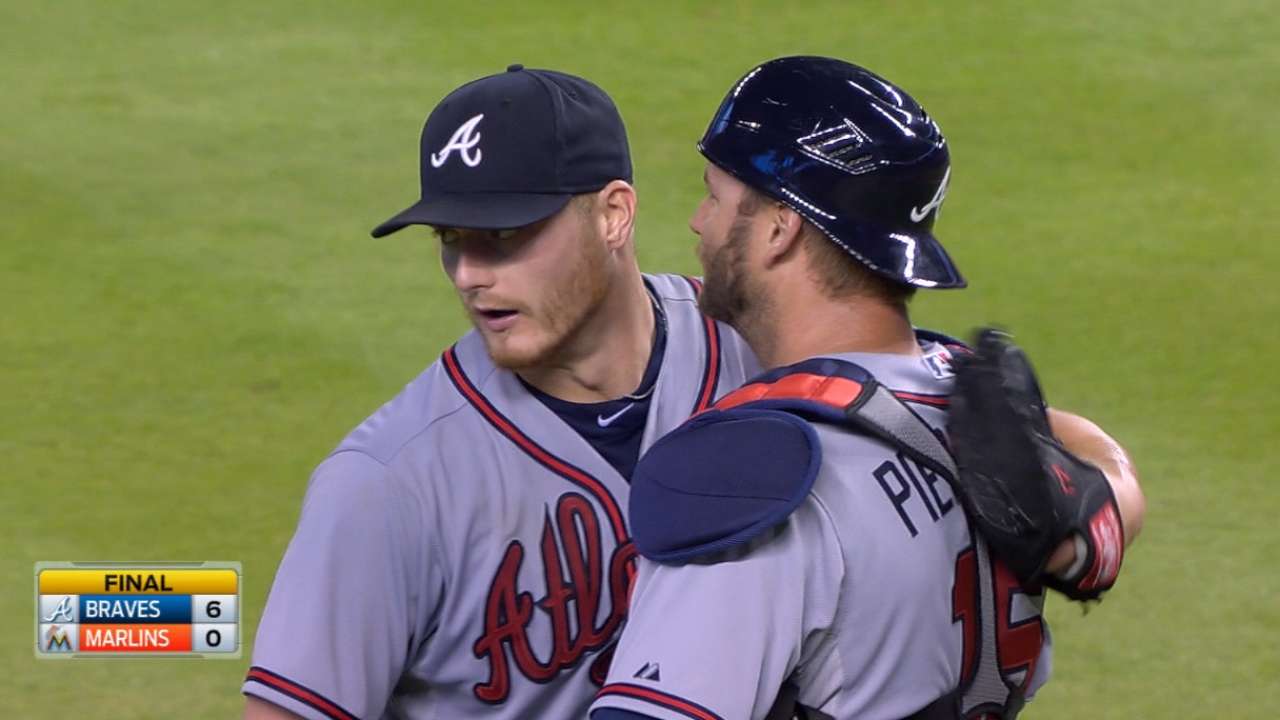 Sept. 24, 2013: Michael Wacha, Cardinals vs. Nationals, First hit: Ryan Zimmerman
Wacha rose to fame with his performance as a rookie in the 2013 playoffs, but his final start of the regular season that year wasn't too shabby either.
Fifteen months after being taken 19th overall in the '12 MLB Draft, Wacha dominated the Nationals for 8 2/3 innings. He was pretty dominant against Zimmerman as well, forcing a weak chopper up the middle.
Wacha reached for the ball, but his glove barely tipped it. Shortstop Pete Kozma barehanded the ball and made a strong throw to first, but not in time to take away Zimmerman's infield single.
Sept. 6, 2013: Yusmeiro Petit, Giants vs. D-backs, First hit: Eric Chavez (perfect game)
Petit was recalled in August to replace an injured Matt Cain in the Giants' rotation and he came within inches of perfection in his third start, one year after Cain had done it in June 2012.
Petit cruised against the D-backs until Chavez came to the plate. After five pitches, including a 2-2 curveball that was close enough to a strike that AT&T Park started cheering, the veteran Chavez dropped a single into right field just out of the reach of Hunter Pence. Petit still recorded the only shutout of his career, but just missed his shot at history.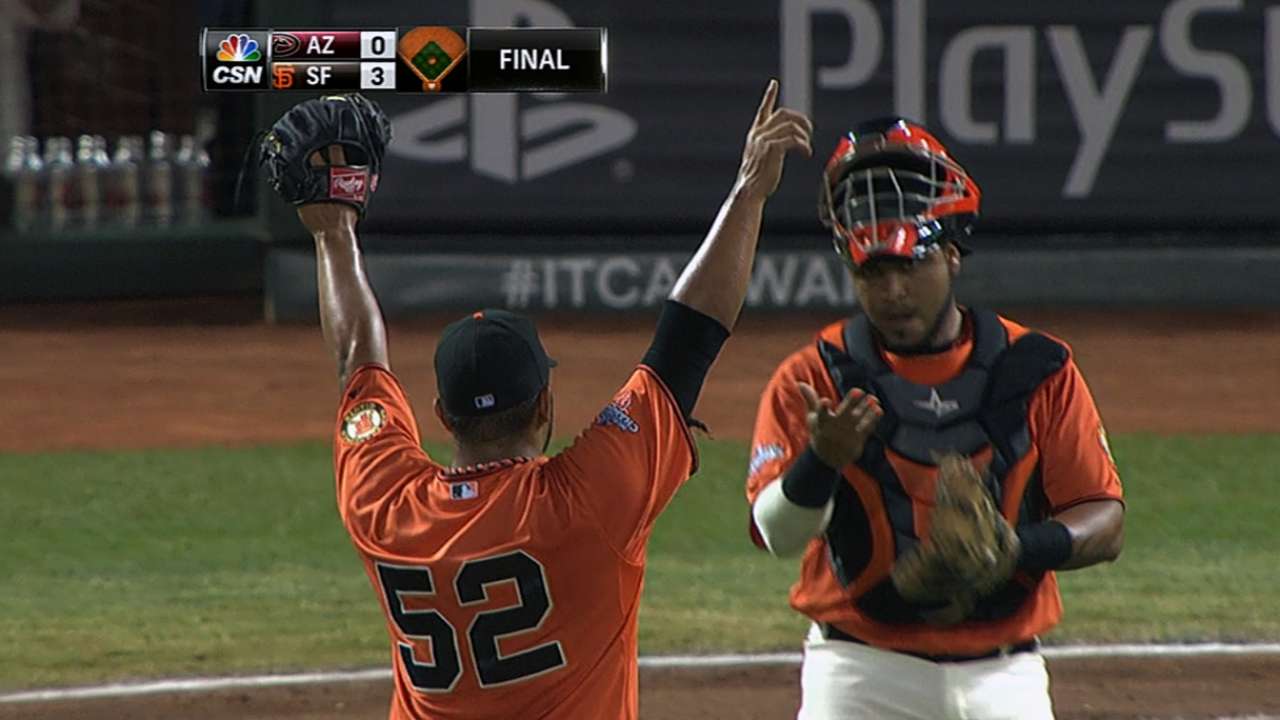 April 2, 2013: Yu Darvish, Rangers at Astros, First hit: Marwin Gonzalez (perfect game)
In Darvish's first start of the year, he absolutely baffled Houston's lineup until meeting Gonzalez needing just one out to go to finish off the perfecto.
The Japanese right-hander had already beaten the Astros' shortstop a few times prior with his cutter, and so he went back to it again with his first pitch of the at-bat. This time, however, Gonzalez was ready for it, lacing a single back up the box to spoil Darvish's flawless day.
Darvish still earned the victory as the Rangers won, 7-0, and finished with a then career-high 14 strikeouts.
July 9, 2011: Aaron Harang, Josh Spence, Chad Qualls, Mike Adams and Luke Gregerson, Padres at Dodgers, First hit: Juan Uribe
Starter Aaron Harang was making his first start in a month after hitting the disabled list with a stress fracture in his right foot. He had to be pulled after six innings and 95 pitches, opening the door for four relievers to add their names to the only combined bid on this list.
Unfortunately, the bid was lost when Uribe lined a slider from Gregerson to left field for a double. Then the game was lost when catcher Dioner Navarro hit a single to drive in Uribe and give the Dodgers a walk-off win.
August 8, 2010: Brandon Morrow, Toronto vs. Tampa Bay, First hit: Evan Longoria
Right-hander Morrow had allowed just two baserunners all game (both walks) until Longoria stepped to the plate and hit a chopper in between first and second.
Blue Jays second baseman Aaron Hill made a diving effort to preserve the no-hitter, but the ball bounced in and out of his glove and into right field to end it. It was arguably the best start of Morrow's career, as he finished with a 17-strikeout complete game shutout.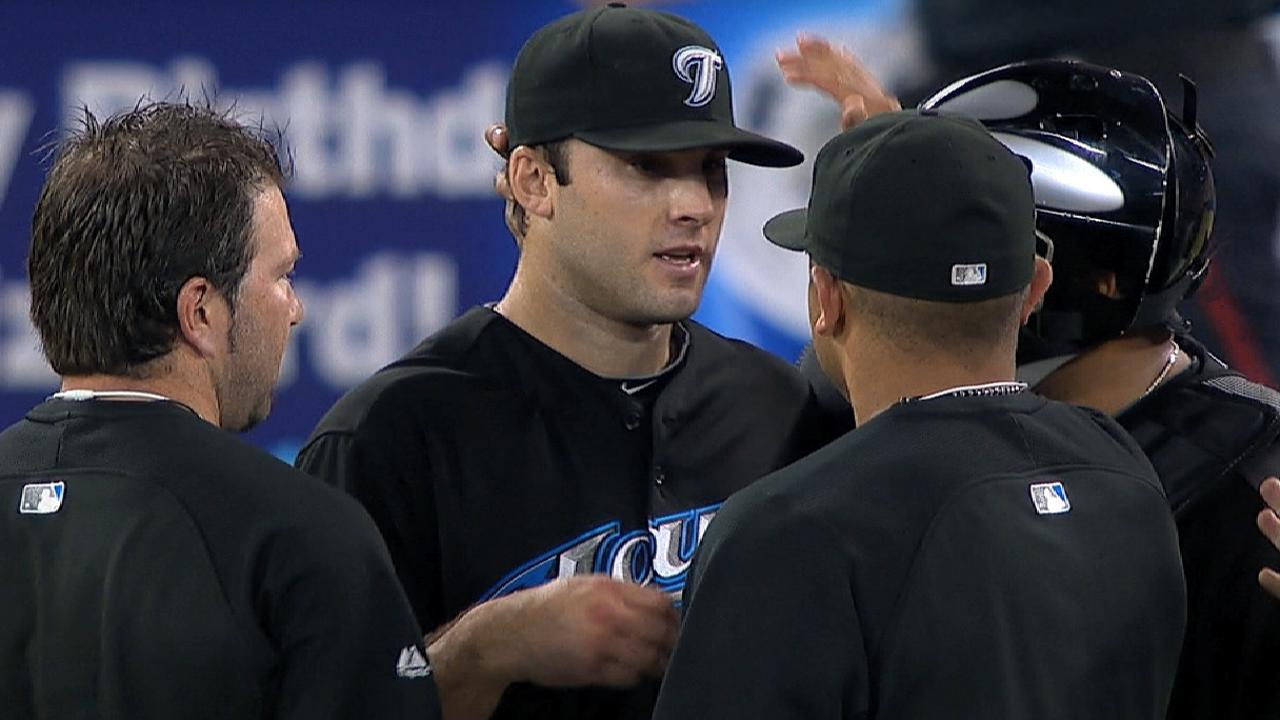 June 2, 2010: Armando Galarraga, Detroit vs. Cleveland, First hit: Jason Donald (perfect game)
Boyd isn't the first Tiger to experience heartbreak like this. In fact, compared to the last time this happened to the Tigers, he might count himself lucky.
In perhaps the most controversial call ever in the regular season, Galarraga lost his perfect game on a missed call by umpire Jim Joyce, who ruled Donald beat Miguel Cabrera's throw to first base.
The play came shortly after center fielder Austin Jackson hauled in an over-the-shoulder catch to preserve the immaculate performance. It would have marked the first perfect game in Tigers history, and instead became one of the leading causes for the implementation of instant replay in professional baseball.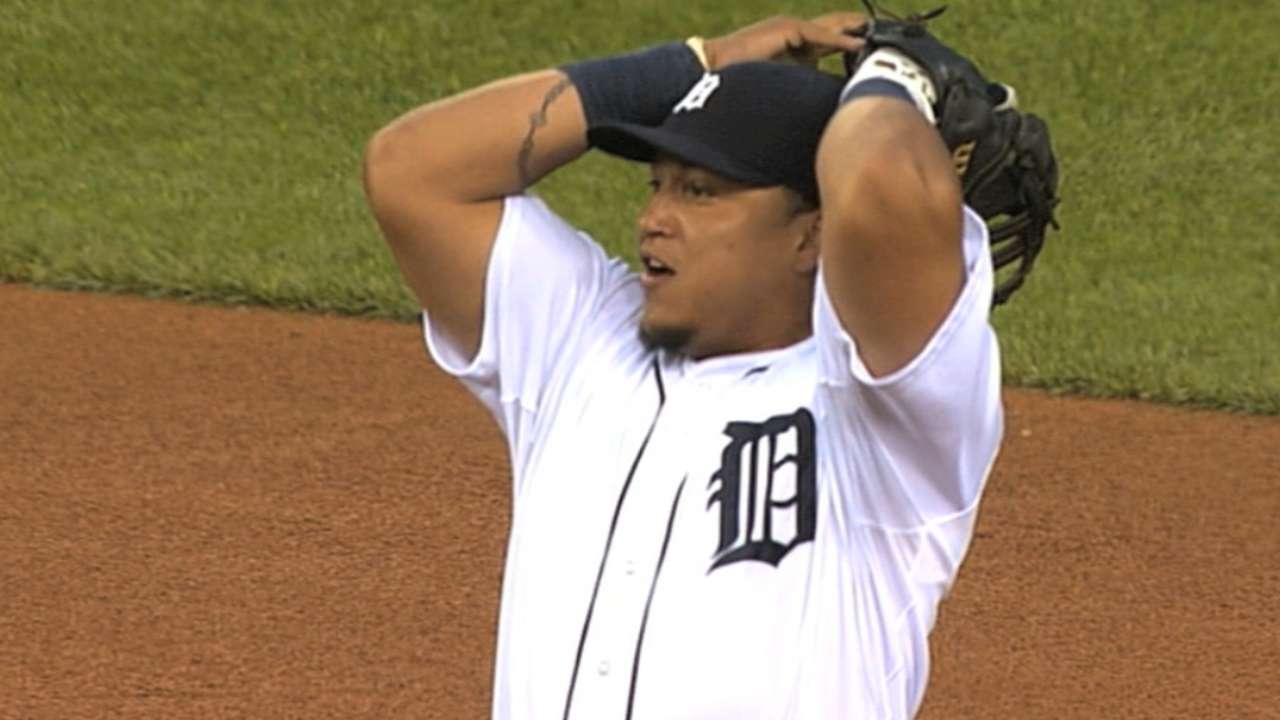 Jack Baer is a reporter for MLB.com.

Oliver Macklin is a reporter for MLB.com based in Washington, D.C. Follow him on Twitter at @OMacklinMLB.

This story was not subject to the approval of Major League Baseball or its clubs.