Harper takes BP, aims to return for NLDS
Nationals star displays MVP form before Sunday's win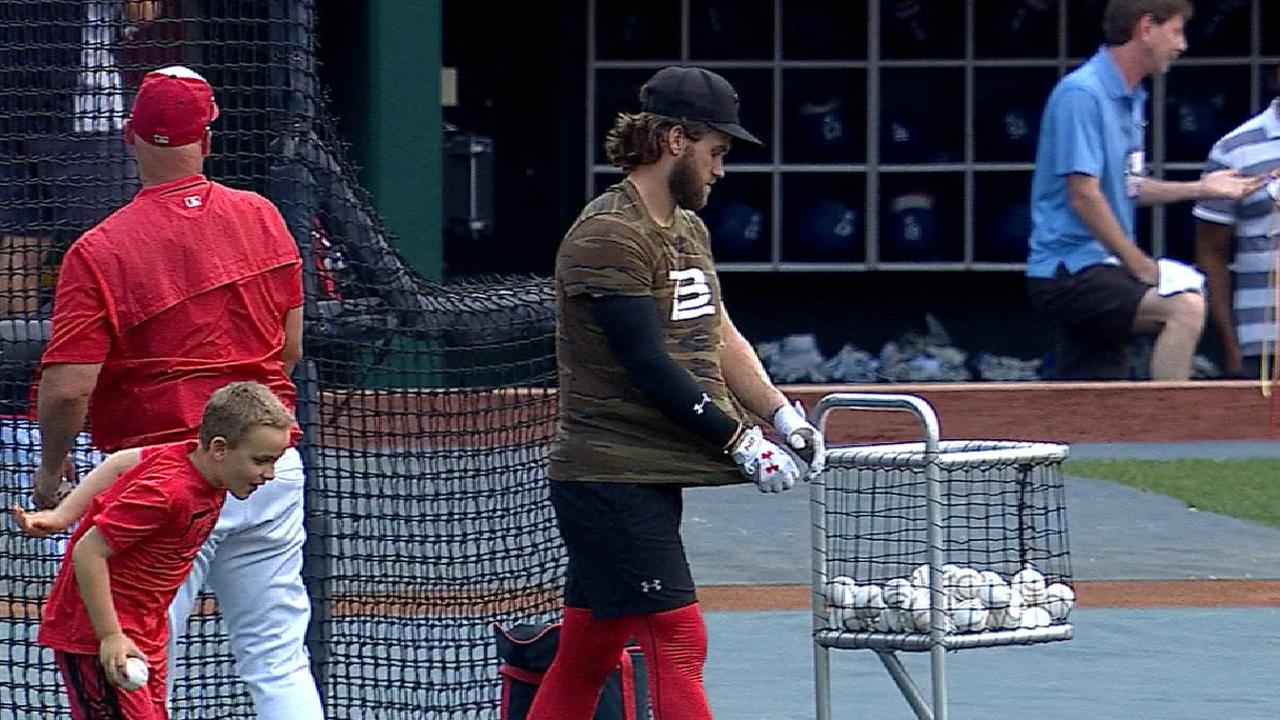 WASHINGTON -- Bryce Harper took batting practice at Nationals Park before Sunday's 7-1 Nationals victory over the Dodgers, unleashing his violent swing on the field for the first time since his knee injury last month.
He had been swinging in the batting cage, and feeling good, but this was the first time he did so on the field. And he looked like his usual self, as he scorched line drives off the outfield wall and launched several home runs into the stands.
Harper has continued to make progress recently, which has included running sprints in the outfield and he did some drills running to first base Sunday. And with the start of the National League Division Series still more than two weeks away, Harper has his eye on being in the lineup for Game 1.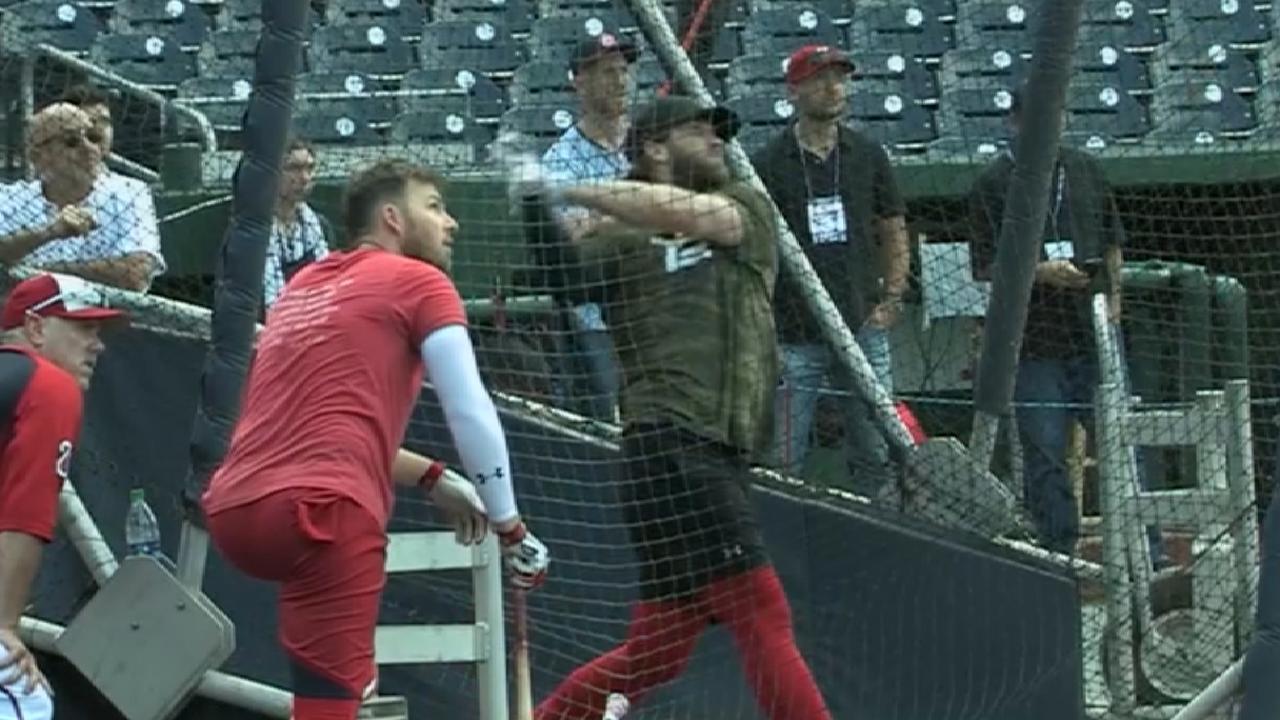 "I hope so. That's definitely in my head," he said. "That's what I want to do. That's where I want to be. But it takes time. Just trying to do the best I can to get out here and do the things I can to get back and get ready, and see where it's at."
Here's some good news for Nats fans. Bryce Harper is taking batting practice right now pic.twitter.com/yJt2oXfva0

— Jamal Collier (@JamalCollier) September 17, 2017
It was hours before Sunday night's game between the Nationals and Dodgers, a potential postseason preview between the two teams with the top records in the National League. Washington has aspirations of making a deep postseason run and having Harper healthy and in the center of their lineup is key.
Harper was putting together a 2017 that would have put him in the conversation for the NL MVP Award with 29 home runs, a .419 on-base percentage and a 1.034 OPS before he hyperextended his left knee and suffered a bone bruise and strained calf on Aug. 12.
"I felt a little off, still. Not my knee, per se, but more just myself," Harper said. "It's going to take some time to get back. Got a long ways to go and hopefully be back soon."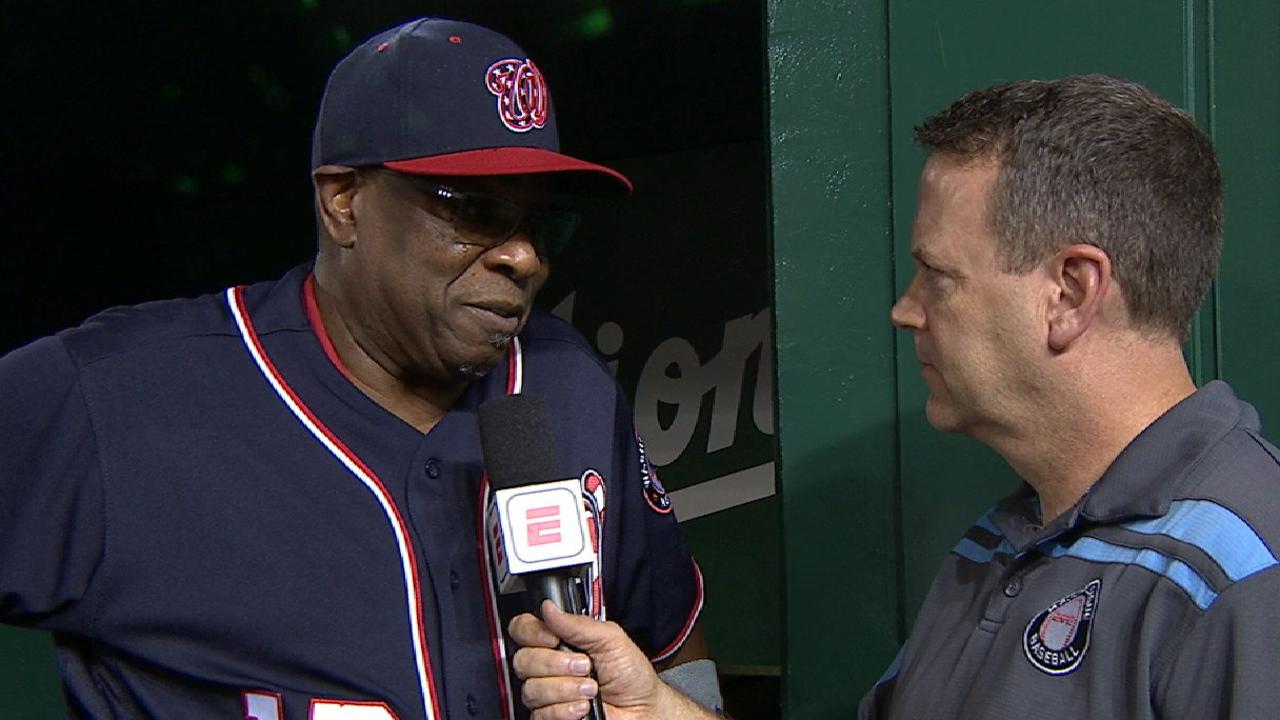 Harper was not sure what his next step would be, whether he would join the team on their upcoming three-city road trip or if he would continue to rehab elsewhere. But Harper is starting to take some significant steps, and his focus seems to be on getting prepared to return to action.
"I think more my timing. It takes me a while to get my timing going," Harper said. "I hit a lot in the offseason to get ready for Spring Training, so that I'm ready to go. It's definitely going to be a tough thing. If we play Chicago, I might be facing Jon Lester for my first at-bat in six weeks. That's a tough task. It's going to take some time. Hopefully I can get back and get going a little sooner than later."
Jamal Collier covers the Nationals for MLB.com. Follow him on Twitter @jamalcollier. This story was not subject to the approval of Major League Baseball or its clubs.