Price returns to toss 2 perfect frames
Lefty makes 1st Red Sox relief appearance after 8 weeks out with injury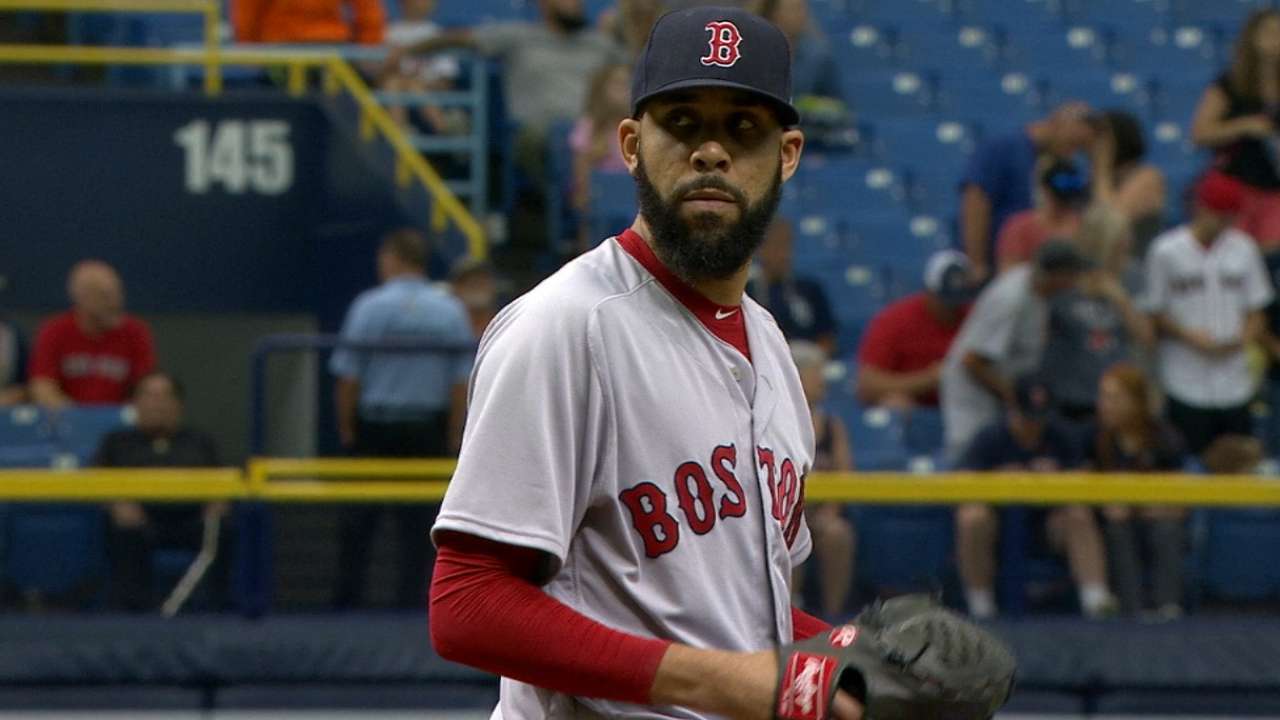 ST. PETERSBURG -- Red Sox fans likely need no reminding who closed out Game 7 of the 2008 American League Championship Series, which sent the Rays to their first World Series. In the years since, David Price became an AL Cy Young Award-winning starter and eventually found his way to Boston as a free agent.
Now back from another bout with inflammation in his pitching elbow, Price's role for the rest of the year will see him providing multi-inning relief help, and ideally providing Red Sox fans better memories of the lefty's relief work.
Day 1 relieving in 2017 went well. Price entered in the seventh inning and retired the side on seven pitches, with one strikeout. He stayed in for the eighth as well, picking up one more punchout in another perfect frame. The lefty needed 21 pitches total in Boston's 3-2 loss to the Rays on Sunday.
"That was even more than personally anticipated," manager John Farrell said. "From the power to the touch and feel, I'm amazed that someone [who] hasn't pitched in a game in nearly [eight] weeks [can] come out with that kind of command and throw three, four pitches for strikes. He's a unique pitcher, and that was a really strong two innings of work."
For Price, not too much changes in preparing to work out of the bullpen from making regularly scheduled starts. He can't air out the ball in the outfield to warm up, and he doesn't have the luxury of knowing when he'll enter a game, but other than that, pitching is the same.
"I've done this for a long time. My last bullpens, my last live [batting practices] were really good," Price said. "That mound is still 60 feet, six inches away from home plate. I wasn't surprised."
Boston will handle Price cautiously at first, intending to allow him plenty of time between outings to recover. Farrell said he doesn't expect the lefty to be available until the end of the team's upcoming series with the Orioles, possibly not until the series after that with the Reds.
"Don't want to rush something with him," Farrell said.
But once Price eases back into a workload, the Red Sox hope they have found a multi-inning threat out of the bullpen, a role that was made so popular last postseason.
"I think given the way bullpens are used from this point in the season forward, a multi-inning role is a critical one, particularly if one can excel in it, and we feel like David can in this period of time," Farrell said earlier this week. "Go back to 2007 or '13, teams that advanced deep into October, there was a guy that moved out of the rotation and became a multi-inning guy that was a critical performer."
Connor Mount is a reporter for MLB.com based in St. Petersburg who covered the Red Sox on Sunday. This story was not subject to the approval of Major League Baseball or its clubs.