Wendle thrills family, friends with grand slam
In rare start, second baseman makes most of opportunity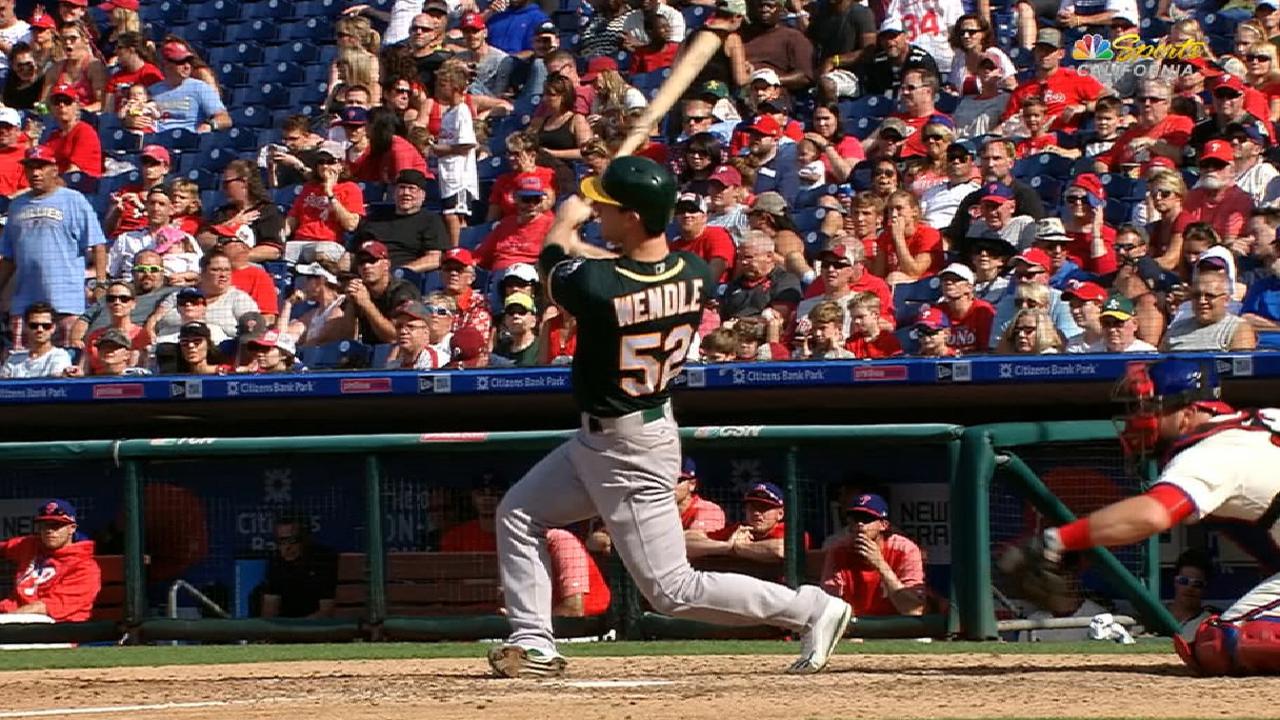 PHILADELPHIA -- Before Sunday's game at Citizens Bank Park, A's manager Bob Melvin brushed off any thoughts of concern over rookie Joey Wendle's start at second base against the Phillies.
"He'll be fine," Melvin said. "I know it's not just another game, but he'll be fine."
Wendle joined the A's 12 days ago and is spending his second consecutive September with the franchise, so this is not a new experience. It's not his rookie status that came up as a concern, it was instead the fact that he grew up just 40 minutes from the Phillies' home.
• Grand slams mean 40% off pizza
"The last time I played here was [with West Chester University]," said Wendle, who bought a home in Kennett Square, Pa., in the offseason. "I played here in the Carpenter Cup [a local high school All-Star competition], too, so the stadium and playing here wasn't new."
Wendle erased all doubt in the sixth inning as he hit the first offering from reliever Edubray Ramos over the scoreboard in right field for his first Major League grand slam that gave the A's a 6-3 win over the Phillies. His career-high four-RBI afternoon proved more than enough for an A's team that has won eight of 11 heading into a series at Detroit.
"A lot of times when we win, we do it with homers so that is our strength," said Melvin, whose team has scored 49.1 percent of its runs via the long ball. "Certainly, we got off to a good start [with solo home runs in the fourth by Chad Pinder and Matt Olson].
"Wendle's [home run] was not only terrific for us but for a local guy, gets a start at home and for us, becomes the player of the game."
Wendle almost didn't get his chance to be the hero. The 27-year old infielder had to wait for five hitters to approach the plate before he made his stroll to the batter's box. In fact, after the first two hitters reached, both Olson and Matt Chapman struck out, and on a 3-1 count, Mark Canha walked on a checked swing.
"[Ramos] has more than a strikeout per inning, so I looked for something up in the zone," Wendle said. "I didn't know what I would be able to do if I got buried in the count, so he threw a slider that backed up a bit and [I] was able to drive it out."
Wendle has impressed the A's, but the second baseman is in a tough position according to Melvin.
"We really like Joey," Melvin said. "Now there are some people in his way. Certainly Jed Lowrie and Franklin Barreto, too, but Joey has really done a nice job for us. It was good we rewarded him with a callup because he deserved it. He did the same thing for us last year when he was called up. He plays good defense, he can swing the bat and hit the ball out of the ballpark. He's just been blocked."
Blocked or not, Wendle has a special piece of history in his possession. His first grand slam was thrown back onto the field and saved before the right-field ballgirl was able to hand it over to a fan. Wendle had the ball in his locker after the game, and after some thought, he said he'd give it to his wife.
This guarantees the ball will be taken to his home that's just a short drive away from the Major League ballpark he hit it in on a perfect September afternoon.
Mike Radano is a contributor to MLB.com and covered the A's on Sunday. This story was not subject to the approval of Major League Baseball or its clubs.