Beltre, Mazara to remain in mix for stretch run
Banister to keep veteran, young slugger in lineup despite nagging injuries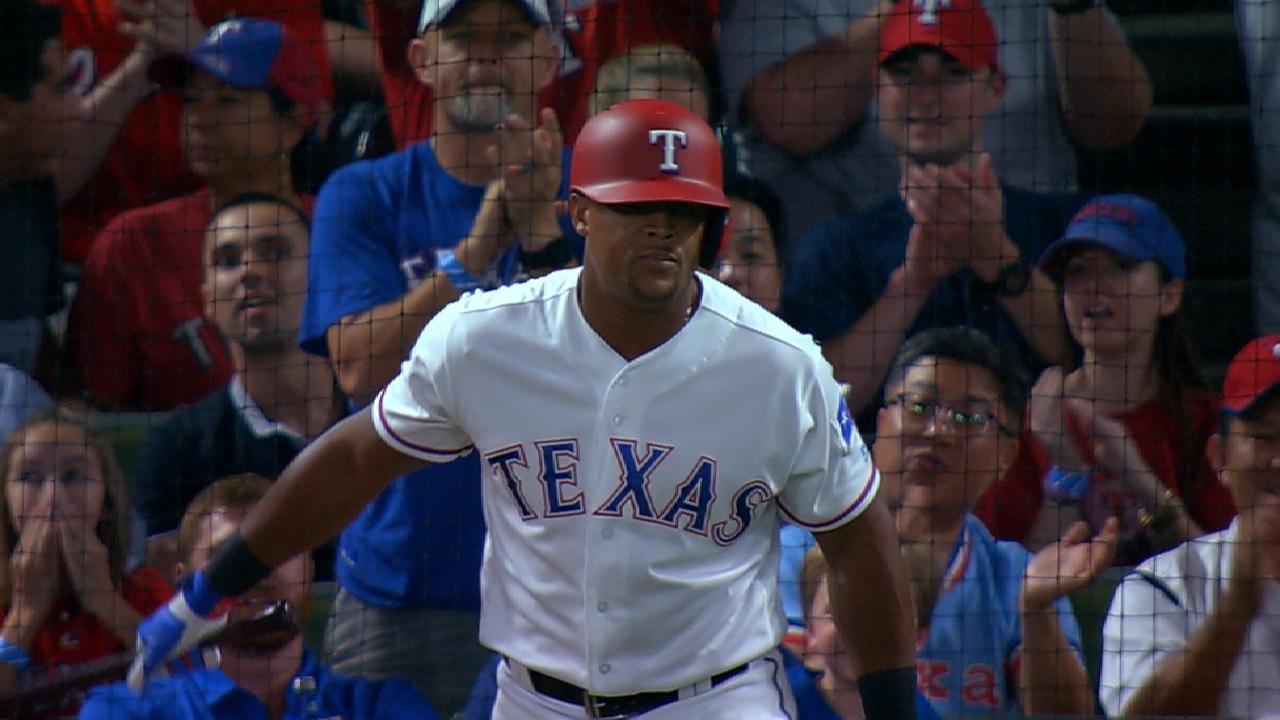 ANAHEIM -- The Rangers have a steep climb back into the American League Wild Card race, but manager Jeff Banister isn't going to hold back until the end.
That's why Adrian Beltre stayed in the lineup as the designated hitter on Sunday, even though he is dealing with a strained left hamstring. Nomar Mazara, who is dealing with tightness in his left quad muscle, was also back in left field on Sunday.
"We will continue this process however it plays out," Banister said. "Let's be fair to the guys who have been fighting this out all year long."
Beltre entered Sunday's game 1-for-11 in four games since returning to the lineup. Prior to that, he was out for two weeks with an injury that was originally supposed to sideline him for four weeks.
Beltre is determined to play, and Banister will honor that.
"You give some guys some width," Banister said. "He knows his body. This is a guy who believes he is a contributing player. One thing he is not is selfish. If he felt he wasn't able to contribute, he would say something."
The risk is the injury could be aggravated to the point where it lingers into the offseason and next year.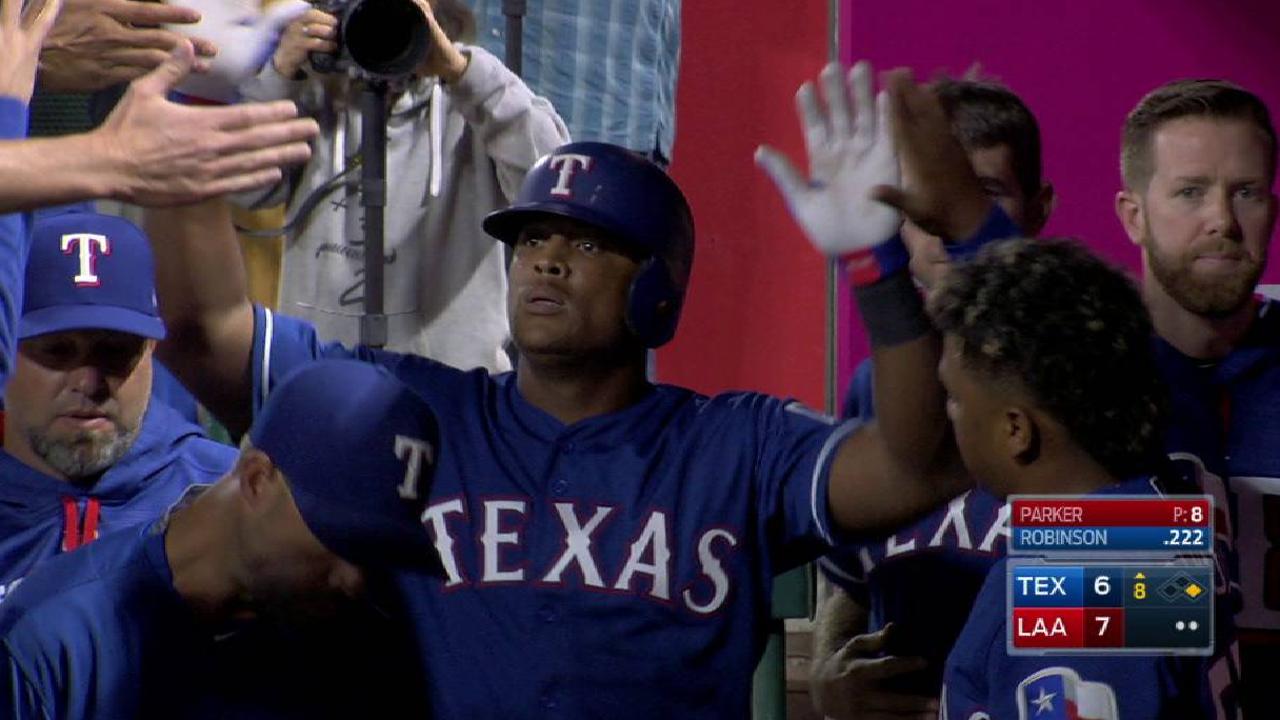 "There is that element for everyone," Banister said. "You know he doesn't have that fear. This is a grown-up man and a future Hall of Famer. He knows the landscape in front of him, he knows the landscape behind him and he knows the path he is on. He is not afraid."
The Rangers are more careful with Mazara, who is younger and doesn't have Beltre's experience in playing through injury.
"He is being treated a little differently based on future implications," Banister said.
Mazara leads the Rangers with 94 RBIs going into Sunday's game. Banister admitted it would be a big boost for Mazara to finish with 100 RBIs in his second season in the big leagues.
"It would be huge for everybody, but for a young guy to get 100 RBIs, it would be hugely significant," Banister said.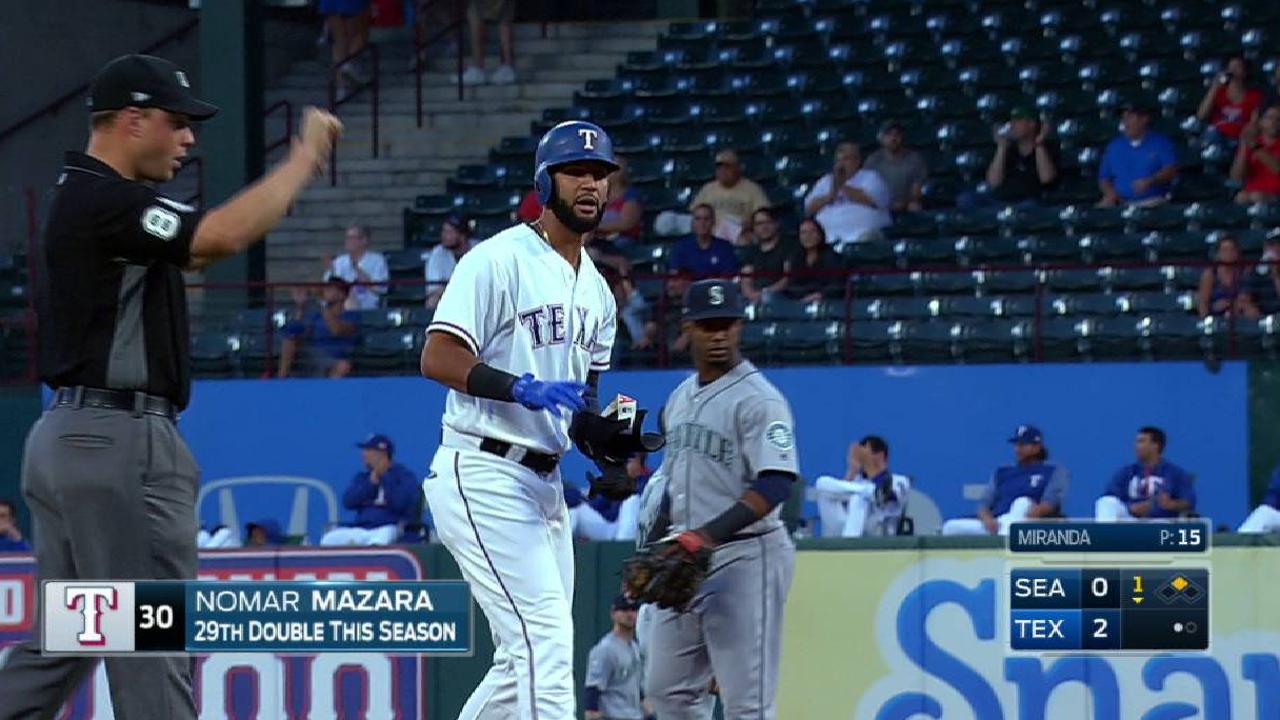 The Rangers also want to be careful with their veteran relievers. Matt Bush has been dealing with a sprained right knee, Keone Kela has had soreness in his right shoulder and Jake Diekman was activated at the beginning of September after missing the first five months because of three abdominal surgeries.
"Short term, it's all hands on deck," Banister said. "Long term, you're not going to see Kela going back to back, Bush is not going back to back and Diekman's workload is still under the managing stage. These are still young guys going forward."
Rangers beat
• Banister said the Rangers will stick with Nick Martinez as their fifth starter, and he'll go on Friday against the Athletics in Oakland.
• Texas lost to the Angels, 2-0, on Friday with Justin Upton hitting two home runs. That's the first time in franchise history the Rangers have lost a 2-0 game with one player hitting two home runs.
• Banister said the Rangers have discussed the possibility of giving rookie left-hander Yohander Mendez a start, but it won't happen as long as they are still in the AL Wild Card race.
T.R. Sullivan has covered the Rangers since 1989, and for MLB.com since 2006. Follow him on Twitter @Sullivan_Ranger and listen to his podcast. This story was not subject to the approval of Major League Baseball or its clubs.