Bettis seeks improvement, eyes postseason
Rockies righty works on mechanics to harness command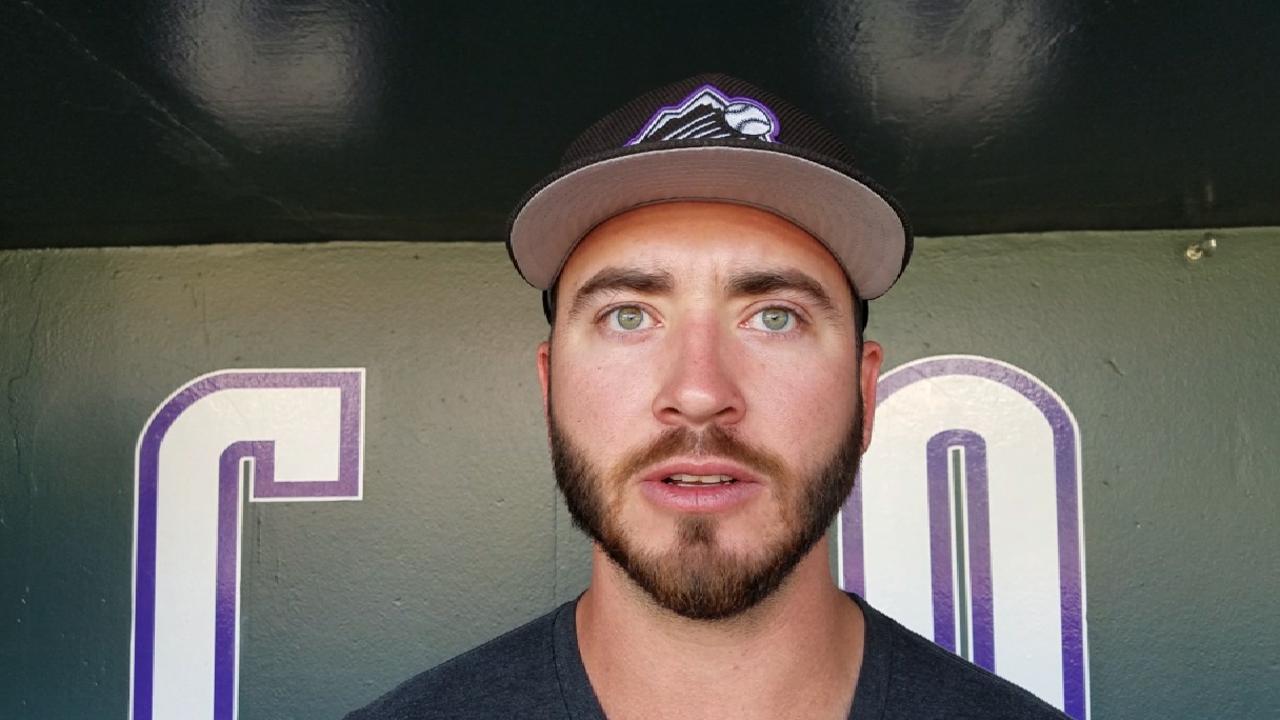 DENVER -- Things are back to normal for Rockies right-handed pitcher Chad Bettis in this unusual season. Even his struggles are old and familiar.
After watching Bettis give up five runs, walk three and manage just one out against the D-backs on Thursday in his last outing, manager Bud Black pushed Bettis' next start to Saturday at San Diego.
This has been an abnormal season for Bettis (1-3, 6.23 ERA), who battled testicular cancer and didn't appear for the Rockies until Aug. 14. But the issue that affected him in his last start, and has led to inconsistent velocity in other starts, is a familiar one: the timing of his front side.
Bettis' four-seam fastball velocity has dipped from 92.2 mph last season to 89.7 this year. During games this year, the old velocity has shown at times, but there have also been dramatic dips.
Although Bettis had to rebuild himself physically after chemotherapy in March, April and May, he believes it's likely that the inconsistency isn't a strength or stamina issue, but his long-standing effort to corral his mechanics.
In 2015, before Bettis established himself in the rotation, pitching coach Steve Foster and bullpen coach Darren Holmes held him out of Spring Training competition to work on mechanics, and didn't use him in games until the end of camp. He went 8-6 with a 4.23 ERA in 20 starts.
Last season, Bettis and the coaches agreed to a similar Spring Training plan, and he went 14-8 with a 4.79 ERA, establishing himself as a leader in the young rotation.
In his first two starts this season, Bettis worked around his inconsistent velocity and posted a 1.93 ERA in 14 innings. But since then he has a 9.15 ERA, and his command has not been the same. So, with the possibility of pitching in the postseason, Bettis is getting another mechanics tuneup.
"It's something I always have been trying to work on, especially since 2015, with my fastball command," Bettis said. "That's why I've been able to get away with some games when my best velocity hasn't been there. When my velocity is there I have a little more margin for error, but I don't want to just rely on that."
Mechanically, the timing of Bettis' front side -- the left foot and left arm, which establish direction -- is key.
"I felt like my front side was kind of getting away from my body, which for me is a weakness," Bettis said. "It's something I've always tried to fight against. What we're working on now, I feel much more comfortable with it. It puts my body in a better position, and it's good."
Thomas Harding has covered the Rockies since 2000, and for MLB.com since 2002. Follow him on Twitter @harding_at_mlb and like his Facebook page. This story was not subject to the approval of Major League Baseball or its clubs.