Chicago trip leaves Cards with uphill climb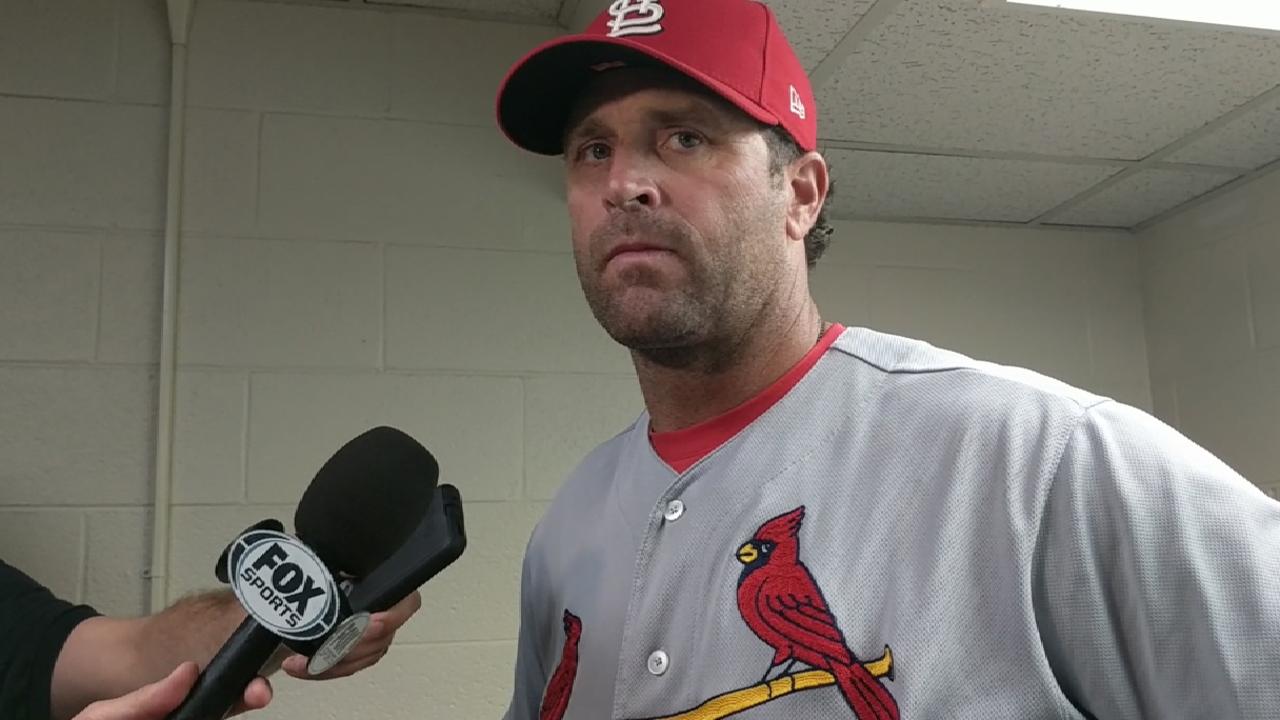 CHICAGO -- The Cardinals showed up at Wrigley Field on Friday aware that a statement sweep would propel them into a first-place tie in the National League Central. By sundown on Sunday, however, it was the Cubs who had seemingly swept away the Cardinals' fading chances at reclaiming the division crown.
A 4-3 loss to the Cubs dropped the Cardinals six games back of the Cubs with 13 games left on the regular-season schedule. Sunday's matinee was not, by definition, a must-win game. But the importance of it also wasn't minimized by president of baseball operations John Mozeliak, who traveled in for the series finale.
"You hate to put any pressure on any one game, but today is a big day," Mozeliak said about an hour before first pitch. "Winning today gives you a level of hope for tomorrow. Losing today makes it a lot harder."
The Cardinals haven't fallen as far back in the NL Wild Card race, where the Rockies currently hold the second position with a 4 1/2-game lead over St. Louis. In both races, the Cardinals trail the Brewers by two games.
"We're very clear in starting out our season that it's not just getting to the postseason, but we should be able to win our division," Cardinals manager Mike Matheny said. "We still have that view in our minds. I want our guys understanding that we, as an organization, have a lot of confidence in the team that we put out there and what it should look like."
The team's uphill climb will begin on Tuesday, when the Cardinals start a six-game stretch against Cincinnati and Pittsburgh clubs that are already out of contention. The two NL Central bottom dwellers are a combined 31 games below .500, but they've been formidable opponents to St. Louis all season.
The Cardinals are two games above .500 against the two.
Meanwhile, the Cubs and Brewers will meet for four games before both make trips to St. Louis during the final week of the season. The Rockies close out the year with series against the Giants, Padres, Marlins and NL West-leading Dodgers.
"We're not officially eliminated, so until that comes, we have to do everything we can to grind it out and figure out how to win games," said Lance Lynn, who took a no-decision after a four-inning start on Sunday. "We have to go out to our next series and win. We have to win the next one and the next one and the next one and the next one and figure it out. And hope that these guys don't do that or the Wild Card teams don't do that ahead of us."
Two of the Cardinals' weekend shortcomings -- playing crisper defense and capitalizing more often with runners in scoring position -- could help the team regain the momentum that helped them reel off 11 wins in 14 games before arriving in Chicago.
In this series, the Cardinals finished 2-for-14 with runners in scoring position and cost themselves runs at least four times with poor defensive plays.
"It leaves us with some work to do," said Dexter Fowler, who temporarily jolted the Cardinals on Sunday with a game-tying, three-run blast. "Win. That's the bottom line."
Jenifer Langosch has covered the Cardinals for MLB.com since 2012, and previously covered the Pirates from 2007-11. Follow her on Twitter and Facebook. This story was not subject to the approval of Major League Baseball or its clubs.